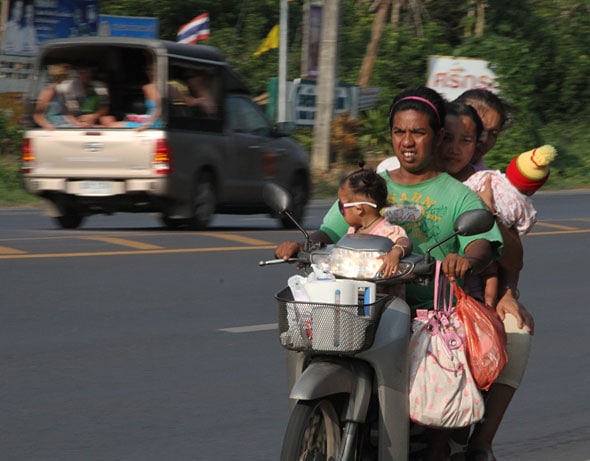 A motorcycle safety campaign in Thailand?…
Another campaign for motorcycle safety is being launched in Thailand. And while this campaign is not the first, with the graves mounting up the motorcycle accidents can't be ignored.
I don't often see babies hanging off the side of motorcycles in Bangkok. Or tucked in front of the driver, or between a second or third passenger even. But on my recent trip to Krabi it was the norm. Driving around, especially in the mornings and late afternoons, it was common to see babies tucked somewhere in the mix of motorcycles and people. Even with expats (who should know better).
Helmet laws have been in place in Thailand for quite awhile but most riders in the countryside ignore the laws. Police included. In Krabi I was stopped by the police in a school zone. And what were they doing? The police were waving through kids getting out of school – most of the kids on motorcycles were without helmets.
But on March 1, the campaign for motorcycle safety comes into play.
Will it work? Unlike the sign below, I'm not 'sure' because there are too many TiT variables. The only fact I am sure of is my plan to report back in a month. And again, with photos.
The campaign for the safety of motorcyclists and passengers…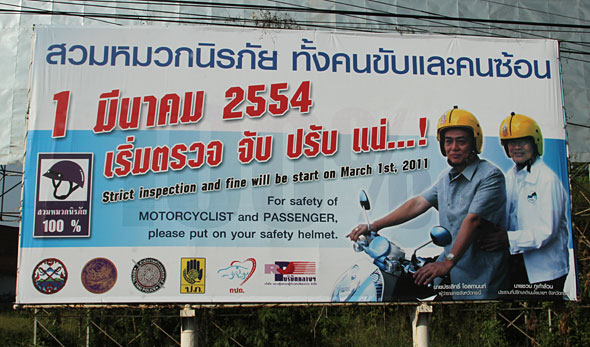 สวมหมวกนิรภัย
sŭam mùak ní-rá-pai
Wear hat safety (helmet)
ทั้งคนขับและคนซ้อน
táng kon-kàp láe kon-són
Both rider and passenger
1 มีนาคม 2554
nèung mee-naa kom sŏng pan hâa rói hâa sìp sèe
1 March 2011
เริ่มตรวจจับปรับแน่
rêrm dtrùat jàp bpràp nâe
start checking catch fine, for sure!
Basically, it says that on the 1st of March the authorities (in Krabi, anyway) will start checking to see if motorcycle riders and their passengers are wearing helmets. And if caught without, there will be a fine. For sure.
Motorcycle safety AND education is sorely needed in Thailand…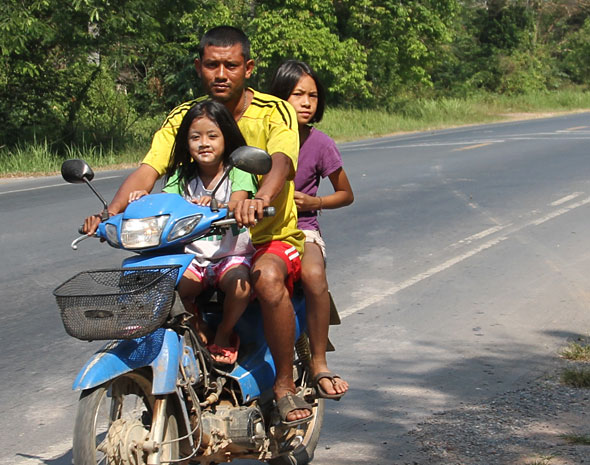 Ok, this family is traveling on the soft shoulder but how many vehicles in Thailand do you see swerving around? Tons. Weighing tons. And when a body is flying through the air, a helmet just might insure that it's an accident without a fatality.
Check out this series of three photos. Two women. Two babies. One motorcycle. No helmets.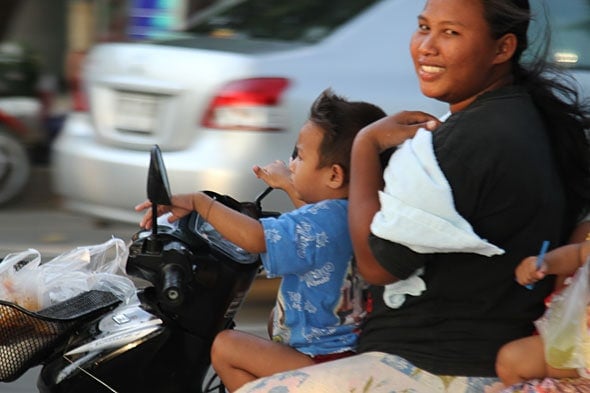 But who is driving? Who is in control of the motorcycle?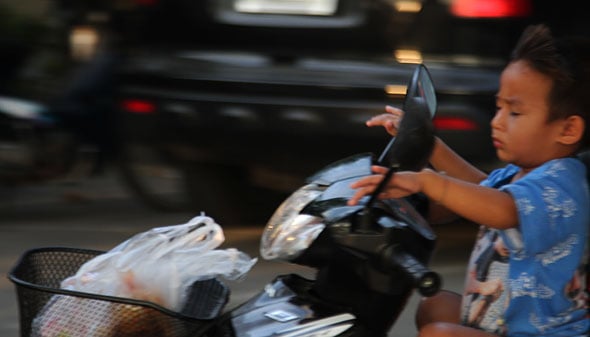 Are you sure? Really?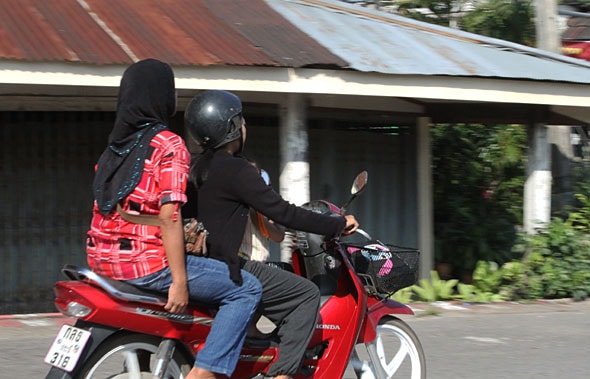 The female driver has a helmet but the back passenger in the headscarf does not (it's Krabi, remember?) And the little baby tucked in front of the driver is sans helmet as well (but does sport a knitted blue hat).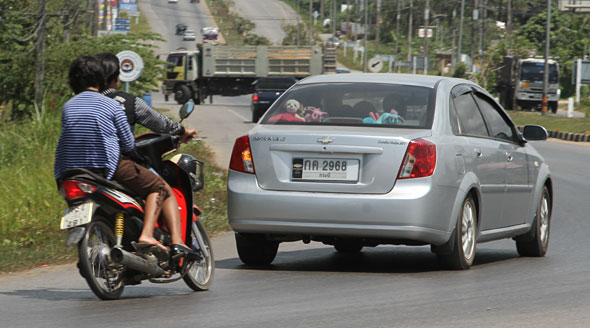 Another noticeable and scary habit in Thailand is how close motorbikes travel to automobiles. There is no way this driver could stop on time if that car needed to brake fast; it's an accident waiting to happen. Again, no helmets. And what's going on up the road?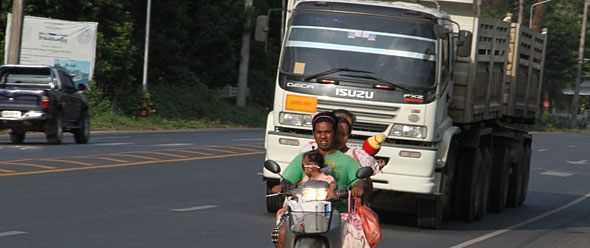 The ability to break fast is doubly important for trucks following motorbikes. Does that look like three car lengths to you? Again, an accident waiting to happen.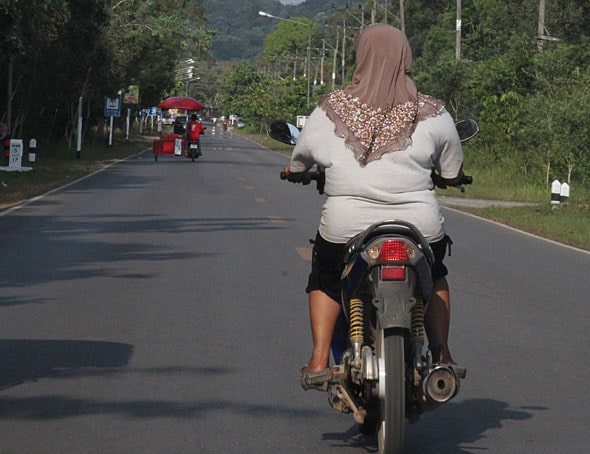 I was going to ask if scarves make a difference in an accident but my lovely Muslim friends would slap me upside the head right quick. So I won't.
More on the motorcycle safety campaign…
On and off we hear about horrific traffic accidents on Thailand and sometimes motorcycle safety campaigns follow right quick. The Phuket motorcycle helmet campaign hit the streets of Patong in 2010. Do anyone know if it's successful? I was there for the motorbike convention but those riding the big bikes tend to have mighty fancy helmets to show off.
EDIT: I discovered this video over at the TV forum (CCTV of accidents in CM):
Will this latest campaign for motorcycle safety in Thailand take hold? We'll see… we'll just have to wait and see.