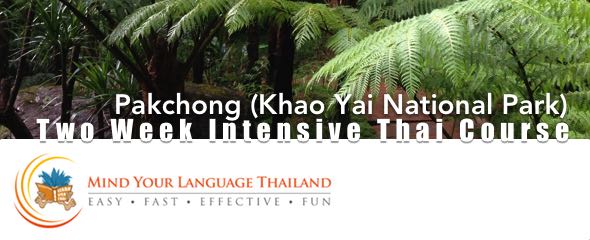 Mind Your Language's Two Week Intensive Thai Course promises to be quite the adventure.
Along with learning Thai using their T.M.C. Teaching Method you'll visit Khao Yai National Park (Pakchong), experience Thailand's Thai cowboys (Chokchai Farm) and do a bit of wine tasting at Granmonte Vineyard and Winery. And if all pans out, included will be shopping at the Kingdom of the Pottery (Ban Dankwian) and a Thai Premier League game at Korat Stadium.
The T.M.C. Teaching Method is comprised of:
T – Transformation method: Reversing sentence structure.
M – Muscle memory method: Repetition leads to accuracy.
C – Combination method: Creating meaningful paragraphs.
The method sounds fairly straightforward to me but if you are interested in hearing more about it check out reviews from their regular intensive Thai course on Koh Samui (it uses the same teaching method): Reviews.
The intensive Thai beginners course in Pakchong will be held from the 3th to the 14th of July, 2017.
Excluding accommodation, the price for the two week beginners course at both Koh Samui and Pakchong is 14,900 Baht. On Samui you can arrange your own accommodation or leave it up to the school; Pakchong will have a package deal (accommodation and excursions – to be announced later). On Koh Samui I found it's roughly 9000 baht for 12 days on the island but that's without the school's discount (and how much you want to slum it).
If you are interested in attending the intensive course at Koh Samui instead, you have more options as far as dates go. But the main difference between the two intensive courses (Koh Samui and Pakchong) is that on the island, classroom studies are the main focus and the activities are secondary (and up to you). On Koh Samui, after class is over for the day you can choose from: cooking classes, diving, kite surfing, massages & spa, yoga, safari tours, golf, frisbee golf, fishing, paddle-boarding, night markets, waterfalls, beaches, etc.
On top of Thai, on Koh Samui there's also an Italian intensive course:
Thai, English and Italian are taught following the same teaching styles (T.M.C. teaching methods). Regular courses run throughout the year (2 or 4 times a week).  Intensive courses for both English and Italian will start from April (Easter Time) and a holiday-study package for students coming from abroad will be offered for people who want to study in the summer time (June, July, August).
Mind Your Language has just been affiliated to Societa' Dante Alighieri Italia, which is the headquarter and main learning centre of Italian as a second language in Italy. From January 2017 we are the only PLIDA (Progetto Lingua Italiana Dante Alighieri) Certification Centre in Thailand and the official centre where students can take the PLIDA exams and get an international diploma that assesses their level of Italian as a Second Language (From A1 to C2) . Facebook: PLIDA Thailand.
If you have any questions please leave comments below or contact the school via their Facebook page or website:
Website: Mind Your Language, Thailand
Facebook: Mind Your Language School