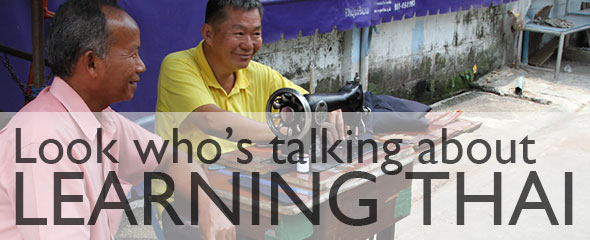 Who's talking about learning Thai…
Goodness, the hot months of 2011 are just marching in! Ok, March was still sort of coolish but I'm typing this out in HOT HOT HOT April and it's HOT! And while the months are marching on, I'm still posting this series late. Yeah.
Anyway, if you'd like to see the previous months, here they are: September, October, November, December, January, February… and now March.
WLT's generous contributors …
For March, Luke Cassady-Dorion came in with two Farang Pok Pok shows: Episode 1 and Episode 2. And I'm already ready for MORE! You?
On the educational side, Tod Daniels reviewed my favourite Thai language school so far, Jentana & Associates.
There were three interviews this month: Adam Bradshaw, a Successful Thai Language Learners. And Talen, in the Getting by With Learning Thai section.
Thank you everyone, for taking the time to create these valuable posts for readers of WLT!
Note: If you would like to contribute posts and/or if you have a talent for Thai, please contact me.
March 2011: Who's talking about learning Thai…
I don't often mention forums and maybe it's time to start.
A recent discussion was created on the ThaiVisa Thai forum that some of you might be interested in: What Level Of Speaking And Writing Thai Are You At? And how did you get there? It has the same concept as my two interview series: Successful Thai Language Learners and Getting by in Thai. Only, the questions are shorter, a photo is not required, and posting is freeform.
The comments don't always keep to subject but it's a great post regardless. I'm hoping some of you share your experiences there as well. Or you could just send your bits to me. That'll work.
And since I've opened the forum can of worms, here are interesting posts from the other top two Thai learning forums: Thai-Language.com: How Do You Study Thai? and Paknanm: Learning Thai with cartoons/movies.
Andrej: Bakunin Learns Thai (no longer online)
Once again, Andrej had a productive month. First up, his experiences with speaking Thai and extensive reading in Thai. Then he searches around for a Monolingual Thai dictionary. And finally, he suggests crashing a Tadoku contest. Sweet!
Anothai Dara: Anothaidara
Anothai Dara is back with an album review of 'Potato – Human'. Excellent.
Brett Whiteside: Learn Thai from a White Guy
This month Brett delves into Thai wiki: เรื่องจากข่าว March 28th, 2011.
Hamish: Tweet Yourself Thai | twitter: @AjarnPasa
Hamish has three unrelated and totally interesting posts this month: Quackery, fear mongering and social networks, Snow falls in Chiang Rai … fifty six years ago, and Have you ever seen an elephant?
Julien: Diary of a Crazy Farang (no longer online)
And it's great to know that Julien is still going strong with 'My daily routine, 'Schliemann's Method, and 'Be a parrot'.
Kaewmala: Thai Woman Talks – Language, Politics & Love
I don't know about you, but Weird Thai Nicknames have drawn my attention ever since I was first introduced to Thai students Jeep, Joke, Mam, and Joe. And still I can't get enough of them.
Lani: Tell Thai Heart
Lani's well-written post, unlearning thai, is her personal outpouring of the dreary motivational challenges with learning Thai. Sticking to the daily grind can be tough (I tussle with it as well).
Palmisano: Thai Blog
Plugging along, Palmisano shares more about the Thai language with these four posts: Nee nan non, Long and keun, Showing, in Thai, and How to say jealous in Thai.
Snap: Learning Thai In Chiang Mai
InRead it to me in Thai please, Snap introduces a wonderful Thai speaking resource, SitePal. It's not exact – whatever is? – but it's useful.
Terry Fredrickson and Jon Fernquest: Bangkok Post, Learning From News
There's always a large array of subjects to choose from at the Bangkok Post and this week I'm going with a slightly different theme: Free condoms at gay nightspots, Teenagers not using condoms, taking risks, and Is Bangkok safe?
Podcasts about learning Thai…
Rikker: Bangkok Podcast
Bloggers who sometimes tweet more than they blog…
Bloggers who bounce between twitter and blogging:
Ajarn Pasa: Tweet Yourself Thai | twitter: @AjarnPasa
Ajarn Pasa is one of the few here who gives twitter and blogging equal time.
Kaewmala: Thai Women Talks | twitter: @Thai_Talk @thai_idioms
Kaewmala is a political gal at @Thai_Talk but also shares needed insights on the Thai language at @thai_idioms and @lanna_talk.
Rikker Dockum: Thai 101 | twitter: @thai101
Rikker sometimes blogs, sometimes podcasts, but mostly twitters.
Who's doing all that Thai twittering…
The (mostly) complete Thai twitter list:
@AjarnPasa
@andrewbiggs
@English4thai
@js100radio
@ikimmim
@lanna_talk
@literallythai
@stu_jay
@Thai101
@ThaiAlive
@ThaiShortNews
@thai_idioms
@Thai_Talk
Note: The full list of both twitter people and bloggers can be found here: Thai Language Bloggers. Again, let me know if anyone is missing.
Until the April version (coming real soon), enjoy…