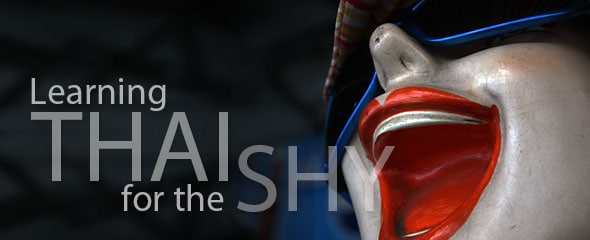 Are you a shy Thai learner?…
Back when I was much younger, I'd shrink from meeting new people, and sometimes people I knew. One time, I even burst into tears when a male teacher focused on me too intently in class. But years later, I am no longer what I would consider painfully shy.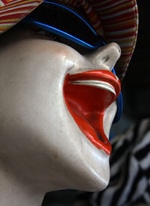 Now older and more comfortable within myself, I still resist getting out. Even so, over the years I've taught courses, performed on stage in front of hundreds, and acted in TV commercials meant for an audience of thousands.
But my preference is keeping my own company. Why? Because when I'm in my own little world, cosy and quiet, I thrive. When I'm alone I read, I write, I take photos, and I carry on correspondence with interesting people around the world.
Don't get me wrong, I do enjoy being around people, but in small doses. Perhaps more than most, I need quiet time to reenergize, to recover and replenish my reserves. And I've long known that if I've been overly social, I'm like a baby held much too much at a family reunion. I get cranky and fuss, and find excuses to escape.
And that is why I smile patiently at those who jump up and down while insisting that to learn a language you need to be gregarious. That you absolutely need to get out there and accost every native you meet. That you need to immerse yourself in their country, their lives, and their culture. And you need to talk, talk, talk to everyone. And then talk some more.
Because no matter how logical I know that theory is, I also know that it's not going to happen with me. I can no more deal with a saturation of people, than extroverts could hide themselves away for weeks and months on end.
What's a shy Thai learner supposed to do?…
Ok. So let's say that you are a quiet person as well, and you want to learn a language. You want to learn Thai for instance. So, what are your choices? Do you crumble under the plethora of advice and put yourself out there? Or do you search out methods that suit your own skin?
Looking around, there are many options for quiet people: Online courses, courses with books and CDs, Skype teachers, and Skype communities. And then there is the life you are living in your very own head.
Mindfulness means paying attention in a particular way; On purpose, in the present moment…"
I've long been fascinated with the concept of mindfulness. Basically, what you do is keep yourself in the moment. As you go through your day, you describe to yourself what you are doing: I'm sitting down, I'm walking to the store, all along my arm hairs I'm getting a sensation of air movement from the overhead fan.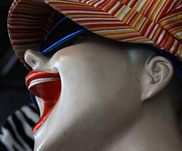 As a hermit I live in my head a fair amount of time, so the concept of mindfulness holds a special attraction for me. And that's why I thought that using the concept of mindfulness, but replacing our English thoughts with Thai phrases, would work for the shy learning Thai.
Here's a suggestion: Walk around your world for a week, jotting down notes of your experiences. When the week is over, pare down the results to the phrases used most often. If you are a basic beginner at Thai, simplify the phrases to suit what you can handle.
Then, when you have fifty or so phrases, grab a Thai friend or Thai teacher to help turn your thoughts into Thai. Have your Thai source write down the phrases and record them as well. And while you are at it (also important), get your pronunciation checked and corrected.
Btw – An alternative for getting the correct pronunciation down would be to use Chris' Voice Viewer.
Each week, add new phrases to your repertoire. And soon you'll have a wonderful, rich vocabulary that means something to you.
That's right. No more "Khun Somchai works at the small barber shop behind the big hotel". Instead you'll have, "I'm carefully putting my small D'Avesn elephant vase behind the large Charles Catteau flamingo pot".