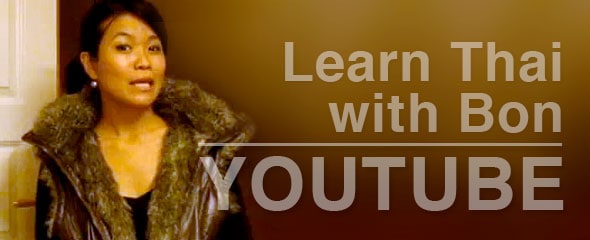 Bon: The new Thai YouTube kid in town…
Noticing her new learning Thai videos on YouTube, I contacted Bon Ratta back in February, for a mid-March post. But… the Red Shirts happened – something is always happening in Thailand, yes? – so I'm coming in late. Again. Apologies Bon!
In Learn Thai the Bon's Way, Thai native Bon takes a sometimes wacky approach to teaching Thai. When I asked about her aims, she replied:
I have walked the streets of foreign cities where signs gave no meanings. I have been in plenty of parties where I knew nothing of what was being said around me. I am once again facing it and loving it here in Trondheim, Norway, where I've recently relocated to. But I was thinking, what about those who are facing the same problem as I am back in my homeland? It's the least I can do to help make their stay a little bit easier. And what could be a better medium than Youtube?

For me, learning a new language means losing a bit of your identity. Sounds scary to some people, I know, but that really is the attitude you want to be equip yourself with when adopting a new tongue. In my lessons, I want people to get into a character as a Thai-speaking person. If you're thinking that you're an American attempting to speak Thai, you are going to sound exactly like one. Now, if you're imagining yourself as a Thai, you're already halfway there.

I try to introduce the lessons in sequence, like building blocks. I want the students to be able to form their own sentences rather than memorizing them from textbooks like a parrot. Fixed formula sometimes helps, but there's really no learning in it. So, immerse yourself in a Thai-speaking environment if you could and get in the character!
There are a number of learning Thai videos on YouTube. Some are one-off, others offer a handful of Thai lessons and then disappear. But Bon's been busy. Really busy.
In the month plus since I made contact, she's added many more videos: 35 in total (btw – not all of the videos on her channel are about learning Thai, so dance around if that's your aim). And to round up the lessons, Bon created a Learn Thai the Bon's Way blog, where she's offering Thai lessons on Skype too.
Bon Ratta: In this site, you'll find all my youtube lessons plus more written explanation for each lesson. All my new lessons can only be viewed here in this blogs. We are adding non-vdo lessons here because I sometime can not produce the vdo lessons as fast as I would like to, to meet all the requested topics from the facebook fanpage and youtube 🙂
Bon has also been equally busy with her new site: JaideeTV/ใจดีทีวี
Rikker Thai 101: Bon is known for her blog and video series, Learn Thai the Bon's Way. But this month she started a new website, JaideeTV/ใจดีทีวี, on which she spoofs modern Thai culture.
So, what will Bon get up to next? I'm not sure. But like others, I'll be watching to see…
Where you can find Bon:
Bon making the rounds on the Internet:
Well done Bon 🙂