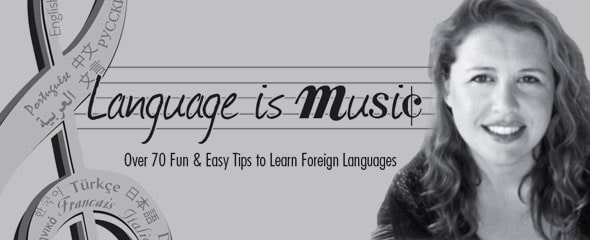 Susanna Zaraysky and Language is Music…
I've read a number of books about learning languages. Some are made up of information that anyone can find on their own with a google or two. Others are written by thoughtful people sharing actual experiences of their own. Susanna is such a thoughtful person and Language is Music is such a book.
A child of Soviet immigrants struggling with English, Susanna Zaraysky grew up in California, then went on to study ten languages and speak seven languages fluently. Susanna's language skills paved the way for her to live in nine countries and travel to fifty. Impressive.
In her new book, Language is Music, Susanna teaches you how to immerse yourself in your target language to make learning languages a part of your daily living.
While reading Dr. Oliver Sacks' book Musicophilia, about the neurological aspects of music, I became inspired to write about how music helped me learn foreign languages.
After solving my personal mystery about why I was so dexterous in learning foreign languages, I developed fun tricks and lessons to enable others to be successful.
In Language is Music, I share these listening methods so that anyone can have fun learning any language. The book has over 70 tips and 90 free or low-cost Internet resources that teach enthusiasts how to use daily activities, such as watching T.V. or listening to music; conversation partners; and attendance at cultural events to become masterful speakers of any tongue.
Language is Music table of contents…
Conductor's Notes
Tips on how to think of language as music.
Listen, Listen, Listen
Suggestions for listening to music in your target language.
Concert Time
Play your instrument by speaking.
Radio Time
Tune into a new frequency online or off.
Television for Homework
Learn to speak by watching TV.
Films to Fluency
Learn languages from the stars.
Be Part of the Symphony
Speak with others in your target language.
Day-to-Day
Exercises to ingrain the language into your brain with daily rhythms.
While Susanna shares many tips to help you get over your language learning hump, the tip below spoke to me personally.
Give up your ego. If you are a perfectionist, you need to take on an alter-ego of a fearless person who makes mistakes in your new language.
My father was a producer of musicals when I was growing up. I was a painfully shy young thing, but the inevitable happened – he put me in one of his plays. And then another.
I discovered that if I was playing a part, I was no longer the shy me. I was whoever I needed to be at that time.
So I can see how this very same trick can be used for language learners who are either shy or perfectionist, or both. As I have nothing to lose, I'll certainly give it a try.
Susanna can be found at Create Your World Books. You can purchase Language is Music here.