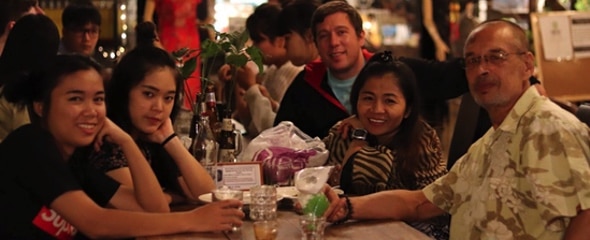 Language Exchange Chiang Mai…
I first heard about the Chiang mai language exchange group back in 2015 from Daniel Styles. Since then Daniel relocated (but still shows up on occasion), the group was taken over by his mate Maik Cook, and they all shifted to CUBE7 after the closure of their former meeting place, FOCUS.
People from all over the world come to Language Exchange meetings every Wednesday and Saturday. The four most spoken languages are English, Thai, Chinese, and German but many more are represented at the group. Many people at Language Exchange are now friends, but everyone became friends the same way – after meeting and talking with people in the group.
The meetups are a perfect size, anywhere from 10 to 25 people each time. And while they welcome visitors who show up from elsewhere to practice their chosen languages, the meetings mostly consist of intermediate and advanced learners who live, work, or study in Chiang Mai.
The group meets all year around except for during Songkran and the Loy Krathong festival. And on top of their regular language meetups, there's now a 'Language Exchange Karaoke Night' was well as a 'Language Exchange Food Night'. Sounds like fun!
Their Language Exchange Chiang Mai Facebook group presently has around 2,760 members, comprised of those living in Chiang mai and those planning a holiday around a visit to the language exchange.
If you live in Chiang mai or will be there anytime soon, perhaps stop by?
FB: Language Exchange Chiang Mai
Time: 7pm, Wednesday and Saturday
Venue: CUBE7, Siri Mangkalajarn Rd Lane 7, Thesaban Nakhon Chiang Mai