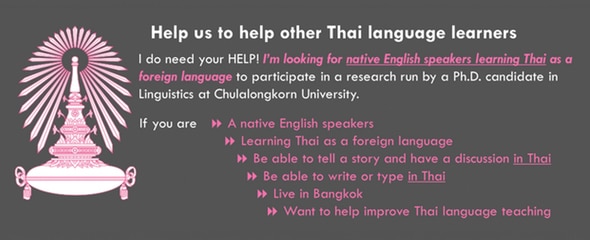 Junyawan's Research Project…
If you are a native English speaker learning Thai, Junyawan Suwannarat, a PhD candidate at Chula, needs your help.
Please take part in my research. Upon completion of the study, participants would receive a renumeration of THB 500, and a tentative evaluation report of your Thai language proficiency.

The tasks consist of 4 sections:

Be pared up to have a conversation in Thai [60 minutes].
Tell a story in Thai from a picture book [20 minutes].
Fill out the language history questionnaire.
Translate 60 sentences in English into Thai [no time limit to complete – you can take it back home].

*In the 1st and 2nd section, your verbal responses will be recorded.
Facebook: Junyawan Suwannarat
Tel: 086 915 1074