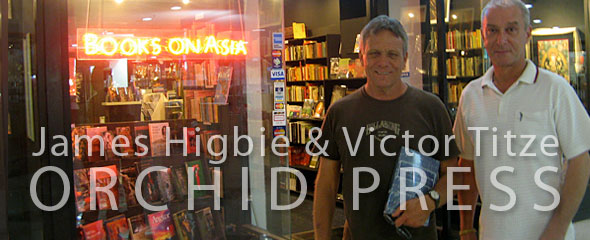 James Higbie and Essential Thai…
From the inception of the Successful Thai Language Learner series, I've had my eye on James Higbie. I was patiently tracking Jim down, but he found me first.
During our back and forth Jim mentioned that his highly prized Essential Thai is being tidied up for a reprint. And just this week he sent over the official announcement.
Essential Thai will be available late in 2010 or early in 2011.

Chris Frape, Publisher of Orchid Press, has announced that the Bangkok-based company will reissue Essential Thai, a popular beginning level Thai language book that has been out of print since the demise of the book division of Post Publishing almost ten years ago.

The book will be reissued in its original A4 format and will include standard sized CDs for pronunciation.
I was chuffed to hear his news as I've been trying to beg, borrow, or even steal a copy for ages. And I'm not alone in this (google to see what I mean).
And I promise that as soon as the book is ready, I will announce it here. Right after I get my very own copy.
Other books by James Higbie (published by Orchid Press) include: Thai Reference Grammar, Let's Speak Thai, and Let's Speak Lao.
Note: In the picture above is James Higbie, author. Standing to his right is Victor Titze, General Manager of Orchid Press. They are in front of the Orchid Bookstore, fourth floor Silom Complex, Bangkok.