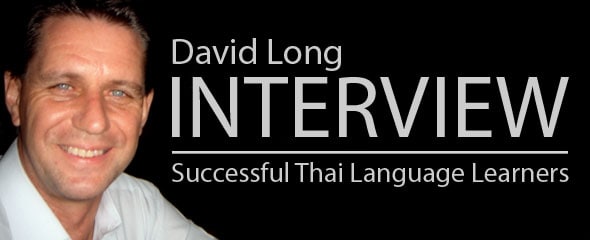 Interviewing Successful Thai Language Learners…
Name: David Long
Nationality: American
Age range: 40-50
Sex: Male
Location: Samut Sakhon, Thailand
Profession: School Administrator, Consultant
Blog: David Long in Asia
What is your Thai level?
Fluent
Do you speak more street Thai, Issan Thai, or professional Thai?
Street and Professional.
What were your reasons for learning Thai?
I moved to Thailand in 1987 and wanted very much to be integrated into Thai society.
How long have you been a student of the Thai language?
Since 1987.
Did you learn Thai right away, or was it a many-pronged approach?
I began classes during my second week here.
Did you stick to a regular study schedule?
Yes, I attended classes regularly for 7 hours daily, Monday through Friday.
What Thai language learning methods did you try?
When I arrived, I knew already that I wasn't a very good student of traditional language programs. For this reason, I sought out what programs might be different and found the AUA Thai Program.
How soon did you tackle reading and writing Thai?
I found that by building my vocabulary through watching, listening, and guessing, I was ready for Reading and Writing during my second year of my stay here.
Did you find learning to read and write Thai difficult?
Not really. The only time it became difficult was when I was trying to learn to read words I didn't already know.
What are your strengths and weaknesses?
My strength in Thai is being able to use it without forethought- I simply use it like I do English. My weakness is in translation. When someone asks me what a phrase or word means, it's often the case that I've never thought about what it might mean in any other language, so it's very difficult sometimes.
What is the biggest misconception for students learning Thai?
That language learning is difficult. I believe that the thing that makes it difficult is mostly centered on how we try to do it! It seems to me that If a 2 year old can do it, then so can I and it doesn't have to be hard!
Can you make your way around any other languages?
English
Were you learning another language at the same time as Thai?
No
What advice would you give to students of the Thai language?
I would advise students to spend as much time looking and listening, and as little time speaking as possible. It makes sense to me that the more we're talking, the less we're able to hear, and if we want to understand Thai, we need to be listening to Thais as much as we can.
David Long
AUA Thai Program
The Series: Interviewing Successful Thai Language Learners…
Getting advice from experienced Thai language learners is important. If you are a successful Thai language learner who would like to share their knowledge with those coming up, please contact me to make it so.