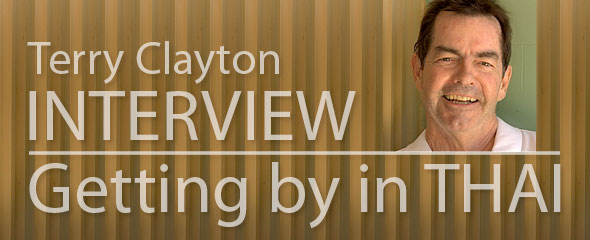 Terry Clayton is getting by in Thai…
Name: Terry Clayton
Nationality: Canadian
Age range: 59
Sex: Male
Location: Udon Thani
Profession: Science Writer / Teacher / Farmer
Web: Red Plough
Getting by in Thai…
What is your Thai level? Intermediate / Intermediate + / Intermediate ++
Speaking: probably lower intermediate. Listening: Beginner. Pathetic given how long I've lived here.
What percentage of conversational Thai do you understand?
Depends on the topic. Simple day-to-day conversations, as much as 80 to 100 percent. More complicated topics like politics, economics, social issues, my comprehension drops to near zero. Mind you, that's true in English as well.
Do you speak more street Thai, Issan Thai, professional Thai, or a mix?
I'm a street Thai speaker. I've embarrassed myself trying to speak Thai in meetings. At home, my wife and I have our own unique patois of English/Thai/Isan.
What were your reasons for learning the Thai language?
I've been living in Thailand for the last 20 years. I hope to get another 20. I don't have much in common with the expats where I live (Isan) and much prefer to interact with Thais. Isan would be the logical choice but for business it's got to be Thai.
When did you become a student of the Thai language?
The day I landed in January 1989.
How much time do you currently spend learning Thai?
I do spurts of on and off. Now I'm on an 'on' jag. I do a Learn Thai Podcast daily.
Do you stick to a regular study schedule?
I've heard of this 'regular schedule' thing but like the Higgs Boson it eludes me.
What Thai language learning methods are you using (resources needed)?
I like the Learn Thai Podcast, Rosetta Stone and Courage software. LTP I like the way they break down a sample of real spoken Thai. Rosetta Stone I like the way I can alter the lesson so I can repeat the same lessons but different ways. Courage for the same reason.
Does one method stand out over all others?
Don't think so. What does not work is traditional classroom teaching.
Have you started reading and writing Thai yet?
Yes! Should have done that from day 1. Reading is fantastic because a) there are things to read just about everywhere you go (signage, billboards, menus, etc.) and b) you see the language as it should be spoke proper.
If so, do you find learning to read and write Thai difficult?
Learning the alphabet was tedious but there is no shortcut there. After that, it's not particularly difficulty. It's pretty much completely phonetic so that helps.
How long did it take you to pluck up the courage to actually try using your Thai skills?
None at all. I'm immune to embarrassment.
How soon was it before you could make yourself understood in Thai (even just a little bit)?
It depends on who I'm talking to. I've got a half dozen amusing stories (I think they're amusing) about speaking to Thai's in Thai, knowing that I've said something intelligible because that utterance has been understood before, and having my interlocutor say to me "No speak English" and run off to get a friend to rescue them. It's my biggest frustration.
What are your most embarrassing moments when speaking Thai?
"Embarrassing" moments usually turn into a good laugh and my most memorable lessons. How I learned the expression "up to you" really was funny. Later.
What is the biggest misconception for students learning Thai?
That's it's difficult. That they can't master the tones.
What was your first 'ah hah!' moment?
A friend of mine mapped out negation for me in a simple grid. Ah ha.
How do you learn languages?
In the beginning, I mimic sounds. I'm very good at it. I can speak phrases and not know which sounds are words. I can learn to say something like, "A bottle of water please" and people will "You speak (fill in the blank) very well!". The downside is people assume I am more fluent that I really am.
What are your strengths and weaknesses?
Strengths: immune to embarrassment; ability to mimic sounds; Weakness: lack of self-discipline.
Can you make your way around any other languages?
Not now, but in the past I've mastered basic Spanish, Russian and enough Khmer to supervise a team of movers.
Has learning Thai affected your knowledge of the other languages you speak?
Not particularly.
How many foreign languages have you attempted to use (while abroad, or talking to native speakers of the language at home, even armed with a phrase book)?
As above: Spanish, Russian, Khmer.
Are you learning another language at the same time as Thai?
No.
Do you currently live in Thailand, or have you ever lived in Thailand? If so, how long for?
Since 1989.
Are you a computer programmer, or do you have programming experience?
No.
Do you have a passion for music and or you play an instrument?
No.
What learning advice would you give to other students of the Thai language?
Stop telling yourself that learning Thai is difficult. Stop telling yourself you can't learn Thai. Listen to the sound of the language. It took me a week to master the 'ng' sound. But I got it.
What is your Thai language study plan for the next six months? The next year?
Work through Learn Thai Podcasts; redo Rosetta Stone lessons (again); install an older version of Windows on one of my laptops so I can run Courage; get the prescribed textbooks for Thai language used in the school system and start working through those.
And the clincher: Do you agree to report back with your progress in six months?
Absolutely. 


Terry Clayton
Getting by in Thai…
Thank you Terry, Dan, Tod, Snap, Talen and Greg. And for others out there – if you'd like be involved in the Getting by in Thai series, contact me. And please remember the clincher: the idea for the series is interview those getting by as well as regenerate an interest in learning Thai.