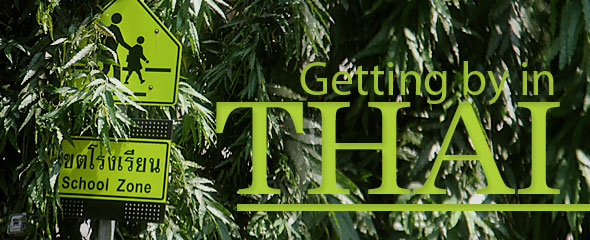 Getting by with learning Thai…
To get a steady stream of interviews for the Successful Thai Language Learners series I have to contact a lot of people. Some do come via recommendations or walk-ins, but not all. The majority I contact politely decline, stating that they are not successful enough. And that's when I started thinking about a series just for them: Getting by in Thai. But, just like everything else in my life, the idea simmers until I get a nudge of some sort. Greg Jorgensen was that nudge.
Always great to read your successful Thai learners posts, really interesting. Maybe you could start a series called 'Unsuccessful Thai Learners' where you interview people who have been too busy or lazy to learn and talk about how embarrassed they are. I can be your first guest. 😛
Don't quote me, but I believe it was in Rikker's first appearance on Bangkok Podcast where he mentions that Greg is fairly proficient in Thai. So when you do read Greg's interview (first one in the series) please don't be thrown by Greg's joking nature. He's just funny that way.
The idea for this new series has a similar focus to the original successful series. The questions are geared to share learning experiences and resources with those studying and sometimes struggling with the Thai language.
And as you'll see below, some of the questions are the same as in the original series. But not all. The additional questions are mostly thanks to my buddy Scott Earle (waving to Scott).
Interview questions for Getting by in Thai…
Your details:
Name:
Nationality:
Age range:
Sex:
Location:
Profession:
Web:
The questions:
What is your Thai level? Intermediate / Intermediate + / Intermediate ++
What percentage of conversational Thai do you understand?
Do you speak more street Thai, Issan Thai, professional Thai, or a mix?
What were your reasons for learning the Thai language?
When did you become a student of the Thai language?
How much time do you currently spend learning Thai?
Do you stick to a regular study schedule?
What Thai language learning methods are you using (resources needed)?
Does one method stand out over all others?
Have you started reading and writing Thai yet?
If so, do you find learning to read and write Thai difficult?
How long did it take you to pluck up the courage to actually try using your Thai skills?
How soon was it before you could make yourself understood in Thai (even just a little bit)?
What are your most embarrassing moments when speaking Thai?
What is the biggest misconception for students learning Thai?
What was your first 'ah hah!' moment?
How do you learn languages?
What are your strengths and weaknesses?
Can you make your way around any other languages?
Has learning Thai affected your knowledge of the other languages you speak?
How many foreign languages have you attempted to use (while abroad, or talking to native speakers of the language at home, even armed with a phrase book)?
Are you learning another language at the same time as Thai?
Do you currently live in Thailand, or have you ever lived in Thailand? If so, how long for?
Are you a computer programmer, or do you have programming experience?
Do you have a passion for music and or you play an instrument
What learning advice would you give to other students of the Thai language?
What is your Thai language study plan for the next six months? The next year?
Joining the Getting by in Thai series…
If you'd like be involved in this series, contact me. And please remember that the reason for the series is not just to interview those getting by, but to resuscitate interest in learning Thai for both readers and those being interviewed (if needed). So if you want, you could think of it as your own personal Thai challenge. Something like that.