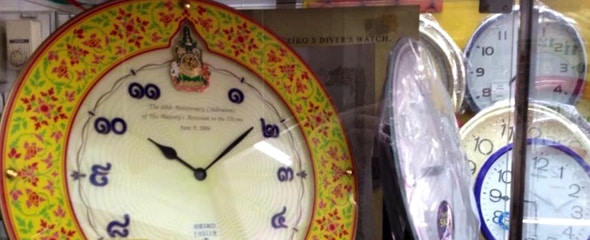 Thai Clocks are difficult to find!…
This week I got it into my head that I just had to have a Thai clock. I didn't want anything fancy, but I did want a clock I could use for years, preferably in wood, but I'd take a metal of some sort.
I started looking in an area of Chiang mai with a small clock community. There were only about six stores but they were chock-full of clocks and watches of all sorts.
Only two stores in that community had wall clocks. Both plastic. One store had wristwatches with Thai numerals (and only one of those were made for women).
Tesco Lotus. Nadda. Asia Books. Nadda. And just one store in Central Mall (airport) had a beautiful King's 60th anniversary watch. For men.
I'd march into watch shops and we'd all have a good laugh. No Thai clocks in Thailand? Are you kidding me? What happened to loving all things Thai and all of that?
Googling, I was able to find wooden clocks on amazon.com (not .co.uk) and on ebay. Doing a search for the name of the company (Laan-Gao) I was able to track down a few decent clocks. But is that all there is?
Thailand is loaded with creative people – surely there's more available – yes? Does anyone know where the quality Thai clocks can be sourced? I'd love to have one. And I'm not alone.