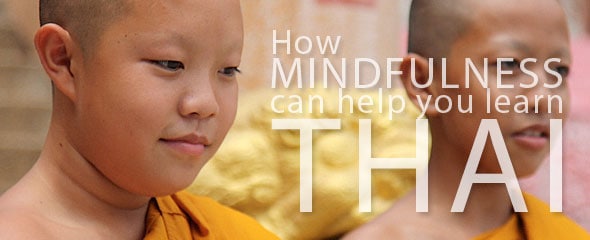 Mindfulness and learning Thai…
Reading a recent article by Catherine Wentworth, Learning Thai (for the shy), I hit upon a paragraph that grabbed my attention. She was talking about shy people learning languages but the thing that particularly piqued my interest was her mention of mindfulness in connection with learning Thai – I knew she was on to something.
A huge problem that I've had in the past when learning Thai is staying concentrated. I remember a few years back when I'd use audio Thai courses my mind just wouldn't stay focused on the material. I'd be flicking through magazines or messing around on the computer; anything but what I was meant to be doing. I'd be doing the first lesson and turning the pages to the last lesson. I used to kid myself that I was learning subliminally, but I was more likely just wasting my time. I have since found that the most effective language learning occurs only when fully focused on the subject – I suppose this shouldn't come as too much of a surprise.
What is Mindfulness?…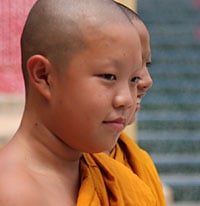 The first time I about mindfulness was about twenty-five years ago. Then I was an awkward teenager struggling to make sense of life. I bought a book called 'Zen and the Art of Motorcycle Maintenance' by Robert M. Prisig. I learnt absolutely nothing about motorbike maintenance, but this book did influence me greatly – as it probably did many other people as well. It taught me the importance of being present in the moment.
Mindfulness is something that has been of great benefit to me since then; in fact it once helped to save my life but that's a story for a different time. I often forget to put mindfulness into practice but when I do great things can happen. To be mindful you don't need to be sitting in any position and you don't have to buy any equipment or become a Buddhist– you don't even need a textbook or DVD to learn how to do it. All you need to do is be present in the moment. This might sound easy, but doing it is another matter – a lot of the time my mind is either thinking about the past or more likely planning the future.
Two Types of Mindfulness…
I have found that there are two types of mindfulness. One of them occurs naturally and one involves remembering to pay attention. For me the former is easier, because there is no effort required. I feel that the best way to encourage this natural mindfulness is through regular meditation practice – in particular concentration meditation (สมาธิ). The other method involves deliberately focusing on the moment. So if you are studying Thai you keep on returning the mind back to what you are doing every time it begins to stray – this can be a constant struggle some days for me.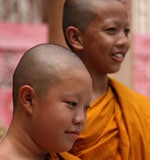 Mindfulness can help you learn Thai in other ways as well. Just walking around focused on the moment means you absorb so much more. I work as a writer, but I sometimes struggle with descriptions. I can get around this by being mindful of my environment; that way I capture a lot more detail that I can later use. Those of us who are lucky enough to live in Thailand can walk around the streets and really be present. This way we can pick up snatches of conversation and these will stay with us because we are paying attention. When we get home we can look up what some of the new words mean in our dictionaries.
Another thing that I've noticed about my Thai is that I speak it a lot more fluently if I'm mindful. I can hear a lot of Thai vocabulary in my head, and if I listen to this before speaking then the tones come out a lot better. It does meant that I speak a bit slower but this is actually an advantage.
The distracted mind that so often accompanied my early Thai lessons is the complete opposite of what mindfulness is meant to be all about. When I give my full attention there is a much better chance of knowledge being absorbed and retained. Using mindfulness to learn Thai can be a great tool that will really make a huge difference.
Mindfulness Tools…
Remembering to stay mindful can be difficult. I can be away in a daydream for a long time before noticing that I'm not in the moment. This is a common problem; luckily there are some tools that can help with this. One thing that has worked for me in the past is post-it notes; I can put one of these somewhere that I'm bound to see and write something on it like, "are you here?" There are also mindfulness clocks you can buy and these will sound an alarm every so often to remind you to return to the present. Free online or downloadable mindfulness clocks (Mac and PC) can be found at Mindful Meditations. As I've already mentioned the easiest type of mindfulness for me has been the natural variety that comes with regular meditation practice.
Paul Garrigan
paulgarrigan.com
Successful Thai Language Learners: Paul Garrigan