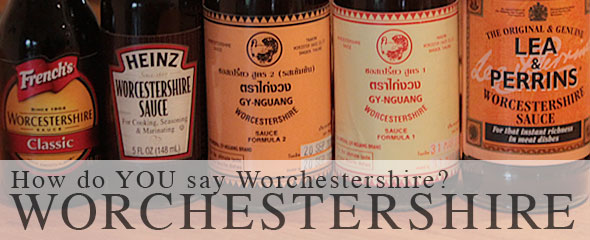 How Do YOU Say Worchestershire: Wooster, Wooder, or…
Writing a lighthearted piece about a Thai Worcestershire sauce was a bit of unexpected fun. For me, anyway. And from the comments, I'm not the only one who found it interesting that the western Worchestershire is a fish sauce of sorts, while the Thai version is not.
But whenever a mention of Worchestershire (properly spelt Worcestershire) comes into it, the conversation often turns to the pronunciation of the name, not the taste of the sauce.
foodhistory.com: The pronunciation of "Worcestershire" provides almost endless speculation, controversy, and amusement. The three syllables have variations with enthusiastic proponents, as follows:

First syllable — "wuh" or "woo."
Second syllable — "stah," "shtah," "stuh," "shtuh," "sturr," or "shturr."
Third syllable — "sha," "sheer," "shuh," "shurr," or no third syllable at all.
How-to-learn-any-language.com: I learned "worchestershistershire sauce" which may have just been a comical tongue twister. It was shorted to "worchestershire sauce". If you want to sound educated, don't choose either of these two pronunciations.
At Uncyclopedia.wikia.com we are told that not everyone can work their tongues around the actual name (tongue-in-cheek, for sure).
Uncyclopedia.wikia.com: It is a well known fact that Amercians are the only ones who can pronounce Worcestershire Sauce properly. Any average person will say "wuh-ster", but Americans know better and say "war-ses-ter-shi-re". No one knows the explanation for this phenomenon.
But then again, they misspelt Americans, so…
And since I don't know, I decided see if anyone else did. I asked friends from all around to send recordings of themselves saying Worcestershire Sauce. And they did. So what you'll hear below are voices from: America, England, Hungary, Republic of Ireland, South Africa, Switzerland and Thailand. In alphabetical order. Thanks all!
First up, Thailand…
Khun Gung is from Bangkok, Thailand. She does understand a bit of English, but she is not comfortable speaking (and I so sympathise). Since she does not read English, I asked K Gung to read from the Thai version, วูสเตอร์ /wôot-dtêr/, instead.

You already know my good friend Khun Phairoh, who also hails from Bangkok. She went to uni in Canada and speaks fluent English (it comes in handy with stubborn Thai learners such as myself). But as K Gung already set the pace with the Thai version, I asked K Phairoh to read from the same (วูสเตอร์ซอส /wôot-dtêr sót/).

Khun Narisa also comes from Bangkok and is fluent in English as well. I asked K Narisa to first read from the Thai version (วูสเตอร์ซอส /wôot-dtêr sót/), followed by the western version (Worcestershire Sauce). Or the other way around (I can't tell).

In our Skype conversation we went further into the subject of sauces in Thailand. For your listening pleasure I've extracted both ซอส ไก่งวง /sót gài nguang/ sauce turkey (chicken + trunk, remember?) and ซอส เปรี้ยว /sót bprîeow/ sauce sour/acidic.
Worchestershire from the west…
Alex Szecsenyi is a design buddy from Melbourne, Australia. Born in Hungary, Alex emigrated to Australia when he was four. When he can, Lx visits Thailand with dear Jay (send thanks Jay's way as her programming savvy saves my coding butt). If you want to see what Lx gets up to, check out The Graphic Post. In the audio below is Lx's version of Worcestershire.

Amy Praphantanathorn formerly taught English in Bangkok (that's when I met her). Amy is now back home in California with her Thai husband Golf and their son Adian. A guest writer on WLT, Amy can also be found at Expat Women in Thailand (no longer online). Amy's first audio is the pronunciation of Worcestershire. In the second, her explanation.

Christopher was born in London, England. He's lived all over the world but still retains most of his proper British accent. Chris doesn't have a website as he's far too busy looking at rocks, writing about rocks, and not bringing rocks home.

Claudio Sennhauser was born in Wangen, Switzerland. He writes at Claudio Sennhauser and has a humongous twitter following at @DemoWell. Claudio first gives us his English version of Worcestershire, followed by the Swiss.

The softspoken David Airey is a logo designer from the Republic of Ireland. He writes at two popular sites, David Airey and Logo Design Love. Along with Jay Wickham (Lx's better half), the three of us are said to tilt at windmills. David wraps both Worcestershire and Worcestershire Sauce in one audio file.

Jill Schulman from Netanya, Israel, is another design friend. When she's not raising her beautiful family, Jill can be found at JSD Creative. In the first audio file we hear the Hebrew version of Worcestershire. In the second is Worcestershire in English. And her explanation makes three.

Paul Garrigan is another voice from the Republic of Ireland. And while not a designer, he works in the communication industry as a writer. Paul is found all over the Internet but his home is at paulgarrigan.com. In the two audios below Paul first gives the common pronunciation of Worcestershire, followed by the official version.

Texan Tom Stephan is a talented blend of writer/designer. Sometimes protected, sometimes not, Tom tweets at @dyer9380. First up is Tom's deep pronunciation, second is his explanation.

We don't often think of English as tonal, but when you listen through the audio files there is a noticeable up and down. With Thai being a tonal language, I was tempted to add the transliteration to each pronunciation above. But, as I'm cacca at transliteration – it's the reason this lazy butt was forced to learn how to read Thai script – I'll leave it to those who'd like to give it a go. Any takers?
Before I close this out, I'd like to thank everyone who sent in their sound files. Listening to the various accents pronouncing different versions of Worcestershire was an interesting exercise.
Ah. And before I forget, sweet Loi Krathong wishes to all.