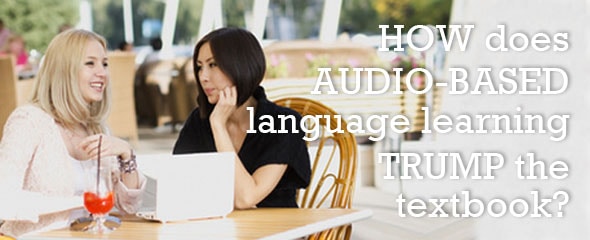 Guest Post…
Purna Virji possesses a talent for learning new languages with six in her present language-speaking repertoire. She is a former producer for an Emmy-nominated television show with a master's degree in international journalism. She currently works at Pimsleur Approach, the world leader in the audio-based, language-learning program developed by Dr. Paul Pimsleur.
How audio-based language learning trumps the textbook…
"We listen to a book a day, talk a book a week, read a book a month and write a book a year," said author and educator Walter Loban. Is it any surprise that an audio-based program is the best way to learn a foreign language?
Language is chiefly a spoken form of communication. It was born and evolved that way at least 100,000 years ago, with reading and writing only emerging relatively recently. Even with the rise of the books, then the Internet, texting and so on, the vast majority of day-to-day communications remain oral, driven by listening and speaking rather than reading and writing.
While this reason alone may be enough to conclude that audio-based programs are the most effective way to learn a language, there is also a growing body of research-based evidence to back it up.
How You Learn as a Child…
Let's begin with how we actually process language. As a child, you learned your native language by listening to people talking, not by studying textbooks. In fact, we listen for up to a full year before speaking, and reading and writing comes much later, mirroring the evolution of language itself. Therefore, learning language by listening can be considered the more natural way.
Leading anthropologist Terence Deacon agrees. "Writing and reading occurred recently," said Deacon. "We are not well designed to do so and as a result a lot of people have difficulty acquiring reading and writing. If language itself were like that we should expect to find those kinds of problems with our ability to acquire language." Clearly, for the majority of people, this is simply not the case.
The Science of Language Learning…
A groundbreaking 2001 study by the Carnegie Mellon Center for Cognitive Brain Processing found that the eye and the ear process information differently.
"The brain constructs the message, and it does so differently for reading and listening," said Marcel Just, Carnegie Mellon Psychology Professor. "The pragmatic implication is that the medium is part of the message. Listening to an audio book leaves a different set of memories than reading does. A newscast heard on the radio is processed differently from the same words read in a newspaper."
The experiment found that there is more working memory storage in listening comprehension than in reading, and that because spoken language is more temporary than written material, the brain is forced to process the language straightaway. The research went a considerable way to confirming what language learning researchers had long posited- that not all language learning methods are equal.
Better Pronunciation…
Moving away from pure science, there are numerous advantages of using an audio-based program rather than textbooks or visual programs. Firstly, using an audio-based program enables you to perfect your pronunciation and accent. By listening to native speakers on CDs, you can compare and improve your accent in a way that is simply not possible using textbooks. Therefore it is important to choose an audio-based system that uses only native speakers, and preferably one that focuses on breaking down unfamiliar strings of sounds.
In addition, learners naturally read words in their native accent. For example, take the German word 'welt' (world). A native English speaker would naturally pronounce it as it is written; however, it is actually pronounced 'velt'. Even if they immediately read that it should be pronounced 'velt', the connection has already been made in their brain and it can be difficult to reverse. Learning using an audio-based system eliminates this potential problem.
Tune in to the Language…
Next, listening regularly to the language makes it possible for your brain to tune into the language's unique cadence and rhythm. Every language is spoken differently, such as the musicality of the Romance languages and the perceived 'harshness' of German and English. With audio language learning methods, your ability to hear and understand the language, with all its different sounds and rhythms, will be speeded up.
In addition, the intonation of language varies considerably. Has anyone ever said to you, "It's not what you said, it's how you said it"? Linguistic researcher CMJY Tesink says, "Language comprehension in (verbal) social communication calls upon pragmatic listening skills, since the listener is often required to work out the non-literal meaning of the speaker's message by using the context and his own knowledge of the world." Audio-based learning programs tune the learner's ear into the unique and often subtle intonations of language.
Interaction…
To state the obvious, books do not talk back! Although the interaction in audio-based programs is not real, per se, the best programs recreate real situations and conversations as closely as possible, preparing learners for those all-important conversations with native speakers.
The voguish term for language learning now is "language acquisition", which differentiates between the direct instruction of language rules and the more natural, interactive approach now recommended by experts. Audio-based learning programs are much more conducive to this new, "acquisition" style of learning than books, which rely heavily on direct instruction.
Moreover, audio-based programs provide a kind of inbuilt revision. As the learner reacts to the voices on tape- answering questions, repeating pronunciation and so on, the new words and phrases are reinforced in their memory. In addition, as audio-based programs focus on real conversation, the learner will hear words and phrases repeated regularly, but not in the endlessly repetitive way that turns so many people off language learning.
Convenience…
Pragmatically, audio-based programs beat other systems hands down simply because of their portability. Considering that one of the top reasons people give for not learning a language is "I don't have time", portability and convenience are major strings in the bows of audio-based programs.
Practice and daily contact are widely acknowledged to be crucial ingredients in language learning success, and using an audio-based program means you can listen to the language wherever you go and whatever you're doing- on your daily commute, while working out, or even while catching up on household chores. You don't have to sit down with books or a computer, or try to find a window free in your schedule every day. Audio-based programs will fit effortlessly into your lifestyle, and it will therefore be easier to keep up with your language learning.
There is little doubt that audio-based language learning programs will grow even more popular, and will doubtless undergo exciting changes as the "digital age" marches on. Isn't it time that you turned on and tuned in?
Purna Virji