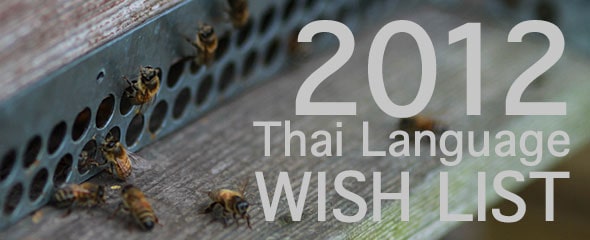 Happy New Year 2012!…
Happy New Year everyone! 2012. Wow. That went fast. Are you ready for a new year? I'm not. Not really. And forget about the backlog of posts from the pre-flood days, when you scan through the holes in my longstanding Thai language wish list, you'll agree that I'm running terribly behind.
You see, I've been watching the language learning market for the past several years. And every so often I'll come across a product not available for Thai learners. And if it's interesting enough, I'll add it to my Thai language wish list.
All along my intentions were to create some of the products you'll see listed below. But each year I've been too much of a busy bee. And each year time runs out. And now it's coming on 2012 already.
Yes, I still have good intentions. But, as it's been awhile, I've decided to share the list with you. And (hint) (hint) hopefully someone will help generate what's needed for learning Thai. Something like that.
My Thai language wish list for 2012…

Thai vocabulary stickers: Putting vocabulary stickers all through your house might be an old-fashioned method of learning languages. But it works. And yes! I do have a Thai vocabulary list on the way. It's a basic affair. You download the file, print the list on sticky back paper, cut along the dotted lines, and then apply the Thai vocabulary to walls, windows, where ever.
Last month I discovered a language company with a better idea: Lingibli (no longer online). Lingibli's printable vocabulary sheets (more on this later) are linked to an iPhone app with sound. Sweet, yes? And way over my programming capabilities.

Thai 100/300/500/1000 top vocabulary list: The search for this darn top Thai vocabulary list has been going on since the dawn of time. I already took a stab at the top 100 Thai words one must know. And I'm not done yet (surprise). And Learn Thai Podcast generously created a top 300 course on offer for free. But there's still a ways to go before we get the entire list compiled. So again, help is needed.
Note: Lingibli has shown an interest in creating a top 100 Thai app from my list. Now all we [cough] [cough] need to do is convince Lingibli to go whole hog with the entire Thai vocabulary list. Yeah. I wish!

Thai place names: Even though street names in Bangkok have an English equivalent – the awful transliteration – newbies to Thailand still have a difficult time getting around. So until they get the Thai tones into their ears, a simple printable list of place names (streets, parts of town, hotels, stores and shopping centres even) in Thai script and the dreaded transliteration would come in handy for presenting to taxi drivers, locals, and knowledgeable expats. Any takers?

Thai visual vocabulary: Language learners are not just audial but visual as well. Makes sense? And when their site isn't down WeboWord (which is now offline) sends out roughly drawn graphics with phrases to explain words. Obviously, it's not a new idea, but with the addition of sound it'd be brilliant for learning Thai vocabulary and phrases. I have this project in the works as well but it's a shabby ways away. Help?

Thai word a day via email: Last time I checked, there are word a day iPhone apps but no email lists. Also, from what I remember, none of the word a day apps have been created around beginner, intermediate, and advanced levels. The words are random so you get rare words along with entry level words. Frustrating.
The closest vocabulary product for iPhone with sensible levels is the ClickThai Vocabulary Trainer (reviewed here: Increase Your Thai Vocabulary: Word Brain & ClickThai Vocabulary Trainer). Do you think ClickThai would be interested in offering their list via email too?

Thai online grammar checker: Paperrater is a free, online proofreader and grammar checker for the English language. Does anyone know if a decent product is available for Thai? I have heard that there's a Thai spell checker for MS Word – such as it is – but it's not free.

Thai audio books: Members of Librivox record chapters of books for audio download. For free. I'm sure you'd have to be careful about copyright laws, but even so, wouldn't it be sweet for Thai? Ok, there is Rinospike but it's not quite the same concept.

Thai language ebooks: After being contacted by a reader I went in search for available ebooks in Thai. I found a few resources (to be shared in a following post) but the pickings are mighty slim. We can download, for free, thousands upon thousands of ebooks in English, French, German, etc., to read on our computers, iPhones and smart phones. So why not in Thai?

Thai keyboard with sound: One difficulty with learning Thai is that it's a tonal language. And one of the best ways to get the tones down is to learn how to read Thai. So I'm thinking that a Thai keyboard that sounds out the Thai alphabet would come in handy. Yes? And wouldn't coding the ability into aTypeTrainer4Mac be fabulous? Sure.

Thai teachers: I have a section to locate Thai language teachers, as does Glenn at Thai-language.com. But what's really needed is site similar to Find a Teacher, but dedicated to Thai teachers.

Thai tone test for Smartphones/iPhones: For online there's a great Thai Tone Test. You can always access it with Safari on your iPhone but an iPhone / Smartphone version with all the bells and whistles would be totally grand.

Online speed reading: Spreeder is a free product geared to improve your reading. But could you imagine one for Thai? With sound? Whooh. I'd faint with happiness. Try me.

Word and phrases calendar: During the Xmas holidays I came across a set of language learning calendars for German, French, and Italian. The product has a word of the day with a phrase showing how to use each word. The tear off sheets are simple, easy to use.
I bought the Italian version (more on that later too) and right away I noticed a problem. The phrases are all willy-nilly. Instead, what's needed are phrases and vocabulary from basic to advanced – OR – create several calendars to fit the different needs of students. And in Thai.

Verb cheat sheet: Nowhere is a quick cheet sheet for Thai verbs. I've looked online. I've looked in course books. I've asked around. Nope. And yup, this is another project I'm working on. As it's a tedious job, I just might post it totally raw to get your views. We'll see.
There's one more Thai language project but as I'm working on it (and don't want to get preempted) I'll save it for another day.
To finish, if you know of any products still needed for Thai, or if I've listed one already available, please let me know. I'm listening. I'm always listening.