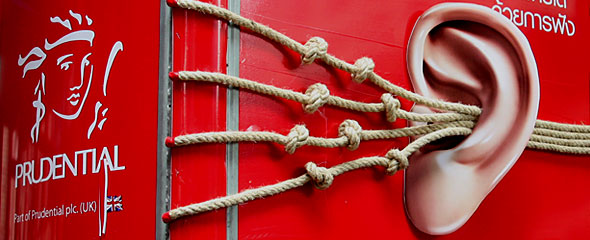 Prudential is all ears in Bangkok…
In your taxi treks around Bangkok, have you come across the Prudential ears marketing campaign? Ever?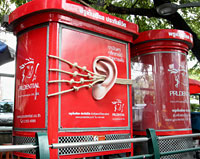 I have (obviously).
And before this goes any further, I have a confession to make.
Not knowing how to tackle the mystery, but still wanting to know why, I sent the photo (left) to a guy with a serious talent for getting to the guts of any story.
My blogging buddy Talen, from Thailand Land of Smiles.
He wasn't having any of it. Not any of my begging. My pleading. My promises of blog loyalty forever and ever.
"Just ask your readers", says I.
Nope. Nadda. Nothing.
But the more I explained to Talen what little I knew about marketing in SE Asia, the more that subject caught my fancy.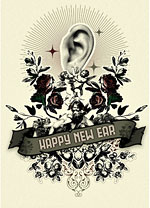 And now, more curious than ever, I decided to go for it myself.
I certainly thought the ad eye-catching, so I asked a few Thais what they though about Prudential's ears. I did not receive a "this is too weird for me" reaction. I received a no-nonsense, "it is a marketing campaign", type of response instead.
Darn. As that was not enough to fill a post, I headed out googling.
Google gave me even more of the Prudential ear theme:
The 'Happy New Ear – Direct Mailer' marketing campaign, launched with the opening of the PRU Call Centre by Prudential, won Silver Award in the Collateral Alternative Media category at the Thai Direct Marketer Association (TDMA) 2007 awards. Prudential was the only life insurer to win.
Happy New Ear? Hmmm?
You won't find a lot of information about Prudential's PRU Call Centre laying around, but at least I found that much.
And thinking… if feet aren't a popular marketing body part in SE Asia, then out of the overused others – eyes and noses and pearly whites – ears really are a safe bet.
Hmmm?
The Prudential ad in English…
Translating modern Thai has not been a priority for me (regular Thai is tough enough), so my Thai teacher translated the ad instead.
(and bless her heart, she is always willing to teach me a thing or two)
Along the top right of the ear:
ทุก ปัญหา คลี่ คลาย ได้ ด้วย การฝัง
túk bpan-hăa klêe klaai dâai dûay gaan-făng
All problems can be solved with listening.
And along the bottom of the ad:
พรูเด็น เชียล ประกัน ชีวิต รับ ฟัง แล้ว เข้า ใจ คุณ
proo den chian bprà-gan chee-wít ráp fang láew kâo jai kun
Prudential Life Assurance are willing to listen and understand you.
Prudential does not stop there with the ears. 2Bangkok has had a newspaper ad with the below blurb:
Prudential Life Assurance – If no one listens to you, we do.
Prudential's ears on YouTube…
You don't have to understand Thai to understand these Prudential ear ads on YouTube:
So there you go. The ears have it.
(is that bad, or what?)
Happy New Ears everyone.