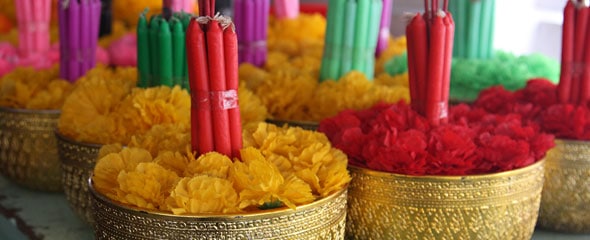 Look, there's a temple, and another, and oh, there's more…
First thing on Thursday I left a rainy Bangkok to head south for a rainy Samut Songkhram Province, known for its heavy concentration of Thai temples.
Taking a trip to the provinces so soon after my return from an intense two-week off-station stint was actually a bonkers of an idea, as I was totally groggy from the exertions: BKK >> Dohar >> London >> Exeter >> Dover >> Dunkirk >> Bruges >> Waterloo >> Brussels >> Gent >> Dunkirk >> London >> Dohar >> BKK. Most done on foot.
Hindsight being what it is… yes?
If you don't know already, some Thais gracefully bow in the direction of Thai temples, while others bow to the belief that they must make merit at every temple they enter.
My group was of the latter persuasion, at times weakening my enthusiastic camera waggle.
But being knackered did not get in the way, as entering a newly discovered Thai temple is like opening a Harvey Nichols Christmas cracker: mostly not knowing what shiny bobble to expect. Mostly.
Pêt sà-mòot, a jewel of a Wat…
On day two, with continued sketchy grey skies overhead, we arrived at Wát Pêt sà-mòot (วัด เพชรสมุทร), formerly Wát bâan lăem (วัด บ้านเเหลม).
Bangkok-daytrips.com: Wat Ban Laem which once was a small and disregarded temple, prospered and was enlarged mainly from the donations made by the people out of their faith and from their merit making and worshiping Luang Pho Ban Laem. Later, this temple was promoted to the status of royal temple of the class Worawihan and was granted the name of Wat Phet Samut Worawihan by the King. To replace the lost alms-bowl of Luang Pho Ban Laem, Prince Phanuphanwongworadej presented a blue glass bowl which can still be seen today.
While my group headed off to set fire to joss sticks, I wandered around to find the shot of the day.
The shot didn't happen but I did take away a few, and I never did find Prince Phanuphanwongworadej's blue glass bowl. What I did do was learn about something new: The Nine Birth Star ceremony.
Happy birthday to us, happy birthday to us…
For those who plan sufficiently ahead, Nine Birth Star ceremonies are held at certain Thai temples. As luck would have it, this was one of them.
At Wát Pêt sà-mòot (วัด เพชรสมุทร) you'll find a table decked with candles and plastic flowers in shiny gold bowls, a box with pens and bits of coloured paper, and a box with a slit in the top through which to slide the aforementioned bits of coloured bits of paper.
The red, yellow, orange, green, pink, blue and purple pieces of paper are meant to correspond with the days of the week.
In Thai tradition, there is an astrological rule (which has influence from Hindu mythology) that assigns color for each day of the week. The color is assigned based on the color of the God who protects the day or Navagraha. For example, the God of Sunday is Surya which has red color. These colors of the day are the traditional Thai birthday colors. For example, King Bhumibol was born on Monday, so on his birthday throughout Thailand will be decorated with yellow color.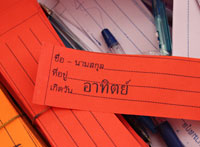 Every year I say "enough is enough" for getting older. But each year when my birthday comes around a feeling not of dread but of youth starts tingling. Perhaps it is similar to how I felt as a child? And perhaps feeling younger once a year is not a bad thing?
My birthday this year falls on a Sunday (today actually), so I grabbed a red slip of paper and followed the instructions written in Thai.
Instructions: เขียน ชื่อ-นามสกุล วัน-เดือน-ปีเกิด เข้า พิธี นพเคราะห์ ในวันที่ ๑๐ สิงหาคม ของ ทุกปี
English translation: Write your name and surname, day/month/year of birth to enter the Nine Birth Star ceremony held on the tenth of August of every year.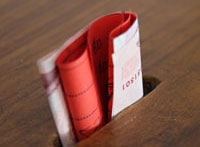 After conferring about the amount – the suggestion was to give 20 baht – I wrapped the annotated paper in a baht note and shoved it into the box next to the candle display.
I was then reminded that you are supposed to choose the colour of the day of the week you were born, not the colour of the day of your birthday this year.
Darn. I knew that. But take away sleep and my brain powers down.
Taking a stab that I was born on a Wednesday, I then filled out a green slip of paper and stuffed it into the box too.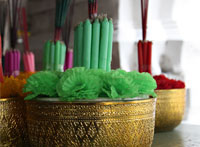 Now, I'm not tight by any means, but the green slip of paper went in on its own as the previous 100 baht note was more than enough.
Khun Phairo might even say "overly generous".
In fact, she did.
I was wrong with both the red and the green (no surprises there), but no matter. The monks at Wát Pêt sà-mòot (วัด เพชรสมุทร) will now pray for me this coming August. Twice.
And all for 100 Thai baht 🙂