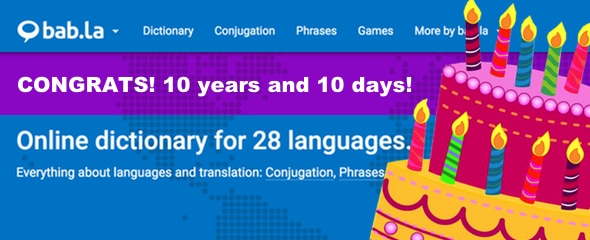 Happy Birthday Bab.la!…
What better way to spend a lazy Sunday than by passing on birthday congrats? Ten years and ten days ago, Bab.la launched into the world! And, in the process, bringing us the Top 100 Language Lovers Competition (amongst other important things).
About Bab.la: The language portal bab.la is a free online platform for language lovers and an online community of global citizens. We have 44 dictionaries for 28 languages, blog articles about life abroad, language games and quizzes, verb conjugation for 12 languages, phrase books for university, business or travel, an internship platform and many other language-related products.

In April 2015 bab.la joined the Oxford Dictionaries family when Oxford University Press became our parent company. Oxford and bab.la share a vision and mission to deliver quality language-related content to a global community.

In 2017, bab.la launched its online magazine Living Abroad for young multilingual expats coming to grips with life in a foreign country.
Bab.la also gave us the Bloggers Abroad competition, the Language World Cup competition, and … as already mentioned … [drumroll] … the Top 100 Language Lovers Competition.
Ten years. Talk about staying power! Each year Bab.la scours the internet for the best of the best, and then painstakingly has to decide which ones make the final cut. Ouch. That can't be easy.
Bottom line, the competition serves as an inspiring platform for language lovers (via blogs, twitter, Youtube, and Facebook) to strut their stuff. And inspiring, it is.
I've always imagined that the criteria for entry into the competition is along the lines of "what have you done for the language world lately". That's how I look at it anyway. And with that in mind, each year I use the Top 100 LL Competition to spiff up WLT.
For 2017 it's freebies for everyone (for details, check out Please Vote THAI | 2017: Top 100 Language Lovers Competition). I've also decided to share my new toy, Flashcards Deluxe!
WLT has a LOT of free audio files for download (recorded with a native speaker) but that still leaves people having to put in work before they can play. Fiddling files is an often mentioned bane of learning languages, so to make prep time less painful, I'm creating spreadsheet files to suck into Flashcards Deluxe (and Anki, if that's your poison).
To see what I mean, go to HouseTalk: Learn Basic Thai Cleaning Instructions* (more will appear during the giveaway and after). And there you have it. Fiddle free files for 2017.
So bottoms up to Bab.la's TEN years and TEN days! Thank you so much for inspiring me yet again!
Website (English): bab.la
Facebook: babla.languages
Instagram: babla.languages
Dictionary (En-Th): English-Thai
Twitter: @babla (great fun to be had here)
Please vote Thai…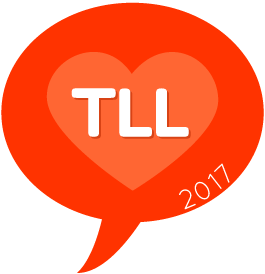 If you haven't voted please click on the Top 100 Language Learning logo to your right. Thanks in advance!
Pssst… thanks also goes to clipartfox.com for their ten candle cake 🙂