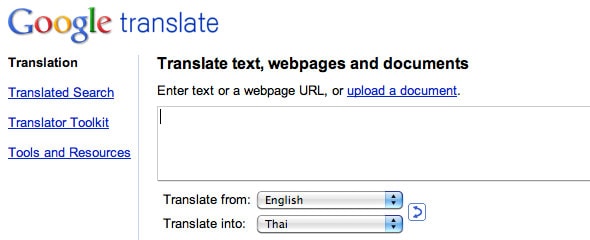 Google Translate, the challenge…
Over a year ago, Google Translate launched, and the language sites started buzzing at the possibilities. My contributions were Thai Translation: Google Translation & Thai Dictionaries and Google Translates Documents and Email Too and Thai Google Translate: Will Crowdsourcing Work.
During it all, Jeff Gray mentioned the below:
…the sheer volume of people adding useful stuff to Wikipedia makes it immensely useful. Wikipedia is also inherently self correcting, because if someone writes rubbish, it will be corrected by others.

In the same way, having millions of users making minor improvements to the translation system does something that any single company could never do with internal resources only. It might be chaotic, but the sheer scale is unbeatable.

Time will tell, but the approach they've taken is potentially a very effective one.
Taking it from there, on the 23th of July, 2009, I set out my Google Challenge. You can read more about it here: The Google Translate Challenge.
Google 2009 – 2010…
What you see below are are comparisons between Google's translations from last year and this year. As you can see, there is a difference.
Be careful! There is swine flu!
2009: ระวัง! มีไข้สุกร!
2010: โปรดระวัง มีสุกรไข้หวัดใหญ่เป็น!
I have swine flu already, thanks!
2009: ฉันมีสุกรไข้หวัดใหญ่แล้วขอบคุณ!
2010: ฉันมีไข้หวัดหมูแล้ว, thanks!
I don't know! Why do you ask?
2009: ฉันไม่ทราบ!ทำไมเจ้าถาม?
2010: ไม่ทราบ! ทำไมคุณถาม?
Did you eat yet?
2009: คุณกินยัง?
2010: คุณไม่กินหรือยัง
Oh no! You're a liar!
2009: แย่ละ!คุณเป็นคนพูดเท็จ!
2010: Oh no! คุณโกหก!
I don't want to see your face again.
2009: ฉันไม่ต้องการดูหน้าของคุณอีกครั้ง
2010: ฉันไม่อยากเห็นหน้าคุณอีกครั้ง
He is busy lighting a mosquito coil.
2009: พระองค์คือยุ่งแสงสว่างที่ยุงม้วน
2010: เขาเป็นไฟม้วนยุ่งยุง
Don't put any fish sauce on the rice. It stinks!
2009: โปรดอย่าวางใดน้ำปลาใน ข้าว. มัน stinks!
2010: ไม่ใส่น้ำปลาบนข้าว It stinks!
The first Google Challenge control group…
I ran these sentences through Google Translate in 2009 and 2010, but I didn't post them until 2010.
He tells me that he loves me with all his heart.
2009: เขาบอกผมว่าเขารักฉันกับหัวใจของเขาทั้งหมด
2010: เขาบอกว่าเขารักฉันด้วยหัวใจทั้งหมดของเขา
Do you speak English?
2009: คุณพูดภาษาอังกฤษ?
2010: คุณพูดภาษาอังกฤษ
What did the nurse say?
2009: อะไรได้พยาบาลกล่าว?
2010: พยาบาลพูดว่าอะไร?
That water buffalo meat comes from the north.
2009: นั่นควายเนื้อมาจากทางเหนือ
2010: ที่เนื้อควายมาจากภาคเหนือ
Please give me a glass of orange juice.
2009: กรุณาให้ฉันหนึ่งแก้วน้ำส้ม
2010: กรุณาให้แก้วน้ำสีส้ม
The turtle reaches the finish line before the rabbit.
2009: เต่าที่ครบตามเส้นชัยก่อนกระต่าย
2010: เต่าถึงเส้นชัยก่อนกระต่าย
Because last night you snored.
2010: เพราะ(ว่า)เมื่อคืนคุณกรน
The Google Translate Challenge summary…
So, what do you think? Has Google improved in translating Thai? Gotten worst? Or are the results pretty much the same?