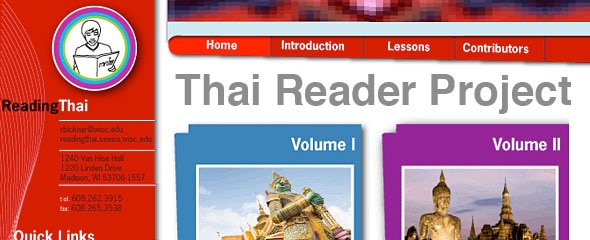 Free Download: Thai Reader Project…
If your Thai learning adventure has come to a halt due to the lack of intermediate to advanced materials, the University of Wisconsin's Thai Reader Project could be a fine fit:
The authors have attempted to create effective lessons in the reading of Thai that will help learners progress from the level of basic literacy to reading at the advanced level.

The lessons are based on authentic readings of the sort that learners of Thai will encounter in daily life in Thailand, ranging from basic informational texts to such as menus, timetables, newspaper advertisements and the like, to more complex texts such as news articles, editorials and short narratives.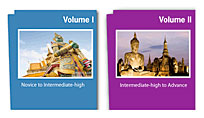 There are two readers with 76 lessons. Volume I is for beginners up to high readers, Volume II is for intermediate to advanced readers. I am sooooo chuffed that the lesson materials are not tourist Thai, but actual Thai one would find living in or visiting the Kingdom.
As mentioned, this is a free resource, no purchase required. Just download the many PDF files here:
Lesson Volume I: Download page
Lesson Volume II: Download page
Note: I have added this resource to WLT's growing Learn Thai for FREE section. There you will find other intermediate resources such as Hugh Leong's Advanced Thai Reading and Vocabulary Building downloads.
PS: My thanks goes to Bankei for this great find.