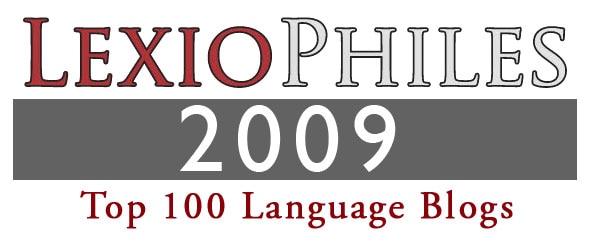 The Top 100 Language Learning Blogs…
Earlier, I shared my favourite blogs amongst Lexiophiles Top 100 Language Blogs for 2008. In July, WLT was included in the 2009 voting for Lexiophiles Top 100 Language Blogs.
WLT is new so I was more than a bit nervous about the whole deal. But, with your support, I did manage to make it to 85th place in Lexiophiles Top 100 Language Blogs 2009. Thanks all!
The majority of the blogs placed either focus on a specific language, teaching languages, or language translation. Amongst the 100 are a few blogs that might just interest most everyone:
All Japanese All The Time Dot Com
Don't let the title fool you as AJATT is an amazing blog for any language. You can also follow Khatzumoto's (ajatt) words of wisdom on twitter.
Educational technology in ELT
Check out new ways to use technology in language learning. I especially like the idea of Wordle (a pity it does not work with Thai script).
Keith's Voice on Extreme Language Learning
When it comes to alternative language methods, Keith has a great deal to say. As what he writes about interests me, I'll be posting about his experiences on WLT.
The Linguist – language learning should be fun
If you want serious language learning advice, then Kaufmann's blog is the way to go. You can also follow him on twitter: LingQ_Central.
Self Made Scholar (blog no longer online)
This blog goes beyond learning languages to the art of learning everything.
Again, a special THANKS goes to everyone who voted for WLT!