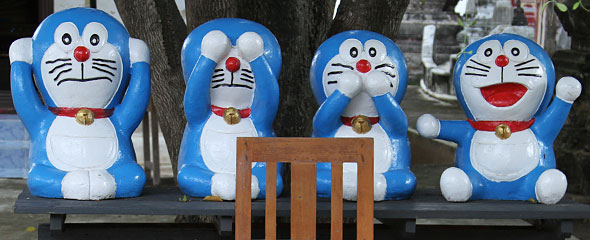 Doraemon in Thai news…
Doraemon (famous Japanese cartoon cat) has been in the Thai news lately. But first, let me catch you up on the old news.
Last year reports started appearing about the much loved Doraeman cat cartoon invading the murals on a Thai Wat:
YARPNEWS (no longer online): For the uninitiated, Doraemon is a blue, earless robot cat from the 24th Century. The character first appeared in Manga comics in 1969 and has since starred in TV, films, musicals and video games. He was even called the 'Cuddliest hero in Asia' by Time Magazine.
Fester LIVE Udon Thani: A TEMPLE in Suphan Buri province has become a national sensation after an unusual character was spotted hiding in its wall paintings: the Japanese cartoon character Doraemon.

Noticing Doraemon's huge popularity with Thai schoolchildren, artist Rakkiat Lertjitsakun added the sky-blue robotic cat to murals at Wat Samp Pa Siew in Muang district.

Temple abbot Phra Maha-anan, who hadn't noticed Doraemon's presence in the murals until he was told about them by a Khao Sod reporter, said he wasn't angry at all. Mr Rakkiat was just trying to help today's children learn about good and evil and heaven and hell, he said.
Things calmed down until this week, when the Wat decided to get into the amulet market:
Bangkok Post: A 700-year old temple in Suphan Buri's Muang district has made headlines again by issuing issuing amulets of a god holding an iPad and of a famous Japanese cartoon character wearing a Thai headdress, and distributing them to visitors as souvenirs, reports said.
Bangkok Post: UPHAN BURIA temple which uses imagery featuring Japanese cartoon character Doraemon on some of its souvenirs has been warned it may be violating copyrights. Wat Sampasiew in Muang district of Suphan Buri produces locket pins featuring Doraemon which it gives away free to visitors.

But Wisarut Inyaem, director of the Tourism Authority of Thailand's (TAT) Suphan Buri office, has urged the temple to avoid violating the intellectual property of Fujiko Pro, the creator of Doraemon, and iPad developer Apple Corp.
Call me cynical, but I don't believe there's a whole lot Fujiko Pro can legally do about Doraemon's copyright in Thailand. Ripped off designs, software, movies and music are sold openly on Thai streets, in malls, pretty much everywhere. A couple of times a year there's a big kerfluffle in the news, products are taken off the shelves, but days (hours sometimes) later it's business as usual.
What Fujiko Pro could do is educate the Temple abbot about the rules of international copyright. How difficult could that be?
Doraemon at Wat Sampasiew…
In 2011, right before the floods hit, I stopped by Wat Sampa Siw. Yeah. I know. I'm lax about sharing my adventures in Thailand and elsewhere. I get to have all the fun and you mostly get nadda from me. My bad. But don't thank me for finally sharing these photos – thank Kaewmala. Yesterday, when I mentioned the zillions of Doraemon photos I had, she sort of guilted into me it. See?
Anyway, I'll start you off with this [apologies] awful video I took. But seriously? One of these days I'll invest in a tripod that works. Tips on make and model are welcome.
In the video, except for the obvious Doraemon shouting ห้ามจับภาพ /hâam jàp pâap/ (heh hehhhh), the cat cartoons can't be seen. And even though I had my face right close to the mural, I still had difficulties locating the cartoons. Everyone did. But soon a novice monk stepped in to point out the hidden Doraemons.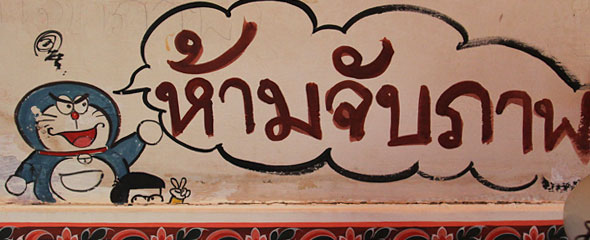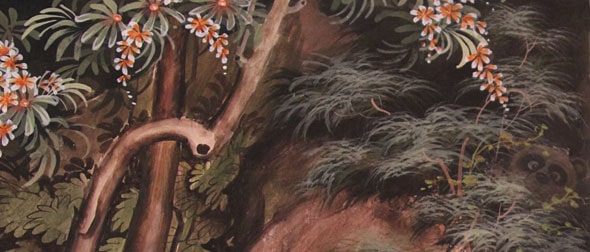 There are more hidden Doraemons than I've shared here. But, after staring at mural photos for an hour, I once again lost sight of that darn cat. I took a fair number of photos both before and after the novice monk rescued me, so Doraemon could be hiding most anywhere.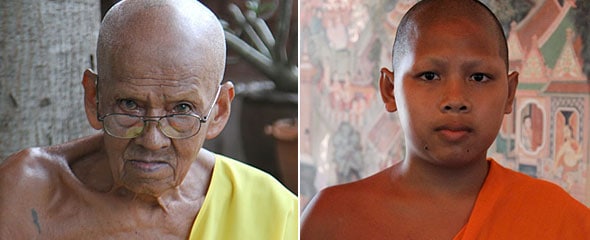 The young man to the right is the novice monk who saved the day. To the left, a senior monk who just happened to nod "yes" to my camera waggle. Don't let the stern faces fool you. Both laughed at my antics but sobered up as soon as my camera came into play.
Temple paintings Thailand…
Artist Rakkiat Lertjitsakun: "Inserting hidden messages into temple paintings is an age old tradition," explained Rakkiat. "Years ago they would hide depictions of sex in the murals; nowadays it's a blue cartoon robot cat."
Whenever I visit a Wat with paintings (not all have them), I look for the fun scenes. Some characters are humorous while others are quite risque. Over the years I've amassed a growing collection and one day I'll share them in a post. Remind me if I forget.
Below are a few I found at Wat Sampa Siw. This is the first time I've come across a blood spattered scene in a Thai mural but not a first for male and female body parts (body parts are a fav with Thai mural artists).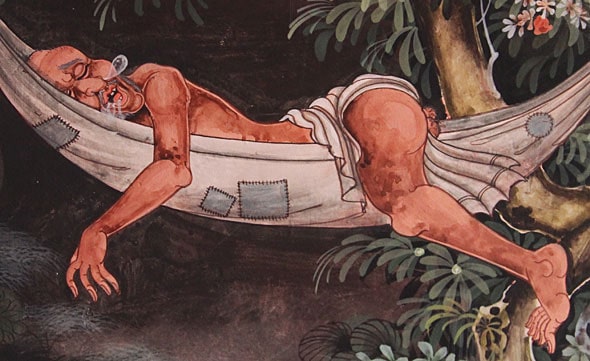 The guy enjoying his nap has an actual name:
thai-language.com: Choo Chok – ชูชก /choo-chók/ is a greedy Brahman character in the story of 'เวชสันดรชาดก' /wâyt săn don chaa-dòk/ who finally died from eating too much.

Thai people like to call someone who eat a lot or eat too much as "choo chok", it's not a compliment though.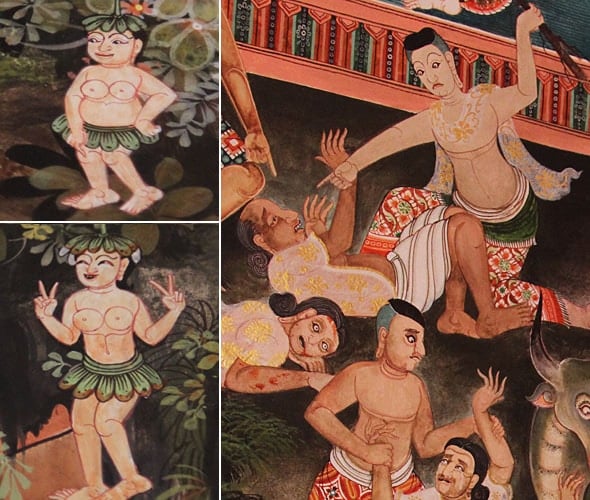 Btw: If you are in Bangkok right this minute, you can just make the last day of the Doraemon Fair at Terminal 21. From what I gather, it's a celebration marking the 100 years before Doraemon is to be born.