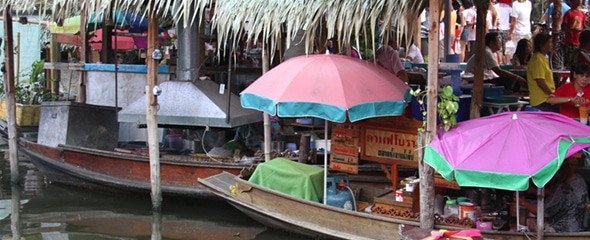 Travel around Bangkrajao with a young local Thai guide…
WLT is all about promoting the Thai language, except when it's a good cause such as this (helping Thai students improve their English). If you are in Bangkok and can attend, please do.
Wat Bangnamphuengnai School is located near Bangnamphueng floating market where a lot of foreigners visit. As they were born and raised here and know every aspect of Bangkrajao, the local students are the perfect guides to introduce foreigners to this amazing place. Unfortunately, their proficiency in English is insufficient. They study English only in the classroom and have no chance to use it in their daily lives.

So, it is a pleasure to invite you to this camp. This is not an English camp. It is a cultural exchange camp that gives students a chance to speak English outside the classroom. The students will take you on a bike tourt in Bangkarjao, teach you how to tie-dye (a local wisdom) and make a strong relationship with you. You will have an unforgettable trip with new local friends who know every corner of Bangkrajao.

The camp will be held on the 5th of August 2027, from 9.00am to 5.00pm, at Bangkrajao, the green lung of Bangkok. The registration fee is only 100 baht. All nationalities are accepted – the requirement is being able to speak English with the students all the time.
Here's the online form to sign up to the Cultural Exchange Camp. For more information please feel free to contact 081-8852598 or email [email protected].
NOTE: The deadline of submission was on the 31st of July 2017 but has now been extended.