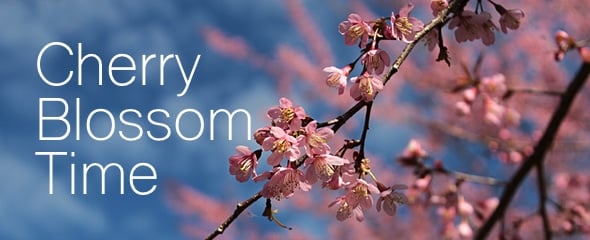 Cherry trees are blooming in Thailand – hurry if you can…
Depending upon traffic, an hour from Chiang mai is the Khun Chang Kian Highland Agriculture Research Center. Around this time of year (Jan/Feb) visitors squeeze up a hairy one lane road to see the Center's cherry trees in bloom.
Siam and Beyond: The variety of sakura growing in Thailand is the Wild Himalayan cherry (Prunus cerasoides). Its name in Thai is นางพญาเสือโคร่ง /naang phá-yaa sǔea-khrông/, which means "Tiger Queen."
Thailand isn't exactly known for its cherry trees, but as the story is told, over 50 years ago China's defeated Lost Army planted the trees in Santikhiri (สันติคีรี) to remind them of their homeland. Looking to attract more tourists to the region, in 1974 Thailand extended the planting to other suitable areas in the north of the country.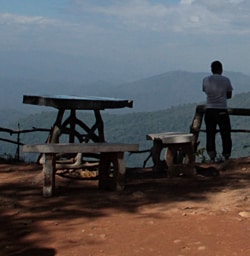 On Sunday (the day after Children's Day) I attempted the drive up the mountain to Khun Chang Kian but turned back due to the massive amount of cars trying to do the same.
The grade is fairly steep and traffic goes both ways so you are constantly forced off into a dirt shoulder. That's if there is one. If not, one of you will need to reverse. And if there's a long line going up and another coming back down, it can be a nightmare.
My car has an automatic transmission with a button for a break (weird, huh). The combination of a steep hill and constantly having to stop and start did me in! The cars behind crowded too close, leaving no room to go from brake to accelerate. Turning around at the overlook, I promised myself a Monday return.
The trip up the mountain can be made in a regular car if your timing is right. Sunday was a wash but going back on a weekday worked out great.
Tips: If you don't have access to either a truck or motorbike, at the scenic overlook partway up the mountain transportation is available. But do know that parking there is limited. And if you do go in a regular car and a truck (four-wheel drive) comes the opposite way, stay on the road but give them enough room to go off the shoulder on either side. Sometimes it works and sometimes not but it's worth a try.
How to get there…
As per the map below, drive out of Chiang mai, heading towards Doi Suthep. A few km past the Phuping Palace and Gardens (zoom in to see it on the map) is a three way junction. At the junction is a hard to miss sign to Khun Chang Khian telling you to turn right. Keep on that small road all the way to the Khun Chang Kian Highland Agriculture Research Center.