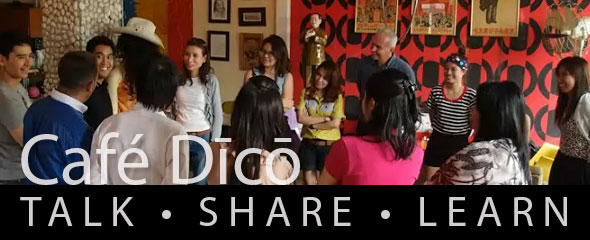 Café Dīcō: Talk • Share • Learn…
There are several Thai-English social language exchange groups in Bangkok. Meetup's Thailand Language/Culture Exchange is was just one (no longer around). Another came to my attention just this week: Café Dīcō.
Café Dīcō is a learning environment for those who wish to be proficient in a language. Dīcō in Latin means to talk. We believe that the most effective way to be fluent in a language is to use it daily by speaking with those who are native to the language and also with learners alike.

Café Dīcō is not a language institute. Instead, it is a club where people practice using a language through socializing. Café Dīcō aims to allow people to immerse in a language with others by providing an engaging and relaxing atmosphere where they can talk, share, and learn.

If you are looking a good way to learn Thai online, check out ThaiPod101. Although their courses are not free, they are cheap, effective, and can quickly teach you conversational Thai. All ExpatDen readers get a 25% discount using this link.
Edit: Café Dīcō is no more but if you do know of a similar meetup please drop me a line.