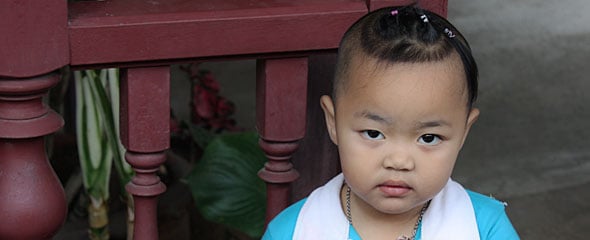 Booking a cultural Christmas…
With exactly one week to go before Xmas, there is just enough time to shop for the Thai language learner in your life.
And while these books are not about learning Thai, they are about Thailand. Equally important.
About the list… I asked friends and forums for their favourite books on Thailand and Thai culture. I received 50 over. Out of those, I chose what I believe are the top of the lot.
About the books… after procuring my list, I contacted Danny at DCO books to fill in the holes. From personal experience, it's cheaper to have DCO send via motorcycle taxi, then waste time and taxi money fighting BKK traffic (sometimes for days at a time).
About the photo… In a Mon (มอญ) settlement in Bangkok, children still wear their hair in the old-fashioned topknot (จุก – jòok) from centuries ago.
Thai language. Thai history. Thai culture. There is so much to learn.
Understanding Thailand and Thai culture…
Bangkok Inside Out
By Daniel Ziv and Guy Sharett
Do's and Don'ts in Thailand
By Kenny Yee and Catherine Gordon
Inside Thai Society
By Niels Mulder
Spiritual Abodes of Thailand
By Barry Broman and William Warren
Thai Fever
By Chris Pirazzi and Vitida Vasant
Thailand, a Short History
By David Wyatt
Thai Ways
By Denis Segaller
The Spirit Houses of Thailand
By Peter Reichart and Pathawee Khongkhunthian
Very Thai, Everyday Popular Culture
By Philip Corawel-Smith (verythai.com)
Working with the Thais
By Henry Holmes
More Living Thai Ways (out of print)
By Michael KellerClaxton and Alison Woo (Living Thai Ways is also good)
Agree? Disagree?