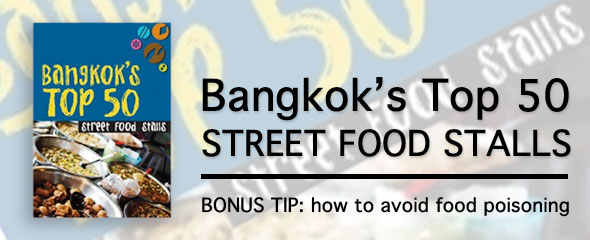 Food poisoning, the Bangkok street food way…
After spending the past 12 hours hugging a toilet and worse, you could say that I have an up close and personal perspective on Bangkok's street food.
And the irony? The food poisoning was totally down to researching for a review of Bangkok's Top 50 Street Food Stalls. You see, I don't often eat at street stalls. Due to my dietary preferences (no rice, no noodles, no sugar) what typically gets sold at streets stalls doesn't fit.
But, skimming through the delectable choices listed in their top 50, I managed to dog-ear enough pages to warrant a review of the book. Thing is, I didn't make it to any of the Bangkok food stalls listed. To start my research, I opted for a street stall closer to home. It was a bad choice (in more ways than one).
Heath Concerns: Many visitors to Thailand shy away from street food because of the looming spectre of 'curry tummy'. Although some stalls deserve cautious treatment, most offer the same level of hygiene as closed-door restaurants in Bangkok, and all street food stalls are periodically tested by city authorities for cleanliness.
I would like to add to their warning. Whatever you do, don't take street food home to enjoy on another day especially if it includes meat (pork, fish, beef, whatever). In the fun of the moment (partying with guests) I'd forgotten that sage advice given years ago. And after suffering, to be sure, I won't forget it again.
Mind you, if you are leery of eating on the streets of Bangkok, then this disclaimer should impress you no end (and actually, I couldn't think of a better selling point for a book on Thai street food):
You can be sure that only 'clean' food stalls with no history of hygiene issue are included in this guide.
I won't be eating on the street again real soon but when I do, I'll use Bangkok's Top 50 Street Food Stalls as my guide. Now if you'll excuse me, I gotta… run…