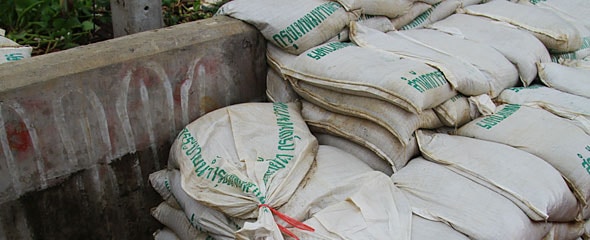 Bangkok bracing for the predicted floods…
For weeks we've been reading conflicting news on whether Bangkok will flood or not. First the Governor states that "Bangkok is ready, come hell or high water" (Bangkok Post article no longer online). Then that very same day, Yingluck, the Thai prime minister, warns of floods threatening Bangkok.
Soon after we had an "expert assuring us that the capital was not at risk of being swamped" (Bangkok Post article no longer online). But following that statement was yet another switch, that we are losing the battle against the river (finally, a BKK Post article that has not been taken offline).
And yet another killer announcement is where "Yingluck says the city is ill prepared for floods" (Bangkok Post article no longer online).
Ouch.
Not to be outdone, this very morning I woke up to an alert that "evacuation plan readied, city close to losing last line of defence" (Bangkok Post article no longer online).
Double ouch.
Today is the 13th of October, my mother's birthday. I'd say "Happy Birthday, Mom!" but she doesn't read my blog. Good thing because Richard Barrow's 13 October update: Maps of flood risk areas in Bangkok would frighten her to no end.
In his updated post Richard quotes ML Sukhumbhand "Evacuation plan readied" (Bangkok Post article no longer online)":
If the water keeps rising, I am not sure if it can prevent flooding. If not, we cannot save Don Muang. All zones in Bangkok stand an equal chance of being flooded because we can't predict the water flow. Right now, everything is under control. If we can't control it, we will let people know straight away.
That leaves me wondering just how much time Bangkokians have (to run?) after a warning comes. Under an hour for central Bangkok? Ok. But I'm to the north. So for those of us up this far, there's sure to be less time between the dry and the rushing wet wet wet.
Smiles amongst the flooding crises…
Even with the seriousness of the situation, the flooding criss hasn't been without its mild hilarity.
A leaked memo was all a twitter: "City Hall to ask Water Goddess for mercy" (Bangkok Post article no longer online). The ceremony was toned down when they took the tweets as criticism (ok, some tweets were not exactly complementary… but…)
Personally, I saw most of the twitter comments as comic relief. I mean, come on, human nature being what it is, the flood crisis is stressful for everyone so a bit of laughter is needed.
And face it, Thailand has been at the "if we don't laugh, we'll cry" stage for quite awhile.
Also receiving twitter laugher was the Thai government's plan to use 1,000 boats to push flood waters. Seriously, who [wise edit]…
While I was writing, editing, and doing even more editing, @RichardBarrow sent out several tweets:
Here at Taiban there is a fleet of 30 fishing boats "pushing" water out to sea. 20 more at Paknam.
They say it's "scientifically proven" the boats are making a difference. But surely only surface water?
You can actually see the [surface] water moving twice as fast compared to where no boats.
The latest bit of comedy came when we were told that the 100 escaped crocodiles are "not fierce". The idea of tame crocodiles totally boggles the mind. So, no no no no comment.
Not even remotely funny is the Bangkok Post's sobering advice on "how to protect against poisonous creatures during flooding". Walking through flooded Ayutthaya recently, I was absolutely terrified of being bitten by snakes.
And it's a real fear. Not a girlie fear. Every bump underwater, every submerged plastic bag brushing against my legs made me flinch.
Preparing for the possible flooding of Bangkok…
For days after my last post, Ayutthaya Underwater: Bangkok Now Bracing for Floods, I was living in my PJ's, celebrating dry land.
Like the rest of Bangkok, I'd already stocked up on supplies and then some. I was ready. And with a drop in caffeine levels, I was willing to sit out the remainder of the flood at home. Ok, I can't lie… I was mostly willing.
But then came the phone call.
You need a charcoal stove.

A what?

You know, one of those quaint stoves you see all over Thailand.

Why?

Because you won't have a means to cook if you don't have electricity. And if Bangkok floods, your electricity will be cut.

Nah. My neighbourhood is not going to flood. Not seriously anyway. Not enough to lose electricity for more than a day (if that even).

And if it does? What then? How will you make coffee?

Oh! COFFEE! Why didn't you say?
Sigh. This is where some expats are nowhere near prepared as the Thais. My Thai friends already have access to cookers that don't depend upon electricity. And in a previous house (set up by my Thai landlord) I did too. But I set up my present abode. Not good.
Charcoal stove hunting in Bangkok…
A quick call to Khun Pissout and we were soon on the trail of a cooker. When I asked KP how work was these days, he was a bit down. During the run up to a crisis people stay home and taxi drivers, street hawkers and all suffer financially. It's something to think about, so yes, I might just get out one… more… time… before the deluge… or after… We'll see.
Anyway, I haven't [yet] seen any crocodiles, or snakes for that matter. But on my search for a charcoal stove I was able to find proof of Bangkok residents begin hoarding food, water on flood threat.
Pssst… I'm a water hoarder, as are my friends and neighbours, so count us amongst the list of hoarders too.
And another thing… apologies in advance. I don't have one of those spiffy new iPhones so my photos inside the stores are cacca. And if you don't know, grocery stores in Thailand have a NO PHOTO policy so my crappy iPhone camera was my camera.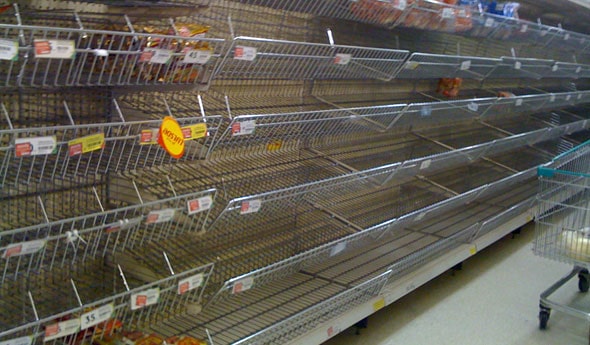 My first stop was Tesco Lotus. The noodle aisle was empty of all but a few select brands.
Tesco's water supplies, another dire necessity in a flood, were also cleaned out. Again, except for a few brands.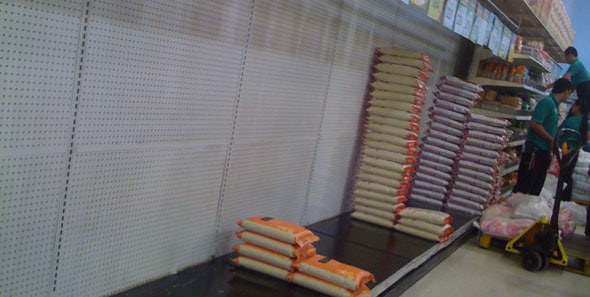 When it came to the supplies of rice, Thai shoppers were even pickier. From what I saw, they bought everything except for Tesco's brand. And to add insult to injury, it was even on sale.
While I was in the rice section, flats to replenish the empty shelves began arriving. I asked the person in charge about the supply and she said no problem, Tesco replenishes daily. Giving her a thumbs up and a smile, I walked away relieved.
BTW: Chuvit is reporting dire problems with our food supply and while I don't know who to believe, it was nice to hear a positive note from Tesco, regardless.
The noodle section in Villa market was half cleaned out. I don't know if it was a price thing, or if Villa should take note of their more popular brands!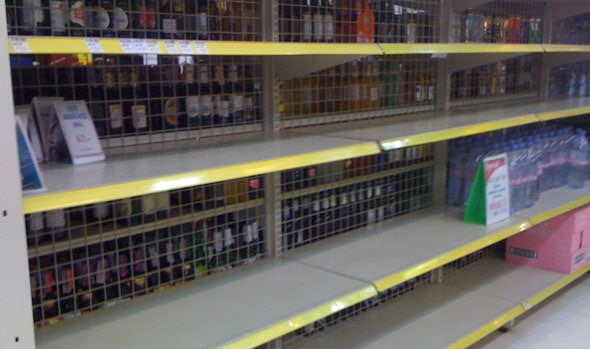 Again, the froo froo water was left but the inner lane (unseen here and usually stacked with water) and the shelves were emptied. I'm not lacking water (remember, I'm a hoarder) but I will go back to see if new supplies have appeared.
Please note that all through Villa and Tesco's the other sections were stocked high. Fruit, vegetables, fish and meat were all in abundance.
Flooding in Bangkok… the little I saw…
I didn't get to the main flooded areas in Bangkok yesterday. It's a taxi driver's job to keep their passengers out of traffic jams and that's exactly what he did. It went something like that – and as that's my story, I'm sticking with it.

I know I keep saying this, but I seriously do believe that where I live is relatively safe from floods. From Richard's post (on the latest predictions of floods map), I'm not far from two iffy areas: Klong Sam Sen – Klong Bang Sue (2) and Chatuchat (8). There's also the small waterway by the army base that floods (shown above) but they've been busy filling it in with muck for months. And for now, I do feel safe and dry.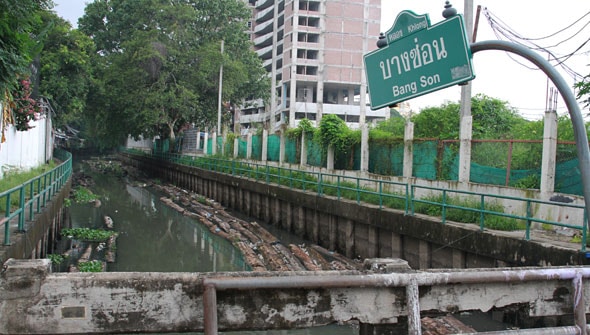 Some of the smaller waterways are closed off. I was told that it's due to the worry that a deluge would be ok in the larger klongs but would swamp the smaller ones. Makes sense.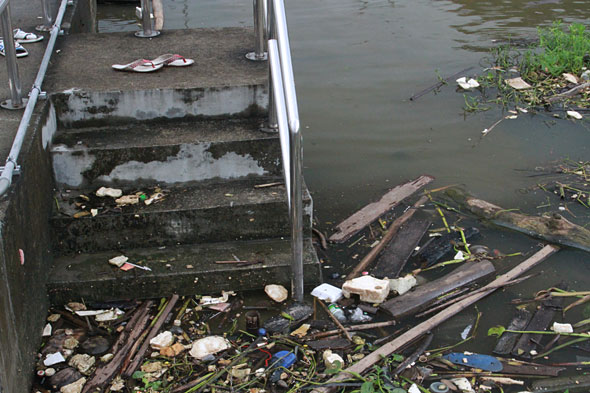 Since I'm not familiar with this area I don't know how much higher the water on the Chao Phraya river has become. But what you can't ignore is the rubbish floating around. Some waterways are totally carpeted with plastic bags, discarded toys, whatever garbage that can float. Some are so thickly covered in trash they give the false impression that you really can walk on water.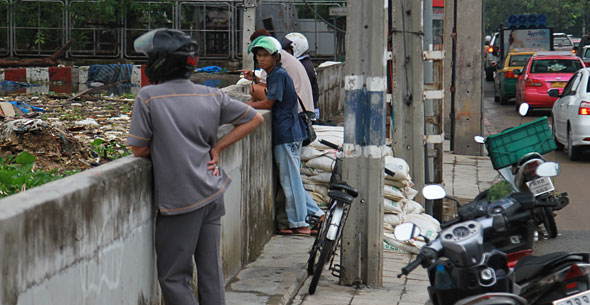 That's not all solid ground. These guys are watching a growing mess of rubbish floating in.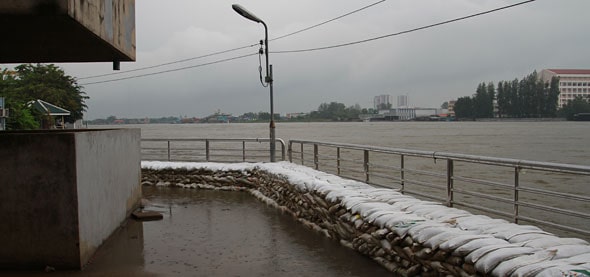 What you are seeing is the Chao Phraya river rushing by sandbags. Fast. Pity I didn't take video to show you just how fast. Some of the river (or is it the rain) made it inside the sandbaged area but not enough to worry about. Yet.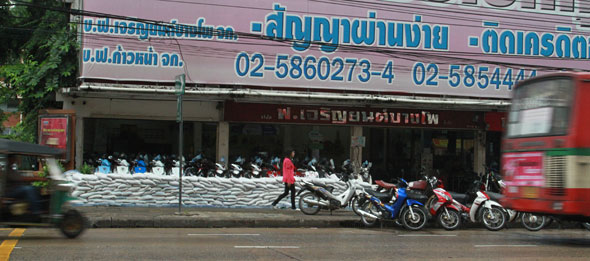 As I was running around I noticed that some shops took extra precautions against the floods and shops right next door did nothing. This one thrilled KP so much that he backed up his taxi to take a real look.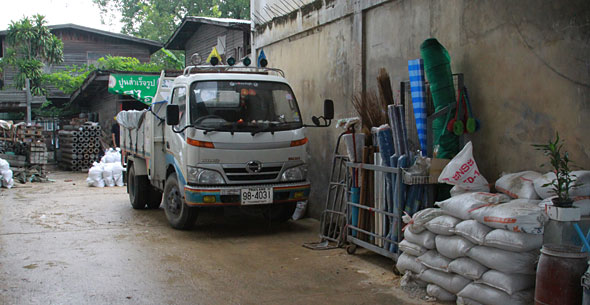 Now here's the second bit of good news for the day (the first coming from the Tesco lady).
People on twitter have been reporting sandbags going for an astounding rip-off price of 60-100 baht. Do you know the pre-flood prices for sandbags? I don't. But these guys have sandbags for sell at 30 baht, not 60 or 100.
And as I left they too got a thumbs up.
Hunting down a traditional Thai coal cooker…
Ok. finally! The promised coal cooker! Practical coal cookers are everywhere in Thailand. But unless this crisis has given me the wrong impression, you won't usually find them in stores such as Tescos or Villa (I looked). But some of the smaller mom and pop shops keep a supply.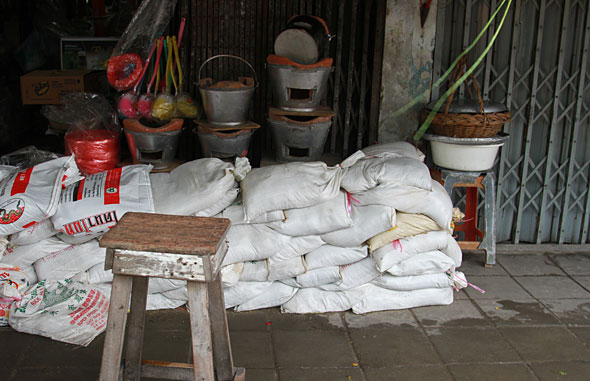 Not thinking about the realities, I bought a large version of the coal burner plus two plastic bags of coal. KP then got a chuckle when I asked, "ok, now what do I do with it all?"
He went on to explain that first you dump the coal in the top, then you get sticks of wood and paper to ignite the wood. So it's just like making a camp fire (which I do have experience with).
But then he paused and said that my neighbours would object to the smoke coming from my balcony.
When I asked how he got around upsetting his neighbours with coal smoke he replied that he doesn't use coal. His fire is gas driven.
And then he thought a bit more and corrected himself by admitting that if no one in my condo had electricity, then they wouldn't complain. And how could they? Because to Thais (and to me too for that matter), being able to eat is… a must.
Ok, so now I have the smoke problem solved but there was another. Pans. Actually, I have two problems to solve.
1) How do the pans stay out of the fire, and…
2) Where do I get the appropriate pans?
Because yeah, my froo froo expat pans are not made for high heat.
So off we went to a cooker supplier who fixed us up with a grill. After that we stopped at Tesco Lotus where we struck out but [drum roll] Villa Market had pretty much everything I needed.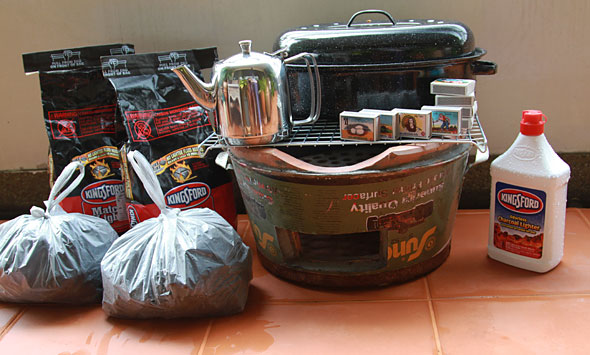 As you can see in the photo there's a coal cooker, two plastic bags of local coal, two bags of farang coal (no lighter fluid needed), a metal kettle to make coffee (yeah), a metal pan for cooking, matches galore, and for emergencies, lighter fluid.
And this should be pretty much all is needed for the cooking aspects of flood emergency supplies. All excepting for the food. And the water. And the whiskey and wine.
And if I'm wrong, you'll let me know. Right?