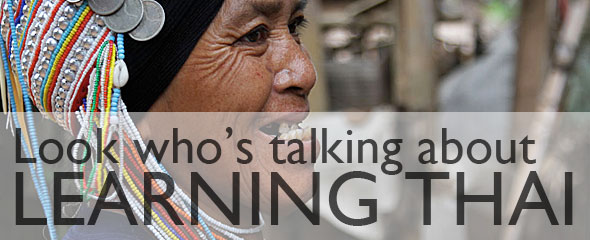 Who's talking about learning Thai…
The results for the Top 25 Language Learning Blogs 2011 and the Top 100 Language Lovers 2011 are in. Thank you for your support everyone. I'm surprised where I placed but you won't hear any quibbling from me! And I promise to keep up the pace.
WLT's generous contributors …
If you missed it, Benjawan Poomsan Becker's The Interpreter's Journal teaser is a must read: How it Started, Mistakes and Misinterpretations and Studying Foreign Languages.
Benjawan was interviewed recently on VOA as well (thanks for the reminder Andrej!): Benjawan on VOA 1 and Benjawan on VOA 2.
Next up is Hugh with his excellent Thai Language Thai Culture tips in Spicing Up Your Life. And if you are reading this now (like when this post goes live), be sure to check back for Hugh's humdinger of a post on Friday.
There were two Getting By With Learning Thai interviews for this session (note: two more are on the way!): The lovely Snap and our very own Thai school reviewer Tod Daniels.
Tod contributed to the two theme by writing two of his bang-4-the-baht Thai Language School Reviews: AUA Thai Language Program and PRO Language. Good stuff.
Note: If you would like to contribute posts and/or if you have a talent for Thai, please contact me.
April/May: Who's talking about learning Thai…
A new addition is Jeff Netto with The Thai Challenge. I wrote about Jeff's Thai adventure a week ago in The Thai Challenge PLUS The 6 Week Challenge.
Jeff doesn't blog often but he does share his tallies on twitter (@JNatAlkhimia) and YouTube (JNatAlkhimia). He's recently added two more YouTube videos: 6 Weeks/Thai Challenge – Update 13 May 2011 and Keep the (Thai) Challenge up at the Survival Camp.
Jeff is an accomplished language learner so if you are interested in seeing how he tackles Thai then signing up for his accounts is a logical move. But I'm sure you already knew that. Right?
Andrej: Bakunin Learns Thai (no longer online)
Andrej's 'Tadoku results' discusses the 'Read More or Die' competition. It's an excellent language goal to set your language learning sights on and one day I will.
I knew this was coming but even so I was hoping for a reprieve: 'The end'. Andrej has one of the most interesting blogs out there on languages and Thai so he will be missed.
Brett Whiteside: Learn Thai from a White Guy| twitter: @LTfaWG
Brett has been working hard on an iPhone app: Learn Thai Squiggles Iphone App is Live. I have a copy and will review it when I write my massive re-review of Thai iPhone apps. Promise.
Hamish: Tweet Yourself Thai | twitter: @AjarnPasa
The Thai elections are upon us so Hamish is explaining the Thai used. His first post on the subject is Tweet Yourself Elected. Stay tuned for more!
Josh Sagar: Let's Talk Thai (formerly Learning Thai)
One can never get enough of Thai Homophones and Homographs. Josh is asking for more so if you know of any, drop by.
Julien: Diary of a Crazy Farang (no longer online)
Julien is still plugging away to learn as much Thai as he can in a short time. When you are strapped for time it's important to jot down your bits which is exactly what Julien is doing in these posts: 'Goals for May', 'My routine for May', 'Goals for April', and 'Report of April…'.
Palmisano: Thai Blog
Do you need to get around Facebook in Thai? How about a website in Thai? If yes, then the Thai Menu (not for eating) Part 1 and Part 2 will ease your way. Another useful post is The Thai equivalent to '-er'. I haven't had a chance to read it but I intend to.
Richard Barrow: Using the iPhone in Thailand (no longer online)
I have been so lax on getting my iPhone apps review updated! Lucky for us, Richard isn't as slack. He has two reviews for this period: 'Thai Phrasebook on your iPhone' and 'Learn Thai Squiggles on your iPhone' (Brett's new iPhone app).
Rikker Dockum: Thai 101
The call for Project Gutenberg Thailand Beta Testers went out in April so if you are interested, check with Rikker to see if it's still on.
Snap: Learning Thai In Chiang Mai
Snap is attending Pro Language, one of the most popular Thai language schools in Chiang mai. To keep us posted she's written about her experiences with Pro Language Course – What have I learnt so far?
Stu Jay Raj: stujay.com
The iPad arrived in Thailand and what a nice piece of kit. I got my hands on one (thanks Scott) as did Stu. I don't have a Kindle but Stu does and he's compared them side by side: Amazon's Kindle versus Apple's iPad – What's best for Language Learning? A follow up post is also planned.
Talen: Thailand, Land of Smiles (no longer online)
Talen is also going to Pro Language, but in Pattaya. Same as Snap, he's also written about his Thai learning experiences: '200 Hours of Formal Thai Language Classes'. But if you don't have 200 hours to invest in learning Thai then this post dangles '10 phrases you should know for your Thailand holiday'.
Terry Fredrickson and Jon Fernquest: Bangkok Post, Learning From News
I planned on writing a post about what happened last May but I ducked. Instead, here's One year after. In Empty villages, it's yet another year later, another tragedy, only this time it's on the Thai border. On a lighter note here's Hunting for Ants as food. They look tasty but I haven't had Maeng mun… yet.
Podcasts about learning Thai…
The Thai Language Series at Bangkok Podcast has been putting out great shows. First up is (at number 10) Untranslatable Thai Words, second up (at number 11) we have Is Learning Thai Hard? and third (at number 12) is an interview with Thai Language Series 12: Daniel Fraser. Daniel learned Thai all on his lonesome. Impressive.
YouTube channels about learning Thai…
Adjima Thaitrong: Learn Thai with Mod, fun & easy!
Sweet Mod has two videos to share (again with the twos). Mod created a follow up post about restaurants, Learn Thai – Restaurant Conversations.
Bloggers who sometimes tweet more than they blog…
Bloggers who bounce between twitter and blogging:
Ajarn Pasa: Tweet Yourself Thai | twitter: @AjarnPasa
Ajarn Pasa is one of the few here who gives twitter and blogging equal time.
Kaewmala: Thai Women Talks | twitter: @Thai_Talk @thai_idioms
Kaewmala is a political gal at @Thai_Talk but also shares needed insights on the Thai language at @thai_idioms and @lanna_talk.
Rikker Dockum: Thai 101 | twitter: @thai101
Rikker sometimes blogs, sometimes podcasts, but mostly twitters.
Who's doing all that Thai twittering…
The (mostly) complete Thai twitter list:
@AjarnPasa
@andrewbiggs
@English4thai
@JNatAlkhimia
@js100radio
@ikimmim
@lanna_talk
@LTfaWG
@literallythai
@stu_jay
@Thai101
@ThaiAlive
@ThaiShortNews
@thai_idioms
@Thai_Talk
Note: The full list of both twitter people and bloggers can be found here: Thai Language Bloggers. Let me know if anyone is missing.