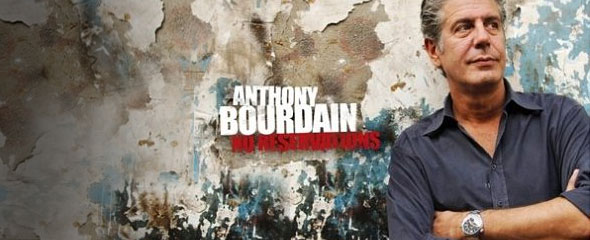 Anthony Bourdain has no reservations…
Yesterday, America's Travel Channel kindly contacted me about Anthony Bourdain's No Reservations episode shot here in Thailand.
The culture of Thailand incorporates a great deal of influence from India, China, Cambodia, and the rest of Southeast Asia, and Thai cuisine blends five fundamental flavors: sweet, spicy, sour, bitter and salty.

In an effort to experience each of these tastes, Tony explores the bustling streets of Bangkok and immerses himself in the local street foods, cultural practices, and people. He discovers delicious dishes, kind people, and beautiful scenery.
The Travel Channel even sent over Anthony's YouTube mov to share…
Hilarious: The uploader has not made this video available in your country…
When it comes to chef's, I'm out of touch with the US (I'm more of a Rick Stein type of gal). So to get the goods on Anthony/Tony, I contacted an American buddy of mine in Florida.
TONY'S MY MAN!
He's a chef, author and traveler… You'd probably like him. He's known for being somewhat irreverent and edgy. No Reservations is probably my favorite show.
On that catchy note, I put my google finger to work…
Wikipedia: Known for consuming exotic and daring ethnic dishes, Bourdain is famous for eating sheep testicles in Morocco, ant eggs in Puebla, Mexico, a raw seal eyeball as part of a traditional Inuit seal hunt, and a whole cobra — beating heart, blood, bile, and meat — in Vietnam.

According to Bourdain, the most disgusting thing he has ever eaten is a Chicken McNugget, though he has also declared that the unwashed warthog rectum he ate in Namibia and the fermented shark he ate in Iceland are among "the worst meals of his life."
So… after reading about Anthony consuming sheep testicles, ant eggs, raw seal eyeballs, and an unwashed warthog rectum, I was not surprised to discover his previous Thai experiences.
There's even a book from the tour…
A Cook's Tour is the written record of Anthony Bourdain's travels around the world in his search for the perfect meal. All too conscious of the state of his 44-year-old knees after a working life standing at restaurant stoves, but with the unlooked-for jackpot of Kitchen Confidential as collateral, Mr. Bourdain evidently concluded he needed a bit more wind under his wings.
Anyway, Anthony Bourdain: No Reservations, Thailand airs Monday, August 17 at 10pm E/P on the Travel Channel.
I don't get the Travel Channel in Bangkok, so if you do have the pleasure, please let me know how it goes. Ok?