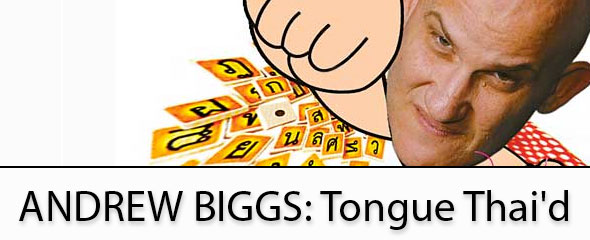 Tongue Thai'd is on TV…
Andrew Biggs is well-known in Thailand for his hilarious Bangkok Posts articles. Today he wrote about his Thai learning experiences in Fishing out the good bits in Thailand's alphabet soup (no longer online).
"Your language has too many letters. I'm only learning the first half," I pronounced the first time we met. When I came to my senses and learned them all, she then revealed that two of the letters were obsolete. They remain in the Thai alphabet but nobody uses them any more.
After you laugh your way to the bottom of the article, Andrew sneaks in a welcome surprise.
… I started a new TV show on cable (Mcot World, Channel 99) teaching Thai. It's called Tongue Thai'd, a title I proudly thought up myself until I found out half the Thai restaurants in the world have that name, not to mention Catherine Wentworth's wonderful website www.womenlearnThai.com which is a mine of linguistic information.
Excellent! As soon as I get the chance to watch his show, I'll plop down in front of the TV, ready to be entertained (as I'm to be).
Andrew, megga thanks for the plug (I owe, I owe). And for those of you who haven't read it yet, here's Andrew's interview on WLT: Andrew Biggs: Successful Thai Language Learner.
Note: The post mentioned is a part of Rikker Dockum's Thai 101 Learners Series, No Need to be Tongue-Thai'd Anymore.
Update: Be sure to read Andrew Biggs is Tongue Thai'd on YouTube!