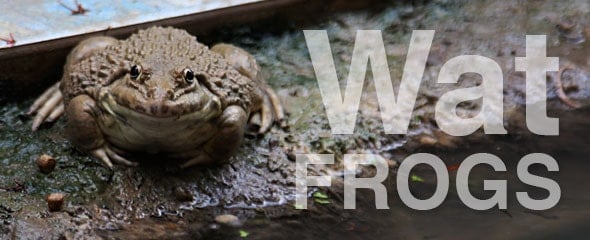 Wats are full of turkeys and frogs, and sometimes storks too…

If you are an animal lover, one of the first things you notice in Thailand are the decaying dogs laying around scenic Wats.
Their scabby bodies make my heart hurt. Yours too?
Disregarding the sickly canine and healthy cats – why is that? – Wats are wonderful places to find animals; if not actual wildlife.
Amongst the shady trees at Wat Chalerm Pragiat (วัด เฉลิม พระเกียรติ์), I counted turkeys, rabbits, guinea fowl, chickens, and peacocks: Thai Turkeys for Thanksgiving.
There's even a fruit bat Wat in Chachoengsao Province (I've been, so expect a post sometime soon): The Bat Temple.
The reason I said, if not wildlife, is because this post was supposed to be about the Openbilled Stork Temple at Wat Phai Lom (วัดไผ่ล้อม).

To explain… Reading Richard's instructions to the temple, I planned out my day. Then, loading into Khun Pissout's taxi, Khun Phairo, Chris(tine) (a newcomer to Thailand), and myself drove quite a ways to the stork temple.
But instead of hearing thousands of storks circling above, only stragglers were to be found.
Why? Two months before the storks were due to arrive, the Thai government sprayed poison throughout the protected grounds. Why? The bird flu. Sigh… So I'll just have to head back to Wat Phai Lom next year…
Storks were still showing up in ones and twos, but they'd leave the very same day. Sad.
Frog, frogs and more frogs…
Done out of my grand stork adventure – the lost photo opportunities were a grrrrrrrrr – I looked for a replacement. Logical, or no.
Storks eat frogs, so here you have it. A close enough fit:
Phuketgazette: Friendly Frogs Draw Tourists to Temple: Phrakhrupradit Kijjarak, 46, the abbot of Wat Rachpraditthan in Phra Nakhon Sri Ayudhaya District, said the temple's frog community started out with two baby golden frogs that appeared in the lotus pond around the end of Buddhist lent in October..

The day after the story of the frogs was published in the Thai press, around 500 tourists came to pet the animals.
As the story was first published in the Thai press, I'm guessing that tourists = Thais. Now, as people go Thais are pretty small (shooting envy their way), but I still can't imagine how 500 people of any size crammed into this quiet strip of tiling at Wat Rachpraditthan (วัดราชประดิษฐาน). Can you?
Please excuse the driving in that video. I haven't found my way around the knobs on the camera, so sometimes I'm zooming out when I should be zooming in.
Not knowing what type of frogs they were (and always wanting to know WHY?), I put the question to Hugh from Retire2Thailand.com. Hugh lives surrounded by a garden in Chiang Mai, which is closer to wildlife than most parts of Bangkok (where I am).
I did some reading on the frog farms and a very popular frog to raise here, and the one that might be in your picture could be the r.catesbeiana variety, or the introduced American Bullfrog. But that has a lot of green coloration in it. They also raise the r.tigerina and r. rugulose or tiger frogs. But they look really different from your picture.

In the market they tie the frogs together at the waist, about four or five to a bundle. They tie them so tight that I think it breaks their backs. I bought a bundle once thinking that I could release them. One couldn't walk at all and the others were so injured that they just floated on the water.

I've eaten them too. They taste OK though and the Thais eat the whole body whereas the Americans, and French of course, seem to eat only the legs.

I use to eat "fried frog skins" (หนัง กบ ทอด – năng gòp tôt). They peel the skin off the frog and deep fry it like a potato chip. They come out exactly in the shape of a frog. But those were during my drinking days. Since I stopped that, potato chips are enough for me now.

The Asian Giant Toad (a close relative?) can be around 4″ – 8″ long and really fat like the one in your picture. I have seen (with my eyes) a cobra eating one. If you have a lot around your house you may also have cobras since that is what they like to eat. I don't know anything else that eats them.

I sometimes find them in my shoes in the morning.

Here's a list of things found (so far) in my shoes:

Toads (คางคก – kaang-kók)
Bull frogs (อึ่งอ่าง – èung-àang)
The ones that sound like a herd of cows coming down the road in the rainy season.
House geckos (จิ้งจก – jîng-jòk)
House gecko eggs (ไข่จิ้งจก – kài jîng-jòk)
Scorpions (แมงป่อง – maeng bpòng)
Centipedes (ตะขาบ – dtà-kàap)
Millipedes (กิ้งกือ – gîng-geu)
Earth worms (ไส้เดือน – sâi deuan)
Cockroaches (แมลงสาบ – má-laeng sàap)
Spiders (แมงมุม – maeng mum)

Advice: Always shake your shoes out in the morning because you'll never know what went in there the night before.
And now I know even more about Hugh. He has roomy shoes.
Like Hugh mentioned, in Thailand frogs are called กบ (gòp). At ObOb Farm, they are also known as dinner. If you click on that link, be sure to scroll down to see hundreds of the beautiful creatures.
Note: Frog photos will be going up at: Catherine Wentworth: Photography: Frogs. And no worries, I won't post the many barbecued frogs in my collection. Not there anyway.