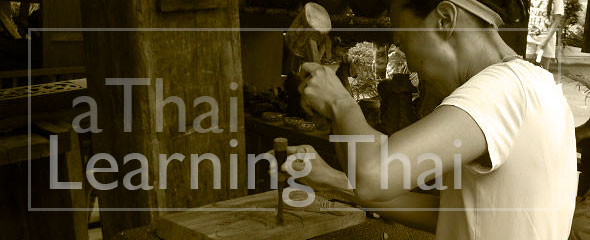 This Thai learning Thai…
Unfortunately there was no mystical transference or osmosis of language from mother to womb. So I am an American born woman who is ironically half Thai and half Chinese. Ironically because my ethnic makeup is very Thai, something I learned when I moved here as an adult. There are many Thai-Chinese in bra-tet Thai including the reining King.
So it is the great unanswered question: why did my mother not teach my brother and I Thai? We can look to historic events and circumstances surrounding my birth. The Vietnam War had ended and the good people of the United States on more than one occasion asked my parents, "Are you Vietnamese?" Did this have any bearing on my mother's decision?
We can look to education or lack thereof. Do educated parents normally, bo-get-tee, teach their children their native language if it differs from where they are raising their children? Consequently, do undereducated parents decide it is best for their children to learn only the dominate culture? While my father was college educated, my mother was not. Her family was too poor to send her to school so she dropped out around the fifth or sixth grade. We don't really know. Her birth wasn't even recorded.
She was born in Lamphun situated a little south of Chiang Mai in northern Thailand. My father died in a motorbike accident when I was six during a family vacation. I never asked my mom if he tried to teach us Chinese or what he thought about us learning Thai. I will have to ask her the next time I speak to her. It might seem odd to never ask my mom these questions but it is odd to think of them.
If you've ever lost a close family member like a parent or a sibling when you were young (or whenever?) you would understand that information about the deceased somehow gets lost until you think to look for it. Information is sometimes offered or shared which then provides more questions you never thought of before. It's a strange storytelling dance that is full of surprises.
It is not like I didn't ask my mom to teach me, especially when she was around her Thai friends in Hawaii. "What are they saying? What are you talking about? Teach me". "I don't know how", was her answer. "Well, how do you count?" I learned how to count to ten and it didn't go any further than that.
Well, I learned how to say you got small balls. Apparently this is a Laos slang saying. Oh, you want to know? It's tonal you realize and I'm not sure I can convey a tone through print. Ba-hahm-noi (mid, low, high) just think of all the ways a set can sit. Little boys are called this as well, so I've learned, although I have never heard anyone say this and I'm not about to be the one who starts.
Of course I have asked my mother: "why didn't you teach us?" Heck, she's been asked the question from family and friends and probably strangers although I don't believe she knows any. My mom seems to know every Thai person on the island of Oahu and it's a healthy community. Her response to the dreaded question – "they wouldn't have used it or they wouldn't need it, when would they use it", etc.
So now that I'm living in Thailand, what's my excuse? Right about now – it's a lack of motivation. I've gotten by all my life. And that, my friends, is a hard habit to break.
Lani Cox
{the missing teacher}