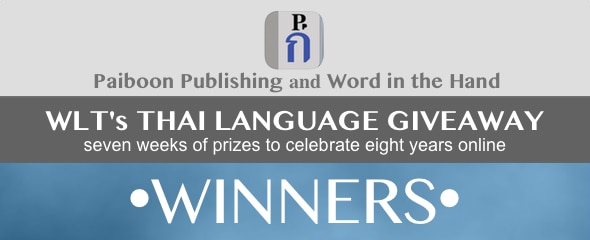 WLT's 2016 Thai Language Giveaway…
Welcome to the SEVENTH and last week of WLT's SEVEN weeks of Thai Language Giveaways.
Chosen by Chris and Benjawan, here are the winners of the Talking Thai-Eng-Thai dictionary:
The five winners are Robert Vargason, Kaisa Edfors Terkildsen, Mark B, Danielle Tong and Nam Parikh. We'd also like to give an additional prize to Diane N. Congratulations!

Winners, when we contact you, please let us know which app you prefer: the Talking Thai–English–Thai Dictionary for iPhone/iPad/iPod Touch or the Thai <> English Dictionary for Android phones/tablets.

Thank you so much for your support – we promise to keep up the good work!

Chris Pirazzi: Word in the Hand
Benjawan Poomsan Becker: Paiboon Publishing
Congrats everyone. And thank you Chris and Benjawan, for sponsoring the SEVENTH week of WLT's giveaway. Thanks also goes to those who left comments (they were quite fine).
And that's a wrap. If you didn't catch it, here's the list of the prizes for the giveaway: Vote THAI and WIN! | SEVEN Weeks of FREE Thai Giveaways.