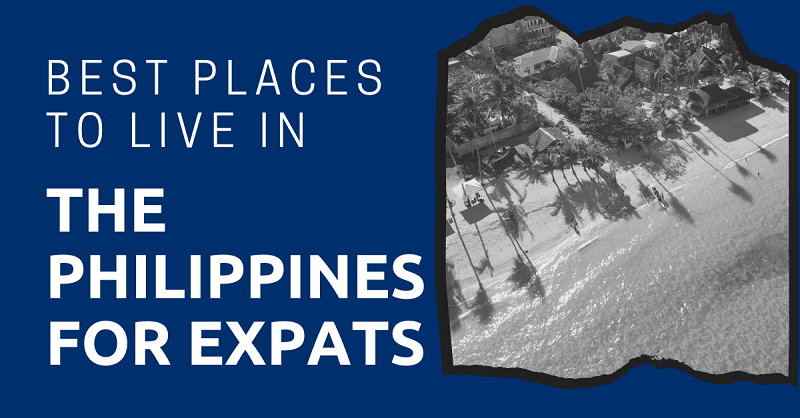 If you ever find yourself dreaming of living abroad — somewhere with pristine beaches, warmer climate, and peaceful ambiance — then the Philippines may just be that very place.
Living in the Philippines as a foreigner is very possible, as it can cater to a mixture of lifestyle needs and requirements. Here you can find a reasonable cost of living, friendly English-speaking locals, and many beautiful beaches. The list goes on, as there are plenty of appealing reasons for a foreigner to want to live in the Philippines.
With so many islands to choose from, it can feel a bit overwhelming trying to work out your ideal place to call home. Whether it be city living, lush mountains, or more of a beach vibe, the Philippines has something to offer everyone.
Finding a new place to live is never an easy decision, especially finding a new area in a foreign country that you may not be so familiar with. To help you make your decision, here are four areas where most expats live in when they decide to settle down in the Philippines.
This article will take approximately 14 minutes to read. Don't have the time right now? No worries. You can email the ad-free version of the article to yourself and read it later!
Cebu City
Cebu is the place where the city and paradise meet. Cebu City is a popular place that a lot of expats call home. It has so much to offer for digital nomads and retirees, as well as investors and business tycoons, who will find living in Cebu very rewarding as there are many opportunities to be found across the island.
Because of its economic importance to the Philippines, Cebu is proudly known as "The Queen of the South". Located in the Visayas, Cebu has become one of the top places for expats due to its rapid economic growth and continuous opportunities.
Easy Access to Tourist Spots
There aren't many places in the Philippines that have a modern city life as well as access to some of the most stunning beaches. Northern Cebu hosts some of the island's most beautiful beaches and locations such as Kawasan Falls.
Not too far from the city center, you will find Cebu's most popular tourist island, Mactan Island. Mactan Island offers water activities, snorkeling, island hopping, and some of the best diving in the country.
Since airports and seaports are so easily accessible in Cebu City, domestic travel is a breeze.
Modern City Living
In Cebu City, everything is within reach. You have all the privileges that a big city can offer. If city living is what you're after, Cebu City is less crowded than Metro Manila and has a lower cost of living, which makes it one of the best places to relocate for expats in the Philippines. Cebu is a modernized city, which is why it attracts so many expats, as it has everything you need to live a comfortable life.
Cebu City is an exciting bustling city, bursting with restaurants and bars — you'll never be bored, and the nightlife also has a lot to offer. In the city, you will find bars that cater to all preferences. From fancy bars to spirited nightclubs, to the more laid-back local sports bar. There are many options for cafés, gyms, and malls as well as other modern amenities such as access to good hospitals.
More on: Hospitals in the Philippines: What to Do When You Need Medical Treatment
Direct International Flights
When considering all the different places to live in, sometimes you can overlook having access to international airports. Not all cities in the Philippines have airports that offer direct international flights. In such cases, it can be quite tedious planning a trip overseas.
In Cebu, international and domestic travel is at your fingertips because of the Mactan-Cebu International Airport — a world-class structure and the second-biggest airport in the Philippines. This means pristine, white sandy beaches are just an airport hop away!
Traffic
Since Cebu is a bustling and busy city, traffic has become more congested over the years. Therefore, if possible, it is advisable to travel during non-peak times.
Air Pollution
City living does, unfortunately, go hand in hand with pollution in most cases. Luckily, there are a few places such as Cebu IT Park and Cebu Business Park where you are still able to enjoy the fresh air, thanks to the abundance of green trees.
Makati City
Whether it is for exciting business opportunities or simply the chance to start a new life, most expats tend to gravitate towards the upmarket Makati City. Makati is known as the central business district (CBD) of Manila. Here you will find high-end shopping malls, major banks, and hotels. You will also find it is where some of the wealthiest families in the Philippines choose to reside.
As Makati is the Philippines' main business district, it is definitely the most popular choice for most businessmen and other expats to live in. The hustle and bustle of Makati may resemble New York in some ways, as it is a city that never sleeps.
Once the sun goes down, the city flickers to life and the Filipino and expat community head off to their favorite restaurant, café, or bar to unwind after a long day at work.
Cosmopolitan Lifestyle
Living in Makati is famously associated with luxury living, and with every right. Aside from most of the condominiums and apartments being on the more luxurious side, you're also basically rubbing shoulders with the more elite members of society. There are also many high-end brands available in shopping malls.
Plenty to See And Do
There is always something to do in Makati and there will never be dull moments. A great day or night out is only a stone's throw away, as you will find that most things you need are within walking distance.
Shopping malls and cinemas are just the tip of the iceberg of things to fill up your day and night if you decide that Makati is the place for you. In terms of restaurant choices, you will find in Makati every cuisine imaginable.
Even though Makati is quite high-end in most ways, you will still be able to eat out on a budget, as you will find convenience stores or fast food restaurants almost on every street corner.
Nightlife in the city is also another aspect that is so appealing and cannot be ignored. The more you explore Makati at night, the more you'll realize why it has become even more attractive for expats over the past years. Whether you are looking for a romantic evening out with your partner or a fun night with friends, Makati has plenty of great places to go. You can enjoy a posh cocktail at an upscale cocktail bar, make new friends at a local pub, or watch your favorite sports team at a sports bar.
Safety and Security
The local government of Makati is able to focus a lot of its resources on the residents' welfare because it has been awarded the Philippines' Richest City. It is one of the safest cities to live in the Philippines where the city government also implements very strict traffic rules which are generally adhered to as violations are always followed through with penalties.
Makati also has innovative medical care and hospitals, and the best police headquarters and fire stations in the country.
High Cost of Living
It comes with no surprise that living in a prime location such as Makati can be quite expensive. The cost of living is reflected by the corporate lifestyle of most people that live in the area including house and condo prices as well as general living expenses.
On average, rent prices start at roughly around ₱45,000 (As of July 2022 is $815) per month. Bearing in mind, this covers rent only and does not include living expenses such as utilities.
Find out more: How Much is The Average Cost Of Living in The Philippines (2021)?
Traffic
As with every major city, traffic jams are very common. But with the number of people that live in or come and go to Makati, expect hundreds of vehicles to come and go every hour. This is especially true during peak hours, so please avoid those times whenever possible.
Boracay Island
Boracay Island is undoubtedly the place you want to be if you want to escape the hustle and bustle of city life and find a laid-back island life. With its powdery white sand, pristine beaches, and sensational sunsets, Boracay Island is certainly known as the "Crown Jewel of the Philippines" for good reason.
Located in the Visayas, Boracay is just a 50-minute flight from Manila. There are no direct flights to Boracay so in order to get to the island, you will need to either fly to Caticlan (the closest airport), or to Kalibo (which is 60 km away – however, flights are typically cheaper).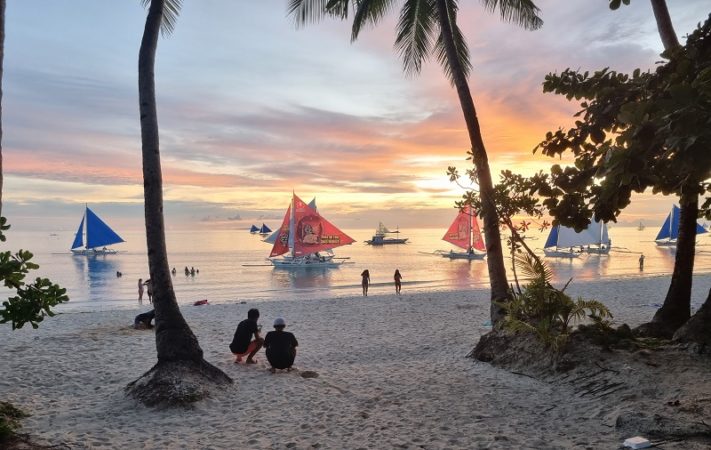 From there, you will need transport to Caticlan jetty port and then a short 10-15 minute boat ride to Boracay. Traveling to Boracay sounds tedious, but it really isn't. And it is all so very worth it once you touch down on that lush, white sand.
As well as being world-famous for its beaches, Boracay is well known for its magnificent sunsets. The most perfect ending to any day is best celebrated with a drink in hand at your favorite local bar with good friends.
There are three barangays in Boracay; Yapak, Balabag, and Manoc-Manoc. Each one of these barangays has many laid-back locals and expats alike who are always willing to welcome new friends into their circle. The sense of community in Boracay is so apparent, that many will admit that the people are one of the main reasons they continue to visit the island, and then eventually move there.
Affordable Living
Depending on your lifestyle, Boracay can be a very affordable place to live in. Accommodation ranges from modest studio apartments to more lavish condos or houses. Prices can be anywhere between ₱10,000 to ₱70,000 (As of July 2022 is $180 – $1,445) depending on your housing preferences.
Island Vibe
Even though Boracay has most of the amenities needed for expats to feel comfortable such as the Immigration Office, medical clinics, police station, outdoor mall, and international food stores, the island has still maintained its charm. The island vibe is ever present, just with a touch of modern comfort and convenience.
Sense of Community
The sense of community on Boracay is a strong one. There is a diverse range of different nationalities within the community, all different age groups and from different walks of life. The same tourists tend to travel back to Boracay annually, so it isn't unusual to meet new friends from all around the world.
Inadequate Urgent Medical Care
While there are medical centers that have competent doctors on the island, if you have any urgent or serious ongoing medical issues, these will need to be addressed elsewhere. For issues like this, expats tend to go to Kalibo, Iloilo, or Manila.
Difficult Transportation
Transportation (E-Trike, motorbike) can sometimes be a little difficult as the drivers tend to favor giving tourists a ride over expats. This is mainly because they charge higher fees for tourists, who are generally happy to pay that amount.
Over time, some drivers begin to recognize who is who and accept fair 'local' rates. In saying this, the island is very walkable, which may be a preferred way of getting around for some.
The Subic Bay Freeport (Subic Bay)
Subic Bay, once one of the biggest military bases in Asia, is now a tight-knit community that many expats have been calling home for quite a number of years.
Located in the province of Zambales on the island of Luzon, Subic Bay is now one of the Philippines' most developed recreation and resort areas. As Subic Bay originally was a naval base for Americans in the Philippines, many ex-military retirees and their families have been based there for years.
Subic Bay has a strong community, and it is the perfect place to raise a family as it has quiet housing areas, minimal traffic on the roads, good access to amenities, and a lovely, clean environment.
Here you will also find Clark International Airport, Duty Free shopping mall, theme parks, and international schools which is why you will find a lot of families have chosen to live in Subic Bay over other locations in the Philippines.
Many expats from around the world come to Subic Bay due to the many Western establishments, infrastructures, and beautiful natural settings. Subic has a lot of wonderful destinations to offer, including idyllic beaches, mountains, and waterfalls such as El Kabayo Falls.
Something For Everyone
Subic Bay is where modern infrastructure, natural beauty, and historic landmarks meet. There is an abundance of things to do and see such as visiting the famous Inflatable island, seeing the tigers at Zoobic Safari, or for the more adventurous, hiking the idyllic Pamulaklakin Forest Trail.
Subic Bay Yacht Club
For boating enthusiasts, Subic Bay has its very own yacht club. Take advantage of the beautiful sunset by having a casual drink or meal on the marina overlooking the bay. The yacht club has multiple facilities including a tennis court, children's playground, swimming pool, and beach volleyball court.
Diving
There are over 25 historic aircraft, ship, and vehicle wrecks to be explored in Subic Bay. These date back to the Spanish-American war and the Vietnam War. Subic Bay is famously known for having the biggest collection of shipwrecks in all of the Philippines.
Lack of Transport
Tricycles are not allowed to enter the Freeport zone, so transportation can sometimes be a little difficult in Subic Bay. While there are some shuttles and taxis, using these all the time can start to become expensive. Most locals get around by private car, bicycle, or by walking, as Subic Bay is quite easy to navigate.
Overdevelopment
As the development of Subic Bay may be a pro for some, for some eyes, this may indeed be a con. With its concrete highways and buildings, Subic Bay is unlike any other area of the Philippines, as it is very Westernized to cater to the growing expat community.
Now on to You
Hopefully, this gives you a good starting point for choosing where to live when coming to the Philippines. The Philippines is an archipelago consisting of over 7,000 islands. So in terms of finding the right location, you are spoiled for choice depending on your personal needs and lifestyle choices.
There are a number of factors to consider when deciding where to call home, especially if it is unfamiliar. Is city life what you are looking for? Perhaps you are looking for a more laid-back provincial or beach life. Or maybe you need to factor in top medical care and good international schools.
Before settling down anywhere, it might be a good idea to spend some time traveling the country and working out which location best suits your lifestyle. With a little exploring and some research, there is no doubt you will find the perfect location to call home.