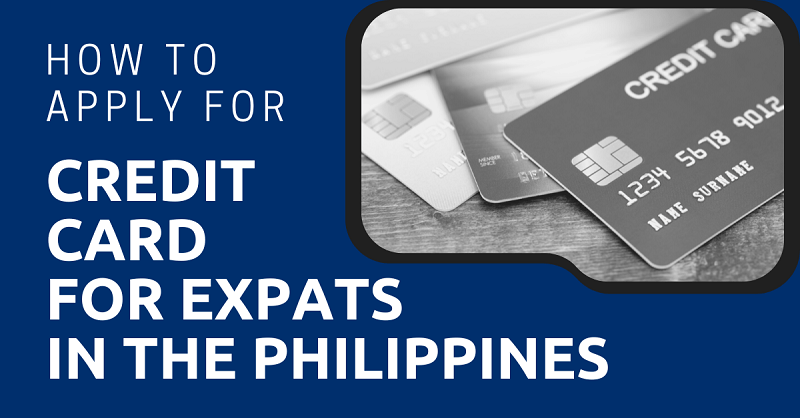 If you already have a credit line in your home country, don't cut your cards when moving to the Philippines. But if it's your first time applying for a credit card, we'll show you how to navigate the financial system in your new country, and what you need to do to be approved.
In this article, we'll show you how you can apply for a credit card if you're a foreigner in the Philippines. And we will also list out some of our most recommended credit cards that are suitable for expats.
This article will take approximately 20 minutes to read. Don't have the time right now? No worries. You can email the ad-free version of the article to yourself and read it later!
Benefits of Having a Philippine Credit Card
Even if it can take some time to get your credit card in the Philippines, it's well worth the wait. There are several shopper advantages if you manage to pay your bills on time. Not to mention your advantage of building up a good credit score in the Philippines will have a very positive impact on your financial situation in the future.
Here are some of the advantages of getting a credit card in the Philippines:
Cashbacks and Rewards
You can find plenty of cards giving you rewards for shopping, allowing you to save money on all of your regular expenses. Anything from food, clothes, electronics, plane tickets, and more can be bought at a lower rate with credit cards. You can even find cards with unlimited cashback on all of your purchases using the credit card.
Since you're probably going to spend a lot of time in malls when you live in the Philippines (everyone's favorite hangout), there are a few cards that can give you cashback on shopping. For example, Robinsons Malls have its own credit card called Robinsons Cashback, which gives you 3% off everything you buy in the stores.
BDO Credit Cards give back ₱500 (around US$9) every time you shop for at least ₱5,000 (around US$85) every time you use the card at SM Malls. But, BDO Cards are quite difficult to get if you don't have an existing credit card already in the country.
Transaction Fees Savings
Since there are several places that still don't accept card payments in the country — these include some hospitals in the Philippines — taking out cash is hard to avoid. But if you're shopping with a foreign credit or debit card, you will need to pay a currency exchange fee every time. This is typically 2% – 4% of the transaction depending on your bank and gets quite expensive over time.
Taking out cash in ATMs or shopping with a foreign credit card or debit card is also very expensive in the Philippines. At an ATM, you will always pay ₱250 (around US$5) for every transaction, plus currency exchange fees. So needless to say, you can save quite a lot on fees by having a local card.
Better Credit Score
If you plan to live or retire in the Philippines for good, it's good to build up a good credit rating. This will help you in other cases as well where you would need a loan, like a new car or apartment. Showing that you are financially stable in the country makes you less of a liability over time and banks are more willing to give you a loan.
Automated Payments
In the Philippines, you don't get any extensions before they add a whole bunch of late fees to your bills. This includes mortgages, electricity, broadband, water bills, and other living expenses that you need to ensure are paid in time to avoid extra financial burdens and disruptions on services you need.
Owning a credit card can help you pay your bills on time and then pay back the credit on payday.
Types of Credit Cards in the Philippines
When you start applying for cards in the country, you can see that many of the banks offer both secured and unsecured credit cards. But what are the differences between these two options? That being said, you have two options you can choose from:
Secured Credit Cards (Prepaid Credit Card)
This is the easiest to apply for if you have a bank account in the Philippines and a larger bank deposit. Normally the bank can offer you a credit limit of up to 80% of the amount you have deposited to the bank.
This is the simplest option for foreigners who have set aside some money before moving abroad and want to keep the money as collateral for a short-term loan.
Unsecured Credit Cards
This is the traditional style of credit card where you get a credit limit based on your income, employment status, and debt-to-income ratio.
The longer you've been employed and have registered an income in the country, the higher chance you have of obtaining a credit card with a decent limit. This limit is just not for one card, but for every card you have.
So if you're thinking about applying for several cards that have different benefits like cashback and bonus points for shopping, make sure to spread your limit evenly.
Credit Line
Credit lines or credit limits in the Philippines are revolving, which means you get a fixed credit limit that you can use over and over again like in any other country.
To determine your credit limit, there are several factors Philippine banks use to determine if you are eligible for a credit card or not.
Credit Card Requirements in the Philippines
But is it easy to apply for a credit card in the Philippines? As long as you can document that you are staying for a long time in the country and that you have a valid source of income, there shouldn't be any problem in getting a credit card.
However, you might not get the credit limit that you desire right away, as the banks will probably want to build a trustworthy relationship with you and increase your limit over time.
To get a credit card, it is recommended that you already have a bank account in the bank you are applying for a credit card. This makes it easier for you to document your income from your employer or your own business in the Philippines — especially when it comes to getting a good credit limit on the card.
If not, you will need to bring:
1. A filled-out credit card application form
2. A valid government-issued ID
3. A certificate of employment of business registration papers
4. 1 to 3 payslips or your income tax return, proof of pension
5. A landline phone number
Financial Requirements
What type of cards you can apply for is also very reliant on how much money you make. Some cards usually don't demand more than around ₱180,000 (around US$3,066) net income per year, but if you're looking for a more exclusive Gold and Platinum card, they usually require an annual income of ₱600,000 (around US$10,218) and upwards depending on the rewards and credit limits the card provide.
Age Requirements
Another criterion you should know about is that banks usually don't issue local credit cards to new registrants either under 21 or above 65 years old. But if you're retired in the Philippines, you can probably get a credit card quite easily if you already have a bank account where you receive your pension in the Philippines.
How to Get a Landline Phone
A lot of you are probably wondering how you're supposed to get a landline phone number, right? This number does not need to be your home number. It could be to your office or employer's office. Up until recently though, some banks have waived this requirement, as very few businesses and homes have landlines anymore. But, don't be surprised if this can still be an issue at some Philippine banks.
Easiest Credit Cards to Get Approved For in the Philippines
As stated earlier, it's hard to get a credit card in the Philippines if you don't already have an existing credit line. But here are the easiest credit cards foreigners can apply for and start building up their credit score in the country with low-income requirements.
To apply for these cards, you will need to be at least 21 years of age and have a:
Government-issued ID
Bank statement in the Philippines showing your income
Payslip or tax return
These cards do not offer any large rewards or cashback on your shopping but, they will help you in optimizing more interesting credit cards in the future with better rewards programs. The most important thing is that these cards do not require you to have an existing credit card in the country.
Citi Simplicity+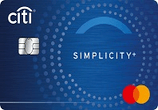 If you have no existing credit card in the country before, the income requirement is at least ₱20,833 (around US$355) per month. The Citi Simplicity+ Card has no annual fee and a low-interest rate of 2% monthly on your outstanding credit.
HSBC Red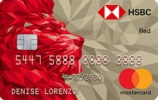 Since HSBC is an international bank, it is a lot easier to apply for a credit card through them if you already have an abroad account with the bank. HSBC Red has a ₱2,500 (around US$43) yearly fee but is waived the first year.
EastWest Practical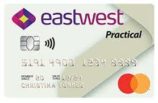 This card has the lowest income requirement of these cards, with only a ₱120,000 (around US$2,046) per year requirement and very few criteria to get approved. The EastWest Practical Mastercard has an annual fee of ₱1,400 (around US$24) and a low 2% monthly interest.
No-Annual Fee Credit Cards Philippines
There are several banks in the Philippines that offer credit cards without a yearly fee. Some of these do, however, require you to have an existing credit card to apply. Here are our 3 top choices.
AUB Classic Mastercard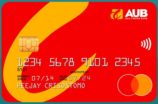 The AUB Classic MasterCard rewards you with a point for every ₱50 spent and 0% interest on all new purchases. The monthly income requirement to get this card is ₱21,000 (around US$358) and interest after the due date is 2% monthly on outstanding credit.
Citi Rewards Card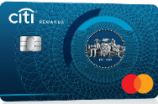 Another credit card from Citibank also gives you 3 reward points every time you order food or shop online for every ₱30 (around US$0.51) you spend. The Citi Rewards Card also provides 50% off on partner hotels, so here you get a lot of great benefits without having to pay any yearly fee for the first year. They also have a No Yearly fee Forever Club if you join by 30 November 2022.
Metrobank M Free Mastercard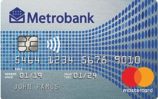 Probably the best option for those who want a credit card with low fees and an easy way of keeping control over your balance. You can automate your bill payment and also get notifications regularly on your phone when you use the card. The Metrobank M Free Mastercard offers no annual fee for life and a low-income requirement of ₱15,000 (around US$255) per month.
Best Credit Card in the Philippines
If you already have a credit line in the Philippines and are looking for the card with the most rewards, Security Bank offers a wide range of credit cards with loads of rewards and cashback.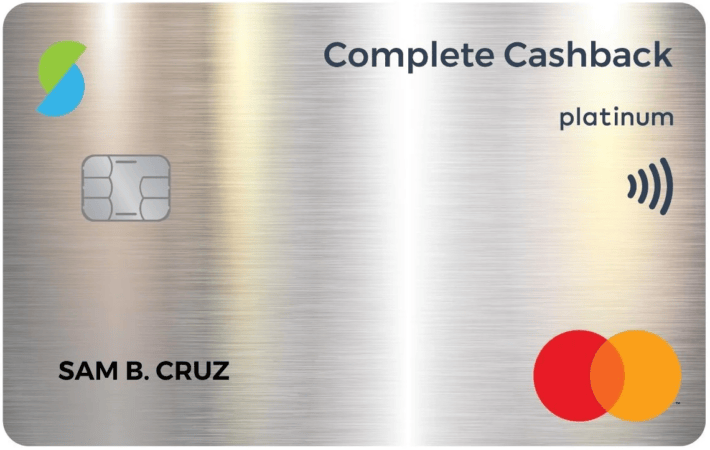 The Security Bank Cashback Platinum card is the ultimate cashback card with:
5% back on groceries and gas (if you fill your gas at Sea Oil)
3% on your utility bills
2% on dining anywhere
1% on shopping
You can get up to ₱12,000 (around US$204) per year on the cashback program and also enjoy an exclusive rewards program by Security Bank with great deals on electronics, clothes, travel, and much more. It also offers travel insurance when you pay for your flight tickets with the card!
Security Bank Cashback Platinum Requirements
This card is only available for Filipino citizens and expats with long-term visas. So if you're planning to become a full citizen in the country, this is the credit card to gun for.
You must be at least 21 years of age or below 65 years old to apply and have 3 years of documented income as self-employed. The minimum yearly income requirement is ₱780,000 which is equivalent to around US$13,000 per year at current exchange rates.
The yearly fee on the card is ₱3,000 (around US$51), but you can easily cover this with all the rewards you get on the card.
Application
For a foreigner, the easiest way to get approved is by personal attendance at a bank. So to save you the trouble of applying on every Google ad you see for credit cards in the Philippines, only to be rejected every time, just go directly to a bank and apply.
Applying online usually just works if you're a Philippine citizen, and expats usually just get a notice to visit their local branch. Also, you might want to contact the bank first off to confirm that they do issue credit cards for expats.
Here is what you do before you visit the bank:
1. Do research online
Banks have different criteria for granting credit cards to expats. Some require that you've lived here for a few years, while others require that you also have a credit card from another bank. Make sure to get all the details first about their policy for foreigners before you waste your time applying for the card.
To save you some time, you could check out Moneymax.ph that has several comparisons on credit cards in the Philippines. That way, you don't need to visit the home page of every bank to get to know all of the requirements for each card.
2. Checklist all documents
Bring all of the relevant documents above. If you are employed in the Philippines, make sure to bring your contract, preferably something signed by your employer. Bring your passport or any government-issued ID you have from the Philippines.
3. Apply at the bank
Fill out their application form. This form contains all information about you, your income, and your country of origin. Some banks require you to have a bank account with them before you can apply for a credit card. So if you want the card because of all the benefits, it could be a good idea to use that bank for billing and receiving paychecks as well.
Interest Rates, Fees, and Terms
If you're planning to apply for a credit card in the Philippines, make sure you can pay the card on time. Interest rates are very high in many of the banks, exceeding 40% annually. Here are some of the things you need to look out for when you apply for a Philippine credit card:
Monthly Rates
In other countries, we are used to seeing the yearly interest rates on the cards in commercials. But in the Philippines, they are always showing monthly amortization. This means that interest rates look pretty low averaging from 2% to 3.5%. But in reality, this is equivalent to 24% to 42% per year.
Transaction Fees
Make sure that you check all of the fees involved with the card. If it has a yearly cardholder fee, always pay it on time to avoid paying interest and late fees. Also, check if there are any fees involved with cashing out in ATMs and shopping with the card. There are plenty of cards that don't have any fees for shopping, and even give you rewards every time you purchase something with the credit card. But with most banks, the charge for withdrawing money from an ATM is ₱200 (around US$4), so it's not recommended to cash out unless it is a very pressing matter.
Late Payment Fees
Make sure that you always pay your card on time, or expect hefty fees for late payments. The average late fee is around ₱850 (around US$15), and most likely you can't use the card until the late payment fee and the outstanding amount are covered.
Overlimit Fees
Make sure you don't spend more than your credit limit allows. This can lead to large over-limit fees of up to ₱600 (around US$11). This also includes interest added to your next billing cycle. So for example, if your credit is ₱20,000 (around US$341) and you spend that amount, on the next billing cycle you will automatically spend over the limit because the interest rate will be applied to the charge.
Tips and Tricks for Using a Foreign Credit Card in the Philippines
As mentioned earlier, before you cut your credit card from your previous country of residence, here are some step-by-step tips on how you can still use them in the Philippines and save money on exchange rates.
Transfer Credit to Online Exchanges
Online exchanges like Wise have pretty low fees compared to banks. So exchanging the money from your credit card first is much more inexpensive than paying US$5 + 2% exchange fee every time you cash out at an ATM in the Philippines.
Transfer the Money to a Philippine Wallet
Cash apps like GCash and Maya are very handy when you want to receive money abroad. Just transfer the money to one of these apps using an online exchange with low fees like Wise or Revolut.
Connect a Card to an App
You can connect either a Visa or Mastercard to GCash or Maya and shop like the locals do, with no extra fees when you shop in stores or cash out on ATMs.
These apps can give you several of the advantages of a credit card. Maya gives 1% cashback on groceries, and always has deals at restaurants, hotels, and insurances in the Philippines. GCash also offers dining deals and other advantages for expats. So essentially, you get a lot of the same perks as owning a credit card without the hassle of applying for one.
The Maya app also has a credit line that can be available for foreigners after 6 months of using the app for shopping and other purchases. This amount is only ₱15,000 (around US$264), but it could come in handy to pay the bills on time.
Now, on to You
With several bank options and credit cards available on the Philippine market, you should be able to get one quite easily as long as you can follow these steps.
Document your income – Make sure to bring all relevant documents that can prove that you are working in the Philippines and have a steady income. If you're a pensioner, bring documents that show you are getting your pension sent to the Philippines like a bank statement.
Do some online research – Find the cards that best suit you and what criteria each bank has about giving credit cards to foreigners before you go visit the bank in person. This will save you a lot of time finding the perfect credit card for you, instead of applying to every random bank close by.
Use local apps – Even if you can't get a regular credit card right away and you're primarily looking for good reward programs, make use of local apps like Gcash or Maya to get discounts on shopping, restaurants, clothes, load and so much more.