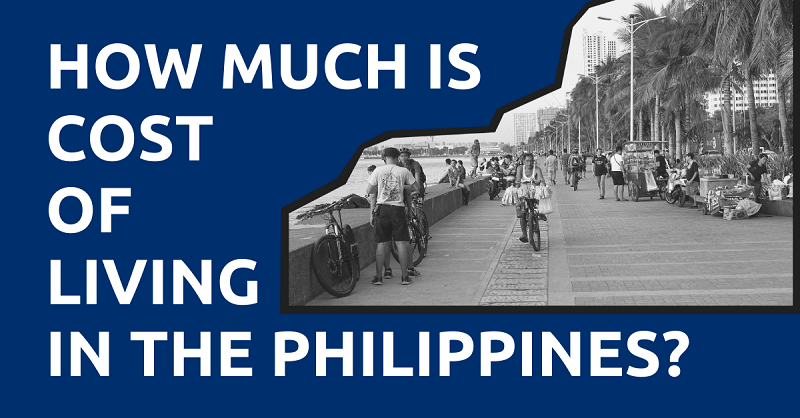 It's difficult to know where to begin when discussing the cost of living because it's such an ambiguous and subjective concept.
I mean, a comfortable home for one person can be an impossible shoebox to settle in for another. The wide range of expats and incomes in the Philippines means that where you work or where the children will study will greatly impact where you live and how much rent you will have to pay.
The truth is that there is no such thing as a correct or incorrect answer. The cost of living is entirely based on your lifestyle and how you intend to spend your money.
If you want to settle in the Philippines but don't have the proper information to get started, we've got you covered. We've compiled a list of all the essential costs, from rent, food, and transportation to miscellaneous expenses.
We hope after reading this guide, you will have an in-depth understanding of the real cost of living in the Philippines.
This article will take approximately 19 minutes to read. Don't have the time right now? No worries. You can email the ad-free version of the article to yourself and read it later!
Cost Breakdown
So, if you're planning to stay in the Philippines for a very long time (or thinking of settling here for good), here are some important factors that will contribute to your overall cost breakdown.
Rent
I would like to reiterate that you decide what lifestyle you will have here in the Philippines. You can live like an average person or a royalty, based on your preferences and budget. It's entirely up to you to decide.
Between those two extremes, there are a lot of options! If you prefer city living, there are many options for you, particularly in Metro Manila.
Specifically in Manila, you can rent a tiny studio apartment for around ₱15,000 (around US$268) per month.
Some apartments or condo units in the city center have rooftop pools, basketball courts, or other sports facilities, and (of course) spectacular views of the surrounding area, but they cost ₱25,000 (around US$447) per month.
However, only a few foreigners desire to live in Metro Manila because it is not close to the beaches. Keep in mind, however, that there are fewer job opportunities and few accessible areas in the provinces where the beaches are. But if you own your own company, living in Metro Manila will serve you to a T.
If you want to live near beaches or on an island, you can live in a cheap bahay kubo (bamboo hut). There will probably be no running water (depending on how far-flung the island is), but the price will be as low as possible. A shack such as this will most likely cost you around ₱4,000 (around US$71) per month, though, you can probably find one for less.
Alternatively, you can rent a mansion if you have a lot of money and want an island life extravaganza. A million-dollar beach house can be rented for ₱50,000-₱100,000 (around US$893-1,787) per month.
Food
The cost of food in the Philippines is also shockingly low compared to Western countries. If you really want to save money, go to the "wet markets," which are the go-to place for Filipino food ingredients.
For example, as of press time, 1 kilogram of pork costs ₱280-400 (US$5-7.15) and 1 kg of chicken costs ₱150-200 (US$2.68-3.57) in wet markets around Metro Manila.
If you compare this to a grocery store, specifically in Robinson's supermarket, the prices of pork start at ₱368 (US$6.58) until ₱468 ($8.36) depending on which pork parts.
Wet markets are 25% cheaper than grocery stores when it comes to pork. Although it is where the cheapest prices can be found, the sanitary conditions will probably be not up to par with Western standards. However, if you get used to the lifestyle long enough, you will become accustomed to it.
If you cook by yourself and eat mostly local food like chicken, pork, and rice (don't forget the rice), you can eat for as little as ₱5,000 (around US$89) per month. Prices may vary depending on the location you are planning to live in. If you choose to settle in the city, the cost of food will be higher.
Alternatively, if you prefer to have a daily visit to McDonald's or in many local restaurants, it can cost ₱200 (around US$3.57) per meal. So you can spend around $10 per day on food to cover the whole day.
If you prefer a little bit of pizzazz and choose to eat at fancy restaurants, it can be a little bit on the expensive side; an appetizer costs ₱170 (around US$3) the main course costs ₱300 (around US$5), and a bottle of cold beer costs less than ₱100 (around US$1.79).
Want your food delivered? The Philippines offers a lot of food delivery services apps that you can download to eat without having to go outside. You can choose from Foodpanda, GrabFood, and many more! Expect an additional 15% of the service fee to your total bill and around ₱30-60 (US$0.54-1.07) for the delivery fee.
To sum it all up, food in the city for one person can cost between ₱15,000- ₱20,000 (around US$268-357) per month.
Utilities
Unfortunately, utility costs are high in the Philippines, and they have been particularly high in recent years.
There are numerous providers to choose from and your location also matters. Here are some ballpark figures for an expat who is living alone in Metro Manila:
Water
To estimate your water bill, you'll need to consider your monthly water consumption. The average water consumption for a single person living alone in Metro Manila is typically around 5-10 cubic meters per month. Manila Water's residential rates in Metro Manila is around ₱192.42 (US$3.45) for 10 cubic meters, while Maynilad charges ₱135.70 (US$2.43).
Other utilities, such as electricity and the internet, will account for the majority of your utility costs.
Internet
A WiFi connection is required for reliable internet access. There are several ISPs available in Metro Manila, including PLDT, Globe, Converge, and Sky Broadband.
PLDT monthly fiber plans range from ₱1,399 (around US$25) for 50 Mbps to ₱2,999 (around US$54) for 600 Mbps.
Globe monthly fiber plans range from ₱1,699 (around US$30) for 200 Mbps to ₱7,499 (around US$134) for 1 Gbps.
Converge monthly fiber plans range from ₱1,500 (around US$27) for 200 Mbps to ₱7,499 (around US$134) for 1 Gbps.
Sky Broadband monthly fiber plans range from ₱999 (around US$18) for 30 Mbps to ₱2,299 (around US$41) for 200 Mbps.
On the other hand, postpaid data plans for mobile phones with Globe range from ₱599 (around US$11) for 6 GB to ₱2,499 (around US$45) for 100 GB per month, Meanwhile, another provider, Smart, offers postpaid data plans from ₱599 (around US$11) for 5 GB to ₱2,499 (around US$45) for unlimited 4G/5G connection.
Electricity
Utilities are one of the most difficult expenses to estimate because there are so many variables to consider.
For example, in Metro Manila, the main electricity distributor is Meralco (Manila Electric Company), which charges based on a tiered rate system for residential customers. This means, the more electricity consumed, the higher the rate per kilowatt-hour (kWh), charged at ₱11.4929 per kWh.
The average electricity consumption for a single person living alone in Metro Manila varies but is typically around 100 to 200 kWh per month, depending on lifestyle and energy-efficient practices. If your monthly electricity consumption is 150 kWh, your electricity bill would be approximately ₱PHP 1,723.94 (around US$31).
Transportation
Transportation isn't the best in the Philippines but there are a lot of choices to keep your lifestyle running (or moving, whatever). Here are some of them: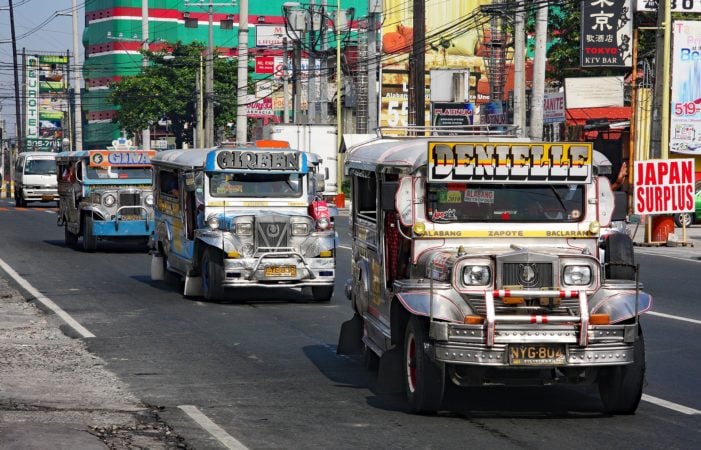 Taxi
Private taxis are frequently the most convenient mode of transportation in the Philippines. But they can also be the most expensive when compared to other modes of public transportation.
The taxis' flag down rate is at ₱40 (around US$0.72) and will add ₱13.50 (US$0.24) per kilometer. There are also additional tariffs for waiting time that cost ₱2 (US$0.040) per minute.
So, a 10-km ride will cost you ₱175 (US$3.14), and an 18-km ride will cost you ₱283 (US$5).
If you live in Makati and want to go to BGC (around 4.3 KM,) the trip will cost you around ₱94-107 (around US$1.69-1.92).
Be warned though, there are numerous taxi scams operating throughout the Philippines, so services like Grab are becoming extremely popular among locals and expats.
Ride Sharing
Apps such as Grab and Uber not only provide transportation but also food delivery, courier services, and others throughout the Philippines. Whether you're searching for an SUV or a motorcycle, Grab will help you find it.
Based on Grab's fare calculator, it will cost you around ₱119.39 (around US$2.14) for a 2-seater vehicle from Makati to BGC. This makes taxis about 20% – 35% cheaper than Grab.
Train
The MRT and the LRT are Manila's two primary light rail lines (further divided into lines 1 and 2). If you take the train, avoid traveling during weekday rush hours: 7 AM to 9 AM and 5 PM to 9 PM.
The MRT connects Ayala Station to the Makati business district, Ortigas Station to the sprawling SM Megamall, and Trinoma Station to the Trinoma shopping center/SM North Edsa Mall.
The Malate LRT runs through Ermita and Rizal Park (via United Nations Station), Manila City Hall and Intramuros (via Central Station), and the SM North Edsa Mall (via Roosevelt Station).
Fares are stored in contactless magnetic cards that you lay over turnstiles for fast access and cost between ₱20-60 (around US$0.36-1.08).
Bus
Local buses travel throughout the city, linking the city's key destinations in Makati and other Metro Manila districts. While taking the bus is a very inexpensive way to get around and see the city, Manila is prone to traffic congestion.
Buses may or may not be air-conditioned. Prices start at ₱8 (US$0.14) for "ordinary" (non-air-conditioned buses) and ₱10 (US$0.18) for air-conditioned buses. Then add half a peso for each kilometer. For example, if you want to go from Makati city to BGC you will pay about ₱12-15 (US$0.22-0.27)
Long-distance travel can also be accomplished by bus. For example, if you travel by bus from Manila to Laguna, the fare will usually cost ₱40-75 (US$0.72-1.35).
However, because there is no central bus station or information center, it is not always easy to find the proper bus or even the right departure point.
Your best bet is to ask a taxi driver which terminal you should go to because they're usually the ones most knowledgeable, or Google your way around.
Jeepney
Of course, you're not going to fully experience the Filipino lifestyle if you're not going to ride the infamous Jeepney. They are a low-cost and convenient mode of transportation that is available throughout the Philippines. Plus, it's very cheap! For about 1.5 kilometers, prices typically range from ₱10 (around US$0.18) to ₱15 (around US$0.27).
Laundry
Laundry costs are often overlooked when calculating how much money is required to live in the Philippines. Laundry costs can be significantly lower in many cases because expats outsource their laundry to professional laundry services.
There are a lot of laundry services that exist in the Philippines' most populated cities that can wash, iron, and fold a small laundry bag of around 30-40cm for less than ₱700 (around US$13) per bag.
International Schools
There are a lot of international schools in the Philippines. The majority of these institutions are located in Manila and cater mostly to Americans, British, French, Japanese, and German citizens.
International schools often follow their home country's curriculum and teach subjects in their native tongue. The International Baccalaureate program is also offered by several international schools. Some schools to choose from include International School Manila, British School Manila, Reedley International School, Inc., and Brent International School Manila.
Schools in the Philippines have two semesters per year. The estimated average tuition fees per year of these schools are listed below:
Preschool 3 to 4: ₱675,000 (around US$12,109)
Elementary School (K to Grade 4): ₱1,000,000 (around US$17,940)
Middle School (Grade 5 to 8): ₱1,150,000 (around US$20,631)
Junior High School (Grade 9 to 10): ₱1,200,000 (around US$21,528)
Senior High School (Grade 11 to 12): ₱1,350,000 (around US$24,218)
Healthcare
How much you pay for your healthcare in the Philippines will depend on whether you choose private or public hospitals. Your qualification for national health insurance is probably limited, but if you're willing to pay out of pocket, you can still use the public healthcare system.
However, keep in mind that the Philippines' public healthcare system is overburdened and frequently congested, with a scarcity of medical equipment. Many expats, especially those living in non-urban areas, choose to pay for private health insurance.
Hospitals
Treatment in the public sector is significantly less expensive than in the private sector, where common treatments cost the following:
Visit a doctor: ₱500 (US$8.97)
Visit to an emergency room: ₱2,500 (US$45)
One night hospital stay: ₱2,500 (US$45)
Admission to the ICU: up to ₱30,000 per day (US$539)
Costs can quickly spiral out of control, and some hospitals in the Philippines may refuse to accept international health insurance. To avoid getting shocked with a high charge at the end of your stay, check with your hospital as soon as you are admitted to see if they accept your insurance.
Private Insurance
Many expats in the Philippines pick the Informal Economy Member category to join PhilHealth. The annual cost ranges from ₱15,000-17,000 (around US$269-305). If you have a formal job with a local company, they will handle all of the paperwork for you.
Many Filipinos and foreigners have private health insurance policies. Adding private insurance to your PhilHealth plan gives you access to a broader range of health facilities.
Patients with serious diseases requiring prolonged hospitalization will benefit from a more secure and comfortable environment. Although some private hospitals may demand you to pay first and then have your insurance company reimburse you a few days later, this isn't always the case.
Your insurance agent should be able to tell you whether or not a certain health institution has a unique payment plan with your insurance.
Visa
Depending on what type of visas you have, it is easy to budget for visa fees since they don't change very often.
Tourist Visa
Tourist visas are priced at ₱13,900 (around US$249) for visa-required nationals and at ₱11,500 (around US$206) for non-visa required nationals. Foreign visitors can extend their stay in the Philippines without having to routinely visit BI for document processing.
SRRV Visa (Retirees)
For foreign nationals who are 50 years of age or older and are retired officers of International Organizations recognized by the Department of Foreign Affairs (DFA). A deposit of ₱75,500 (around US$1,354) is required for the SRR Visa.
9G Work Visa (Employed)
Foreign nationals traveling to the Philippines for the purpose of engaging in any authorized occupation, whether for earnings, salary, or other kinds of compensation can get the Work Visa for the following price:
1 year: ₱10,130 (around US$182)
2 years: ₱17,170 (around US$308)
3 years: ₱24,210 (around US$434)
Vacations and Holidays
There are a lot of vacation sites in the Philippines and traveling from one destination to another is just a breeze.
For starters, you would need accommodation.
The fees charged by certain hotels and business establishments in the Philippines may appear normal by Western standards to many foreign tourists. So, as an expat, your choices are limitless!
Starting at ₱500 (around US$9) per night and going up, you can find good hotels for a reasonable price, you can even get these places for about a half or a third of the daily price per night if you book for 30 days or longer.
The Philippines has thousands of islands, and many of them have airports. Airlines such as AirAsia or Philippine Airlines provide flights to another island for less than ₱1,500 (US$27) – ₱2,500 (US$45).
You can also take a ferry to a number of the islands, which is less expensive than flying but takes significantly longer and is not the safest mode of transit. For instance, a one-way trip from Manila to Coron, Palawan costs approximately ₱1,700 (US$31) and takes approximately 12 hours.
For the food, you will pay between ₱300 (US$5.40)- ₱600(US$11) for local food, including drinks. If you want pizza or a burger, you have to double that price, but the food will not taste as delicious as the local delicacies. Drinks are also reasonably priced. A large bottle of water costs between ₱20 (US$0.36) and ₱50 (US$0.90) while a beer costs between ₱100 (US$1.80)- ₱200 (US$3.60).
Gyms
A premium gym can cost the same as, or even more than, a comparable gym in Western countries. They are priced between ₱2,000 (around US$36) and ₱3,000 (around US$54).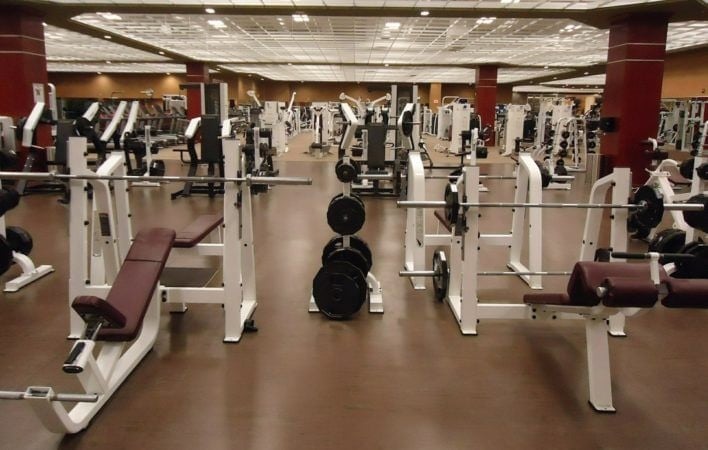 On the other hand, there are many free events, such as outdoor gyms and free courses that are usually accessible every other night.
Haircuts
The Philippines is one of the cheapest countries to get a haircut with an average cost of ₱300 (US$5.40) for a salon situated in malls. But if you want to try getting a haircut the Filipino style, there are barbershops along the streets of the city where you can get a haircut for as low as ₱30 (US$0.54) – ₱60 (US$1.08). Don't forget to tip!
Summary
The costs of living in the Philippines are included in the figures below, but they do not include much of the luxuries. So, when calculating how much it costs to live in the Philippines, we must factor in all of the extras and expenses that come with expat life.
Cost of Living in Manila
For a person living alone in Manila, here is a sample calculation of what to expect for your fixed expenses:
| | |
| --- | --- |
| Monthly fixed expense | Estimated amount |
| Rental Costs | ₱20,000 (around US$360) |
| Food & Beverage Costs | ₱10,000-12,000 (around US$180-216) |
| Miscellaneous | ₱3,000 (around US$54) |
| Transportations | ₱3,000-5,000 (around US$54-90) |
| Leisure Activities | ₱4,000-6,500 (around US$72-117) |
| Utilities | ₱6,300 (around US$113) |
| Laundry Costs | ₱2,500-4,000 (around US$45-72) |
| Insurance Costs | ₱2,000 (around US$36) |
Cost of Living in Cebu City
Here is what you can expect for your expenses if you opt to live alone in Cebu City:
| | |
| --- | --- |
| Monthly fixed expense | Estimated amount |
| Rental Costs | ₱15,000 (around US$270) |
| Food & Beverage Costs | ₱10,000 (around US$180) |
| Miscellaneous | ₱3,000 (around US$54) |
| Transportations | ₱1,500-2,000 (around US$27-36) |
| Recreation | ₱5,000 (around US$90) |
| Utilities | ₱3,000 (around US$54) |
| Laundry Costs | ₱2,000 (around US$36) |
| Insurance Costs | ₱2,000 (around US$36) |
Family Monthly Expenses
When it comes to family expenses in the Philippines, you should expect to double the above estimates, especially when it comes housing costs, groceries, and utilities. You should also consider that there would be additional items to budget for.
One of them is education expenses including school supplies, uniforms, transportation, and extracurricular activities.
You should also factor in additional health insurance coverage for your dependents and other medical-related expenses such as check-ups, vaccinations, medications, and others.
It is common for expats who come with their families to buy a car, as it makes more sense in terms of convenience. Doing so means you need to consider fuel expenses, vehicle maintenance, or vehicle loan payments.
Family entertainment expenses can include outings, recreational activities, hobbies, and subscriptions to streaming services or cable TV.
How Much Do I Need, Then?
The total cost of living in the Philippines, like anywhere else, is highly dependent on the lifestyle you choose — but you can certainly live comfortably here on a shoestring budget.
Living Like a Local
You, living alone, could get by on a monthly budget of just over ₱40,000 (around US$720) if you live Filipino style, shop where we shop, and eat where we eat.
There are probably small bakeries in your area that sell inexpensive bread, as well as sari-sari stores (variety stores) where you can buy smaller packages of goods and products. In here you can find products like shampoos, toothpaste, coffee, and even deodorants in sachets!
Going to the market is also an inexpensive way to get by every day and taste the most delicious food the local market has to offer.
Living Reasonably
If you want to live more reasonably, expect to pay at least ₱25,000 (around US$450) alone for a studio-type apartment. A bigger 2-bedroom apartment for the entire family will set you back at least ₱50,000 (around US$900).
You can also shop at a number of supermarkets or the Robinsons mall in Manila. If you splurge on shopping, you'll need about ₱20,000 (around US$360) per month for your food and other necessities.
But overall, you'll need between ₱60,500 (around US$1,089) and ₱90,000 (around US$1,620) as a start-up to live in the Philippines comfortably. This includes the typical expat way of life.
Living in Luxury
Naturally, the larger the budget, the more extravagant the lifestyle. A couple can live in luxury in the Philippines for ₱120,000 (around US$2,160) per month. You can enjoy life's finer things for that money: regular massages, housekeepers, country club memberships, frequent travels, etc.
But hey, you chose the Philippines to maybe settle down, and I assure you that living in here is a luxury in itself. See you!