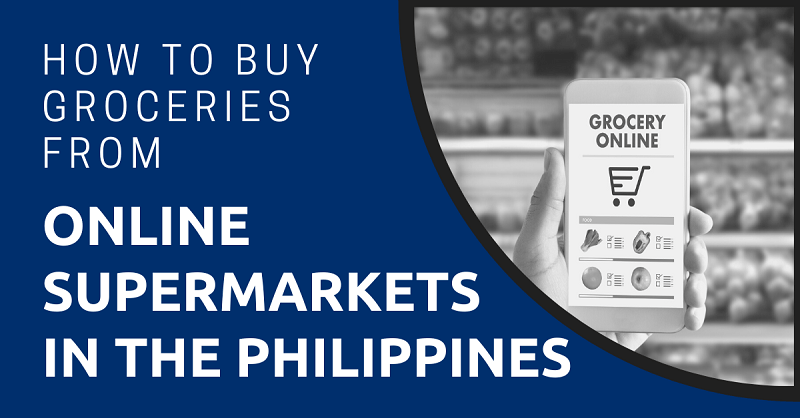 If there's one thing in abundance in the Philippines, it's tasty food. Without looking too far, you'll find all sorts of deliciousness waiting to be devoured. From cheap and cheerful roadside barbecues to vendors selling the nation's dish adobo, it's easy to get your fill of Filipino cuisine.
That being said, there's nothing like a home-cooked meal that's made right! I'm a bit of a health nut, so if I cook at home, it HAS to be healthy and not taste like cardboard. Of course, that doesn't always mean it's going to be cheap and without hassle.
This is why I love doing my grocery shopping online. Ordering virtually is more convenient and ultimately cheaper long-term than buying in-store (especially with rising fuel costs). It also saves the stress of traveling, which I'll discuss later.
This article will take approximately 27 minutes to read. Don't have the time right now? No worries. You can email the ad-free version of the article to yourself and read it later!
The Benefits and Drawbacks of Grocery Shopping
If you're an expat living in the Philippines, then you know grocery shopping can be a mixed bag when it comes to experience. On one hand, you immerse yourself in local culture and get to know your neighbors, as many stores are small and family-run. On the other hand, it can be frustrating, especially if you're not used to the chaotic nature of the Philippines' major supermarkets.
With that being said, let's go through the pros and cons of grocery shopping in the Philippines:
The Benefits
Product availability – Unlike online stores, physical stores usually have a wider range of products available. This is great news if you're looking for specific items or brands that are not easily found online.
Freshness – As you're in front of the product, you can check to see if it's fresh before purchasing. This is handy for perishable items such as fruits and vegetables.
Lower costs – Since you're not paying a delivery fee, your final bill may be cheaper in-store. Cost of living in the Philippines is relatively low, but to further save on expenses, expats can rely on public transportation i.e jeepneys, or their vehicles to travel.
The Drawbacks
Traffic – While this isn't so prevalent in rural areas, if you live in or around a city, then the traffic can be horrendous. It's not uncommon to spend an hour or more stuck in gridlock, just to travel a few kilometers.
Language Barrier – Another common issue is the language barrier. Although most do speak English, not everyone can understand or be understood perfectly, leading to miscommunications.
Crowded Stores – Philippine supermarkets are often crowded, especially in the evenings and on the weekends. Expect to wait in long queues when purchasing your groceries.
Lack of Urgency – Long lines are made even worse by the cashiers' lack of urgency when it comes to service. In the Philippines, it's not uncommon for people to take their time with transactions, even if other customers are waiting.
Introducing Online Grocery Shopping in the Philippines
Fortunately, online shopping has soared in the Philippines, post-Covid. The rise of eCommerce, the pandemic and its ensuing lockdowns, and the ubiquity of smartphones have made shopping online a great option.
Yes, online grocery shopping isn't as established as other markets like the US or UK. But it's quickly gaining traction as people realize the convenience and benefits of having their groceries delivered to their doorstep.
So without further ado, let's get into the meat and potatoes (pardon the tasty pun) of online Filipino grocery shopping.
Best Online Grocery Store
Online grocery platforms aren't exclusive to supermarkets but can also be marketplaces that allow small businesses and independent sellers to connect with buyers. Apps like Grab have also expanded their services to include food and grocery delivery.
With that being said, let's go through the most popular online grocery stores:
Robinsons Supermarket
Robinsons is one of the major brick-and-mortar grocery chains in the Philippines. Since their official 2020 launch into eCommerce, they've been aggressively expanding their grocery delivery services. With same-day delivery available, buyers can purchase items through the GoCart app.
Their product listings are fairly extensive, with no shortage of items, i.e their dairy and eggs section alone has nearly 400 products. You can also filter your search under each category, i.e. under Frozen, you can choose between meat, vegetables, or seafood. And if you want to take your search even more specific, items can be organized by price, percentage discount, or best sellers.
So what about their imported products section? Well, it's definitely on the smaller side than other online grocers.
Thanks to Robinsons Supermarket's partnership with Woolworths Australia, you can now order "Taste True Australia" products. However, these are only available in select stores and places. Makati, for example, has only mainly breakfast items like milk and cornflakes. Baguio City, meanwhile, has no products listed at all.
Minimum order – ₱1,000 (around US$7)
Minimum days in advance – Same-day delivery and five-day pre-scheduled delivery
Delivery Fee – ₱200 (around US$3)
Payment options – Credit Card/Debit Card, Cash on Delivery (COD), and payment apps like Gcash, Maya, and bank transfers
Purchase methods – GoCart App or Website
SM Group: Savemore, SM Hypermarket, and SM Supermarket
SM Supermarket is a powerhouse among supermarkets in the Philippines and is synonymous with Savemore, SM Hypermarket, and SM Supermarket. They sell everything from appliances and clothes to books and DIY hardware at the same prices as their in-store items. Their imported section is especially impressive, categorizing items based on their country of origin.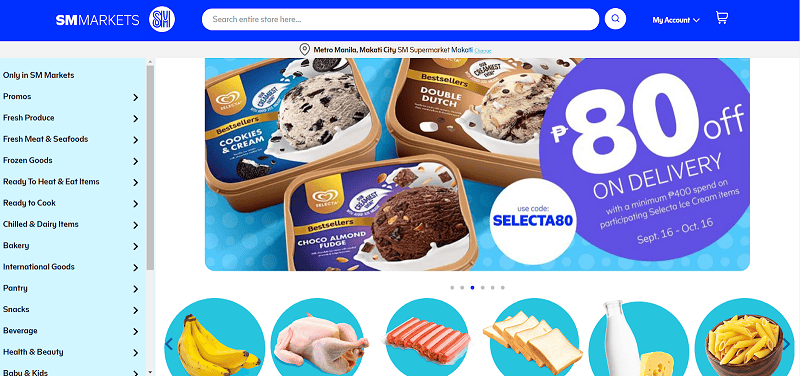 Discounts are also readily available, though they change weekly. As I type this, SM is offering:
₱80 (around US$1.4) off if you spend a minimum of ₱400 (around US$7) on Selecta ice cream
Free delivery if you spend over ₱3,000 (around US$51)
Free spaghetti for orders over ₱1,500 (around US$ 25) — neat!
The most notable feature of SM's site is its layout and design. It's clean and user-friendly, and their food categories are displayed on the screen's left-hand side.
Excruciatingly Slow Loading Times
I'm not the type to nit-pick or concentrate on the negatives, but the website can be painfully slow. If you're a new user (a new account is required before purchase), expect to wait a good minute or two before being able to access the site.
And if you thought that was bad, try adding an item to your cart. I kid you not; it took me over 5 minutes just to add three items! But if you're willing to look past the occasional long loading times, the SM online grocery store is a worthwhile option.
Minimum order – No minimum spending amount
Minimum days in advance – Same-day delivery and 5-day pre-scheduled delivery
Delivery Fee – ₱150 (around US$2.5) within a 5-km radius
Waltermart
Waltermart's online grocery site has all your local staples, from garlic and ginger to fresh milk and eggs. Their imported products list is also impressive, emphasizing Asian condiments and food items such as Thai red curry paste, dried seaweed, and Korean ramen brands. If you're into Japanese or Korean cuisine, it's a godsend.
Although the supermarket is well established, they're not as accessible due to having only 38 stores country-wide that deliver. If you're located outside their delivery zone (10km-15km), it's simply not an option. However, they make up for it by having low minimum orders (just ₱99 which is around US$2) and offering same-day delivery.
Their website structure and navigation are somewhat outdated and slow to load, but it's still functional. For example, there's no drop-down menu when searching for delivery locations. You have to manually type in your city or municipality, which is not followed by a list of available barangays.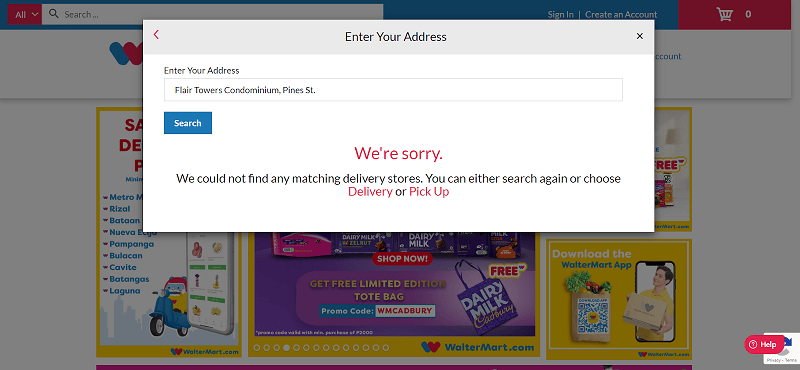 Minimum order – ₱1,000 (around US$17)
Minimum days in advance – Same-day delivery
Delivery Fee – ₱99 (around US$2)
LazMart – Lazada's Grocery Store
Lazada's grocery store, LazMart, offers a blend of simplicity and convenience. With a sleek user interface, it's easy to navigate, select, and order. You can find all your usual household staples like laundry detergent, shampoo, bath tissue, and more, with a good range of international products for those who are missing home.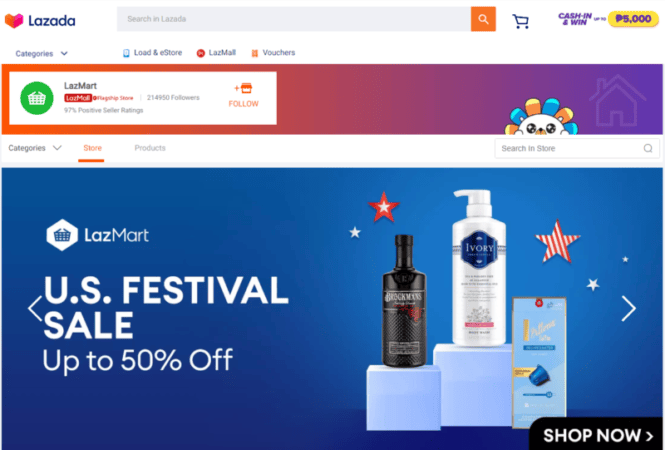 The biggest gripe I have with LazMart is its delivery costs. You see, it's calculated a little differently, with shipping prices based on the number of items and not a flat fee. The more cart items you have, the higher you'll pay for delivery. An order costing ₱10,000 (around US$170) for example, could set you back over ₱300-400 (around US$5-7) in shipping fees.
Delivery times are also less flexible than other stores, with a delivery day between 2-3 days with no same-day delivery. All in all, it's a decent option if you don't mind the shipping fees and are willing to wait a few days for your order.
Minimum order – No minimum spending amount
Delivery dates – 3-5 days waiting time
Delivery fee – Depends on the number of items
Purchase methods – COD or credit/debit card
MetroMart
MetroMart isn't a grocery store per se. Instead, it's a delivery service that partners with local establishments to bring you what you need. MetroMart works with different stores like Robinsons Supermarket, Shopwise, and Farmers Market.
This one-stop shop for groceries is a particular favorite as fresh produce is always included in their orders. Farmers Market sells products directly from the farmers so you know they're as fresh as they come! If you didn't know, Farmers Market regularly features outdoor stands, attracting expats in droves as it's a bit less intimidating than your average wet market or "palengke".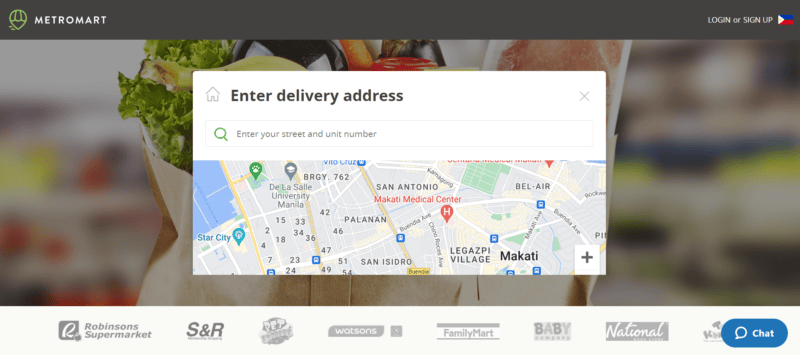 In addition to offering various goods, their delivery fee is the cheapest at ₱88 (around US$1). Coupled with a user-friendly site and fast loading times, it's easy to see why they're among the very best for online grocery delivery.
Minimum order – ₱1,000 (around US$17)
Delivery dates – Same-day delivery and five-day pre-order
Delivery fee – ₱88 (around US$1.5)
Purchase methods – Gcash, COD, or Credit/Debit card
Delivery times – 8 am to 8 pm
Puregold
Unfortunately, Puregold's website was unresponsive when writing this article. I couldn't change my address details to test the delivery service or even stock items in my cart. But while their website was a total flop, the PureGold mobile app is up and running smoothly.
The Puregold Delivery App
The app is easy enough to use, allowing for efficient navigation among its different sections. But while customers can scroll through various categories, i.e., fresh produce, apparel, appliances, chicken & poultry, etc., some show up with a blank screen. Now, if this is due to a technical error or unavailability of stock, I'm not too sure.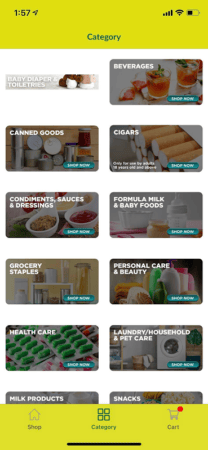 Additionally, while Puregold sells popular international products i.e., Kellogg's cereals, you won't find a dedicated international section. Instead, you'll have to search for what you need in the search bar, which is a tad inconvenient.
On the plus side, their product selection is diverse, offering many brands and products that other supermarkets lack. And if an item is out of stock, their 'add replacement item' option at the checkout screen saves time. That said, I've tried to find replacement items for four different products and nothing showed up – welp!
Just to end on a good note, Puregold does offer bill payment and phone top-up features, making it highly convenient for people not registered on Gcash to DIY.
Minimum order – ₱1,000 (around US$17)
Delivery fee – ₱120 (around US$2)
Delivery times – Same-day delivery with five-day pre-order
Purchase methods – Gcash, COD, or Credit/Debit card
Delivery times – 7 AM to 7 PM
How Long Does Online Delivery Time Take?
Generally speaking, online grocery shops have designated delivery time slots selectable for users. Groceries are delivered within these time frames, either on the same day or in advance.
Delivery time slots are usually offered in 1-3 hour time windows. For example:
Waltermart: 8am-11am, 11am-2pm, 2pm-5pm and 5pm-8pm.
Metromart: One-hour delivery windows starting from 10 AM to 10 PM
SM – One-hour delivery windows that start from 8 AM to 10 PM
Lazmart, on the other hand, does not have specific delivery times. Instead, they give a 2 to 3-day delivery window after two days of your purchase. So if you order on Monday, your groceries will arrive between Wednesday and Friday. Delivery times can range from 8 AM to the cut-off time of 10 PM.
Mom-and-Pop Stores That Deliver Through Lalamove or Grabmart
If you want your delivery straight away, you'll be given an estimated time of arrival (ETA) which is usually between 25-50 minutes. Delivery times are typically determined by store proximity and who you're ordering from. However, external circumstances like traffic and bad weather can extend the delivery time.
Alternatively, you can schedule your delivery for a later hour. Like grocery stores, these delivery services have designated time slots that you can choose from.
Recommended Online Grocery Stores For Each Province and City
Now that we've gone over the basics of online grocery shopping in the Philippines, it's time to get into the good stuff – where to shop! Here are our top picks for the best online grocery stores in the following cities and provinces:
Metro Manila Online Grocery Stores
As Metro Manila is the capital region of the Philippines, it's only natural that there would be a plethora of online grocery stores available. As such, you'll have access to all the major players like:
Lazmart
Shopee
MetroMart
SM, including Savemore, Hypermarket, and Supermarket
Waltermart
Puregold
Smaller groceries and health stores like The Super Grocer, Sijangmart, and Healthy Options also cater throughout Metro Manila. Simply put, no matter what you're looking for, you'll be able to find it in Metro Manila.
Cebu Online Grocery Stores
Like Metro Manila, Cebu also has no shortage of online supermarkets. Unlike more remote provinces, Cebu city offers its residents major supermarket chains, such as:
SM Supermarket
Robinsons Supermarket
Landers
Metromart
Waltermart, however, does not have an online store in Cebu.
Additionally, Cebuanos can also go online and buy from Gaisano Grand Malls — a popular mall chain in the Visayas. This requires users to have a Viber account for Shop-&-Go transactions.
If you want bulk orders for meat, New Creations Foods is my recommendation. Users can order various meat products like sausages, bacon, chicken, and more. Simply go on their Facebook page, send your details, and then they'll return a price list of their available products.
Davao Online Grocery Stores
Davao is another major city with several online grocery stores available. Many of the major chains include:
MetroMart
Lazada
Robinsons
Foodmart
SM
However, supermarkets such as Waltermart, Shopee Supermarket, and Lazada do not currently have an online presence in Davao.
Whilst there aren't as many online supermarkets in Davao compared to Manila, there are local stores that will deliver groceries that get the job done. Notable examples include:
Davao Groceries Online – an online grocery store that sells essential items like rice, cooking oil, noodles, and more.
NCCC Online Store – a large online mall that stocks groceries as well as other items such as clothes and electronics.
Farm to Doorstep – a farm that delivers fresh, locally sourced produce to your door.
Quezon City Online Grocery Stores
Quezon City is one of the most populous residential cities in Metro Manila, so it's not surprising that there is no shortage of online grocery stores. The most popular ones include:
Lazada
MetroMart
Waltermart
SM
As Quezon City is part of Metro Manila, you'll have access to all of the same stores as you would in the capital. You can also purchase goods from specialized stores such as Healthy Options, The Green Grocer Manila, and many more.
Cavite Online Grocery Stores
Cavite is a province on Metro Manila's outskirts and is home to many of the country's middle-class families. As such, many online grocery shops cater to this demographic. Some of these include:
Metromart
Waltermart
Robinsons
The Marketplace
SM
Beyond supermarket chains, buyers can purchase from local stores such as:
Allday Supermarket Known as a local convenience store that sells groceries, snacks, and more. Although this shop doesn't have a wide range of products, it's still viable for those who live near one of their branches.
Local Street Vendors
The Philippines is packed with local vendors that sell fresh produce, meat, eggs, and other essentials. They're significantly cheaper than supermarkets, and while most don't deliver, they may be willing to if you ask nicely and fork out a little extra.
Being friendly and getting to know vendors can result in a steady supply of fresh and affordable groceries delivered. It's worth trying, especially if you live in a remote area or have difficulty getting to the supermarkets or hypermarkets.
International and Ethnic for Expats
Unfortunately, regardless of the supermarket, stocked international items are generally in short supply. Sure, many offer a dedicated international section, and certain supermarket chains will have partnerships with foreign stores, i.e. SM with Tesco. But if you're looking for a broader range of international items, specialty stores are your best bet:
Landers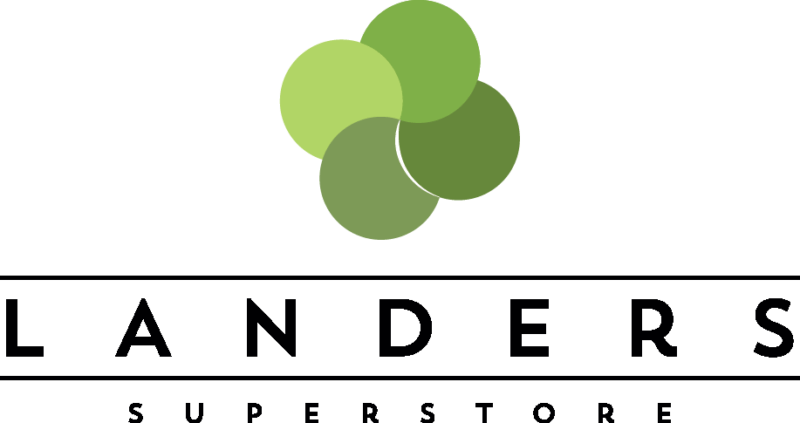 Landers is similar to the wholesale corporation Costco, selling everything from groceries (usually in bulk packages) to furniture and appliances. However, what Filipinos and expats love most about Landers is its stocked items from all over the world.
The only downside is that Landers is a membership store, so you'll need to shell out ₱900 (around US$15) annually to purchase their goods. Some of the exclusive goods they sell include:
Plant-based patties from US company "Beyond Burger"
Badia spices
Double Rainbow ice cream
Bright Right detergent and so on
Their exclusive items cross over into several other categories like snacks, beverages, health, and beauty items. If international items are on the agenda, Landers and perhaps SnR should be your go-to places.
Sijangmart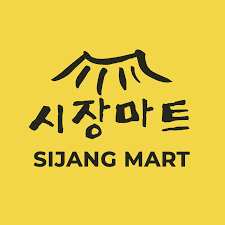 Korean food isn't just "masarap" or delicious; it's also good for you. So it's no surprise that many Filipinos and expats (myself included) love Korean cuisine. Sijangmart is a neat little store that delivers across Metro Manila, Rizal, Cavite, Laguna, and Bulacan via Lalamove, a third-party delivery service.
If you like eating out at Samgyupsal restaurants or enjoying a bowl of Bibimbap at home, this is perfect. They have everything from kimchi, to gochujang, to Korean BBQ sauces and more.
Gerald.PH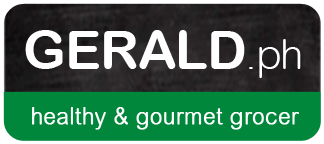 Gerald.ph is an excellent stop for all your organic and natural needs, with a range of French imported products from bakery items, cheese, and deli meats.
The owner of the company, Gerald, was born and raised in France before moving to the Philippines. His experience and insight into the French food industry have allowed him to curate a range of items that aren't commonly found in the Philippines. If you're looking for french items like foie gras, escargots, or even just a good baguette, Gerald.ph is your best bet.
Local, Organic, and Artisan Shops
To find specialty items, it helps to do a little digging around. Many local, organic, and artisan shops are on social media or have an online presence but aren't widely known. These are some of my favorites:
The Green Grocer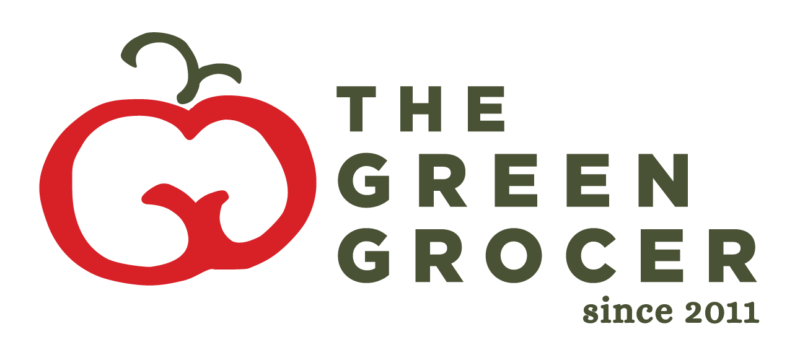 The Green Grocer is the very first organic grocery store that offered delivery in the Philippines, boasting a wide range of grass-fed, free-range, and organic produce. Like Gerald.ph, they focus on quality over quantity and have a nice range of international items. The Green Grocer is great for those who want to eat healthily and shop sustainably.
They deliver fresh harvest every Wednesday, Thursday, and Saturday directly from their closest farms. However, unlike most online shops, they do deliver to areas far away from their base. This means transporting your goods via bus, airplane, or courier — talk about going the extra mile!
The Superfood Grocer (for vegans and vegetarians)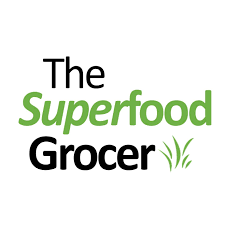 No online grocery list would be complete without a vegan and vegetarian option, and 'The Superfood Grocer' is one of the best in the biz. They have a range of plant-based products that are imported and locally sourced, as well as superfoods, grains, chia seeds, green tea powders, and more.
Unlike other vegan establishments, they manufacture a lot of their products in-house. This allows them to keep a close eye on quality and ensure that everything they sell is up to par. Their vegan ice cream, Super Scoops, is heavenly and perfect for vegans who want to splurge on a sweet treat.
Healthy Options
Whether you require gluten-free foods, high-protein snacks, or just all-around healthy eats, Healthy Options is perhaps the most popular stop for all things good for you. With 30 stores across the Philippines, they're indeed established as one of the go-to spots for health nuts and foodies alike.
Their online store has a range of local and imported items, including protein bars and cereals, gluten-free bread, organic produce, seeds, herbs, and more. While I don't order online from them, I always make a point to stop by one of their physical stores whenever I'm in town.
Healthy Options delivers throughout the country, with different delivery fees and transport modes, depending on where you are. For Metro Manila, expect your order to arrive in 1-2 days and 6-15 days outside of Manila.
Pililokal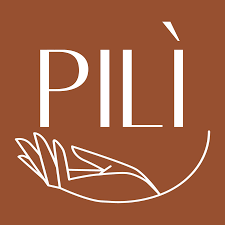 Pililokal may have only been conceived in 2017, but this online marketplace has made waves in the online artisan sphere. Why? Because it's one of the few stores that empower Filipinos by working with local artisans and producers.
The online store works with small businesses, family-run operations, and even individual creators, offering Pinoy-made goods that range from ornaments and bags to soap and sauces. Filipinos make them, but they're available to everyone who appreciates the country's culture.
If you want to make sure your shopping helps empower those most in need, then Pililokal is the best place to start.
Halal Online Stores
Unfortunately, there isn't a dedicated online store for halal items in the Philippines. However, if you look around hard enough, there are a few Muslim-owned businesses that operate online and sell halal products:
Manila Halal Meat
Manila Halal doesn't have a website but you can order through their Facebook page. They sell a range of halal beef products, including ground beef, premium steak cuts, carcasses, and more. The company is based in Makati and delivers across the NCR.
Lean beef without fat will cost you ₱410/kg (around US$7/kg). Sub-primal cuts like ground beef are a bit cheaper at ₱390/kg (around US$6.6/kg).
Halal Meat Supplier Metro Manila
The online community is great for finding halal meat suppliers in Metro Manila. You'll find local sellers, supplier contact details, and pricing on the Facebook page. It's excellent if you want to buy halal meat in bulk or want to explore wide halal options.
However, be aware that because this is a community page, there is no guarantee of quality or safety. Make sure to do your research before you purchase anything.
Supplements
Supplements at shopping mall stores are generally more expensive compared to online smaller supplement companies. If you need some protein, BCAAs, or other sports nutrition products, then consider WheyKingSupplements.
WheyKingSupplements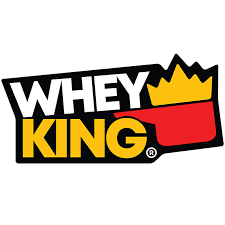 If you can't find what you need on their leading site, check their local Facebook page near you. For example, my WheyKingSupplements store in Congressional road, Q.C., sells high-quality protein powders for ₱2,400-₱2,800 (around US$41-US$47). By sending a quick DM, I can organize a Lalamove or Grab delivery and have the supplements at my door the same day.
Delivery Apps like GrabDeliver and Lalamove
Although I've listed a bunch of online delivery supermarkets and marketplaces, many just use delivery apps like Lalamove and GrabDeliver to shop. They're less clunky to use than supermarket websites, which seem somewhat behind the times as far as eCommerce is concerned.
I suspect supermarket websites rely more on third-party delivery apps than their in-house delivery services, but that's another topic entirely. Let's go through the two most popular grocery delivery apps in the Philippines:
GrabMart
A new addition to the Grab taxi app, this is basically a 7-11 on steroids. You can order everything from snacks and drinks to fresh produce and meat.
FoodPanda
Many assume this delivery service is just for restaurants. Still, you can also order from stores like Pan de Manila (a bakery/bread store), Marks and Spencer, Meat Depot, and more.
Angkas
Like Grabtaxi, its purpose goes beyond taking you from place A to B. You can order essentials such as groceries, medicine, and hot meals here, where a motorcyclist will deliver them to you.
GoCart
I briefly touched on GoCart in the online supermarket's section, but it's worth mentioning again. This app lets you shop at your favorite stores — like Robinsons, Shopwise, and The MarketPlace — then delivers the items.
Now, on to You
Although online groceries have only really flourished in the Philippines thanks to the pandemic, I'm confident they're here to stay. The convenience factor is undeniable, and with more people working from home, there's no need to brave the crowds at the supermarket.
Of course, it's not for everyone, and some people will always prefer the traditional way of shopping. But for those who want the convenience of having our groceries delivered, there's no shortage of options.