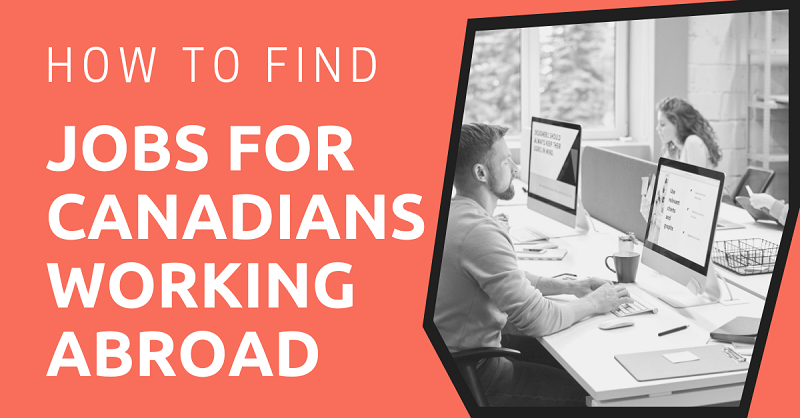 While there are plenty of job opportunities in Canada, working abroad gives you access to different cultures, perspectives, and opportunities.
You can enjoy benefits like a higher salary, the opportunity to travel, and more advanced positions. You can also escape the Canadian winter by moving somewhere tropical.
The Canadian passport is strong and as many Canadians are native English speakers, we're in high demand in many countries around the world. You can easily find work, no matter what your profession is.
So, if you're considering moving abroad for work, this guide can help. It talks about what you can expect, the general requirements of working abroad, and discusses ways you can find job opportunities.
This article will take approximately 19 minutes to read. Don't have the time right now? No worries. You can email the ad-free version of the article to yourself and read it later!
What Type of Work Can You Find Abroad
You can find almost any job abroad, but some professions are more in demand than others.
Some of the most in-demand industries abroad are education, tourism, healthcare, finance, and business.
If you already have experience in one of these industries, finding work abroad should be simple. Even people who are new to the workforce can easily find work, especially in the education, tourism, and humanitarian aid industries.
Teaching English
One of the most popular jobs Canadians obtain abroad is an English-as-a-second-language (ESL) teacher. Many countries want to hire native English speakers from Canada to help citizens improve their English and adopt an easy-to-understand English accent.
Some countries are willing to hire employees with any bachelor's degree, it doesn't have to be relevant to teaching English. Others want teachers with a teaching qualification.
It's very easy to obtain a teaching English as a foreign language (TEFL) certificate to prepare for this job. You can get it online within a few weeks, making you a more attractive candidate for ESL teaching jobs.
Not only is it easy to get an ESL teacher job, but you also get more time off compared to other jobs, so you can use your free time to explore your new home country.
Information Technology (IT)
The technology industry is always changing and advancing, so companies regularly look for Canadians to fill these roles abroad. They want to hire people from Canada to gain their insight on IT products and services they can offer.
They may hire candidates for roles like web developer, computer programmer, or software engineer.
To prepare for these roles, you can get a related degree or diploma, such as one in computer science. It's also important to enhance your understanding of programming languages, such as Python, Java, and JavaScript, and web technologies like HTML and CSS, as coding may be a major part of your job.
Consultant
Companies abroad often hire Canadians as consultants so they can offer their expertise. Consultants specialize in a certain subject, such as marketing, finance, or production, so they can offer advice and guidance to clients.
Companies typically hire Canadian consultants to help them make productive business decisions, especially when trying to expand to international markets.
To get a job as a consultant, it's important to have a bachelor's degree in a relevant subject and a few years of experience in your industry.
Travelling Nurse
Becoming a travelling nurse is becoming increasingly more popular for Canadians. Many registered nurses are moving to countries like the United States to become a travel nurse as they earn a much higher wage.
You must be a registered nurse in your province or territory to work as a travel nurse in the United States.
Many nurses sign contracts to work in the United States for a few months at a time, giving them plenty of time to travel around the country.
Hospitality and Tourism
Hospitality and tourism is one of the most popular options for Canadians looking to work abroad. You can find work at places like hotels, cruise ships, restaurants, and tour companies.
While the pay may be similar to working the same jobs in Canada, you get to experience a new culture.
To work in hospitality and tourism, try to develop proficient customer service and communication skills to connect with your customers.
Depending on where you work, you may need to know the local language as well so you can serve locals.
Management
Many large Canadian companies have offices in different countries that prefer to hire Canadians to fill these management roles abroad. You can find these roles at companies like banks, marketing firms, or tech companies.
Being a successful manager abroad requires proficient communication skills, leadership skills, and cultural sensitivity so you can form professional relationships with your team to work towards shared goals together.
You typically need a bachelor's degree and a master's degree to seek a management position abroad. Companies also prefer candidates with prior industry experience.
These management positions often offer lucrative salaries and benefits packages.
Requirements
Every employer and country has their own requirements, but here are some general requirements you may need to meet to work abroad:
Age
One requirement to consider when applying for a work visa is your age. Some countries have limits on how old applicants can be to be eligible for a visa.
For example, to be eligible for Australia's working holiday visa, Canadians must be between 18 and 35 years old.
Some countries want young people to relocate so they can contribute to the economy for a long time.
Other countries want established professionals, typically ages 30 to 55, as they can bring their expertise.
Work experience
Many companies abroad hire employees with no experience for certain roles. Typically, becoming an ESL teacher, bartender, concierge, or travel agent requires no prior work experience.
When I taught ESL in Singapore, I didn't need any prior teaching experience to get a work visa, but in China, Canadians need a bachelor's degree and two years of teaching experience to get a visa, so experience requirements depend on the country and your job.
If you're interested in a more technical role, such as one in IT, finance, or marketing, you may need three to five years of experience before moving abroad.
This shows companies you have the required skills and knowledge to succeed in another country.
Education
The minimum educational requirement to obtain a work visa is typically a bachelor's degree. Foreign governments want to ensure candidates have the right qualifications for their role.
More technical roles or executive positions may require candidates to have a master's degree or Ph.D. as well.
However, this also depends on your job position and country as well. For example, you don't need a bachelor's degree to get an IT job in Thailand as long as you have at least three years of work experience.
Language
Companies abroad typically prefer candidates who are native English speakers, depending on the role. This helps them create written content, such as marketing materials, social media posts, or novels, that are clearly understandable to an English audience.
It also allows companies to find candidates with skills different to their current employees.
Some companies may require candidates to speak the country's native language as well. For example, a marketing company in Japan may want candidates who speak Japanese so they can connect with clients and the target audience.
You might also want to read: The Complete Expat Guide for Learning a New Language
What to Expect
Exact expectations can vary according to your employer, destination, and position, but here are some to consider:
Salary expectation
Many people choose to move abroad for work to earn a higher salary. Different countries may be willing to pay foreigners more to use their expertise, increase the population, or improve the economy.
For example, foreign ESL teachers in Singapore earn a higher salary than local teachers because many parents prefer English teachers with a Canadian, American, British, or Australian accent.
You may also have more negotiating power when discussing your salary with foreign employers. You can highlight your unique credentials, experience, and skills to negotiate a higher salary.
However, some countries may offer a lower salary than what you earn in Canada. For example, a project manager in Canada can earn an average of $85,734 per year, while a project manager in Thailand earns an average of 840,000 baht, which equates to $33,419 CAD.
Foreigners may still earn more than locals, but receive a lower salary compared to Canada because the cost of living in these countries is lower, so your money goes further than it would back home.
When you get to your destination, you can open a local bank account. This makes it easier to receive your salary.
Expectation from co-workers
Your co-workers are probably the first people you'll meet when you arrive at your destination. Try getting to know them to make your transition easier.
If you become friends with your coworkers, you may feel less lonely in your first few weeks of starting your new life.
Depending on the destination, becoming friends with your coworkers may be more difficult than it is in Canada. Canadians are known to be friendly, so they develop strong friendships with their coworkers, even outside of work.
In many other countries, such as Japan, people don't spend time with their colleagues when they're not at work, so don't be offended if your coworkers don't want to get dinner when your shift is over.
Your colleagues may have a different work ethic than you as well. Canadians may work overtime to complete all their tasks each day, while in many countries in Europe, people leave as soon as their shift is complete so they can spend time with their friends and family.
Try to adopt a similar work ethic to your colleagues to form professional relationships with them, improve collaboration, and impress your manager.
Cultural differences
Every country has its own unique culture. If you're moving to a country that has a very different culture to Canada, you may be overwhelmed when you move.
One way to assimilate better is to learn more about the country's culture before you move. Try talking to friends or family members who have visited the country or researching it on your own.
You can even watch television shows or movies that take place in the country to learn more about how people act, dress, and interact with each other. Your new employer may offer cultural sensitivity training to help you feel more comfortable in your new home country.
Learn about cultural faux pas and laws, like not chewing gum in Singapore, so you don't offend any locals when you move.
Once you know the basics, adapting to the local culture should be easier. You can learn more about the culture once you're there as well. Observe how others behave and be receptive to learning.
Don't stress too much, people are generally forgiving of foreigners who are clearly putting in effort to be respectable. You may even be able to teach them something about Canadian culture!
Ways to Find Work Abroad
Here are different ways you can find work abroad:
Talk to Your Current Employer
If you work for a large company, you may be able to work abroad with the same employer. Many companies that have locations in different countries are willing to transfer employees from Canada.
This benefits both parties. It helps the company fill open roles in different countries with employees they know are reliable, which makes them willing to pay for your relocation costs and maybe even offer a pay increase.
It benefits you as you don't need to worry about finding a new job and you can live in a new country.
Consider a Work Exchange Program
Another way to find work abroad is to apply for a work exchange program. This means you're exchanging your services for room and board.
You may receive a salary as well, but it's typically low. This can be a good option for people who are new to the workforce and have little expertise to offer foreign employers.
Work exchange programs are common for jobs like manual laborer, au pair, teacher, farmer, tour guide, or pet sitter, so you can find a position that meets your interests.
Here are some work exchange programs you can consider:
Volunteer Your Services
If you're not concerned about finances, you can pursue a volunteer position abroad rather than a paid one.
There are plenty of foreign nonprofit organizations and companies that are always looking for volunteers, such as:
You can even find a volunteer abroad program that offers free room and board in exchange for your help, though in some cases, you may have to pay to take part in a volunteer program.
Volunteering allows you to work abroad, meet new people, gain valuable experience, and network, so you can eventually find a paid position.
Here are some volunteer roles you can consider based on your interests:
Healthcare
Childcare
Animal care
Special needs care
Teaching English
Marine conservation
Dentistry
Community development
Shelter support
Sports education
Construction and renovation
Farming
Use International Job Boards
If you've applied for jobs in Canada, you've likely used a job board, such as Indeed or Monster. You may be able to find work abroad on these sites, but using a job board tailored to international opportunities can be more beneficial.
There are many general international job boards that allow you to search for opportunities based on the country.
You can also use country-specific job boards to narrow your search.
Some job boards even let you input filters, such as your desired salary, to help you find the perfect job.
Here are some international job boards you can try using:
Work with a Recruitment Agency
Working with a recruitment agency can take the stress of finding a job off of you. You can find a recruitment agency in Canada that specializes in international hiring or find an agency in the country you want to move to.
You typically have to pay the recruitment agency to help you find a job, but they take care of the entire application process for you. This can help you focus on preparing for your big move.
Some recruitment agencies specialize in different industries. For example, a recruitment agency may only find employees for finance or IT jobs. If you know what type of job you want, you can find a specialist agency to ensure you get a lucrative position.
Here are some recruitment agencies to consider that can help you find a job abroad:
Move Abroad and Find Work While You're There
This can be a riskier option, but if you've had no luck with your job search, you may want to just move abroad then find work while you're there.
You can enter countries as a tourist or on a visitor visa to get to know the area better and meet employers in person.
You won't be able to work on a tourist visa, but if you can find a job, your employer can help you apply for a work visa instead.
Make sure you have savings before you go, because you don't know how long you'll be without work.
Tips for Working Abroad
Here are some tips to consider when working abroad:
Ask Your New Employer About Their Relocation Services
Foreign companies often offer relocation services to foreign employees to help them move.
They may pay to move your personal belongs, help you find a house, and pay for your air fare.
You may be able to find details about the company's relocation service in your contract, but if you can't, ask the human resources personnel for more details.
You may even be able to negotiate the company's relocation services to gain better benefits, making your move less stressful.
Learn Another Language
If you're moving to a country where you don't speak the national language, learning the basics before you go can be helpful.
People may speak English or French, so you can get by, but putting in effort to speak their native language can impress them.
Knowing the basics of a foreign language can also be beneficial in emergencies and when making local friends. You can learn more about the culture this way, helping you settle into your new home better.
Consider language-learning apps or language schools to improve your knowledge. When you move, you can practice speaking the language with new friends and colleagues.
Try to Pack Light
When moving abroad, you'll likely just have a suitcase and a carry-on bag. This means you have to leave a lot of your personal belongings behind.
When you're packing, think thoroughly about what you really need and what you can just repurchase in your new home country.
You also have to think about what you want to do with your belongings. If you have a home, do you want to sell it before moving so you can use the money to buy new property when you move?
Or do you want to rent it out to earn passive income and have a home to come back to if you want to return to Canada?
Consider your smaller belongings as well, such as furniture, clothes, and electronics. If you're keeping your home, you can leave these belongings, but if not, consider selling them, giving them away, or renting a storage unit.
File Income Taxes Appropriately
Even though you're not living in Canada, you may still be required to pay taxes here. The Canada Revenue Agency (CRA) determines your residency status based on whether you leave the country permanently or temporarily and if you have significant ties to Canada still.
The two types of residency status are resident and non-resident. You may be considered a resident still if you have significant ties to Canada. This includes having a home, a spouse or common-law partner, and dependents in Canada.
It can also include secondary residential ties, such as personal property, social ties, economic ties, a Canadian driver's license, and health insurance.
If the CRA still considers you a resident, you must pay income tax on income you earn anywhere in the world. Thankfully, Canada has double-taxation agreements with many countries. This means you can receive a reduced tax rate or an exemption from Canadian income tax on certain income.
If they deem you a non-resident, you don't have to pay taxes on foreign income, but you're liable to pay withholding tax from income sourced in Canada, such as investment income or pension payments.
You can complete Form NR73 and send it to the CRA so they can determine your residency status when you leave.
Knowing your tax obligations is important. Otherwise, you may have hefty fines to pay when you return to Canada.
Learn About Your Employment Rights
Every country has its own policies for employees and what they're entitled to. In Canada, we have the Canada Labour Code, which includes regulations about hours of work, leaves, vacation, payment of wages, and public holidays.
Find out if your destination country has a similar labour code and familiarize yourself with it. This ensures you know what you're entitled to as an employee in another country so employers can't take advantage of you.
Read your work contract thoroughly as well, as employers may add company-specific entitlements.
Know Your Visa Conditions
To move abroad, you typically need a work visa. Every country has its own requirements to be eligible for a work visa, some of which we've already discussed, so it's important to check relevant government websites for more thorough information about your visa requirements.
Some companies may apply for a work visa on your behalf, but if your employer doesn't, ensure you apply for one as soon as possible.
It take some time to get approved, so applying early makes it more likely that your visa will be ready before your move date.
Make sure you familiarize yourself with your visa conditions as well. Countries typically set regulations on what people can do when they're in the country on a work visa. For example, you typically can only work for the company that sponsored your work visa.
Knowing the conditions for your visa and adhering to them ensures you can stay in the country for as long as possible.
Now, on to You
Moving abroad can be nerve-wracking, but it can also be life-changing. I was so scared to leave Canada and build a life abroad in Singapore, but it was one of the best decisions I ever made.
Ensuring you're prepared can make the transition easier, so bookmark this guide to refer to throughout your move.
Try not to worry too much, everything will fall into place once you're settled into your new home.