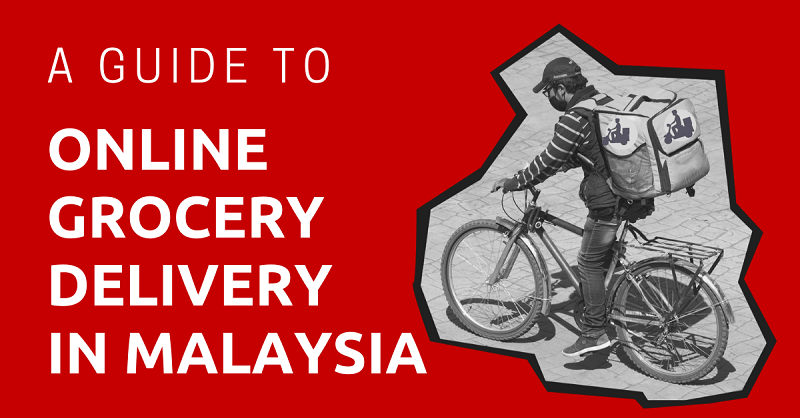 Given that we are currently living in a pandemic-stricken world, buying groceries online and having them delivered to our home is becoming increasingly common. More and more people who never used to step in to a kitchen are now wielding spatulas and woks and cooking up a storm.
People who only used to enjoy watching MasterChef and wondering if they would ever be able to whip up a dish that's not only presentable but also delivers a flavor explosion are finding out that they, too, can be master chefs themselves.
Scroll through your Instagram feed and you will see that everyone around you is now creating their own versions of nasi lemak and laksa. Meanwhile, others have turned into home bakers-cum-entrepreneurs who are selling artisanal breads and pastel-colored Korean-style cakes to supplement their income.
Since my wife and I are permanently working from home (my wife is a full-time freelancer and my office has shifted operations to allow all employees to work at home), we now have more time to cook. We can take charge of preparing healthy homemade meals.
Trips to the supermarket can be fun, but you might not be able to do it as often as you'd like. Fret not — you can order groceries online instead. Let me walk you through the different options you have when ordering groceries online in Malaysia.
Pros and Cons of Ordering Online
Online grocery shopping has been around in Malaysia for many years now, but it didn't really catch on until the COVID-19 pandemic happened in early 2020.
Pros
There are many advantages to ordering your groceries online and not having to venture out to the markets near you.
It's Convenient
Many people may not be able to go to the supermarket especially the elderly or those who have trouble moving. Online grocery shopping lets you get what you need delivered straight to your doorstep.
You can even order groceries for your parents or grandparents who are living by themselves even while you are traveling or located in another state.
It Saves Time and Money
When you're physically in a supermarket or any store, you tend to get distracted by all the options you see on the shelves despite already having a shopping list in hand. When you do online grocery shopping, you don't get too distracted.
Shopping with kids could take even longer. There's also the matter of long wait times in queues and grocery staff taking long to scan and bag your groceries.
Compare that to just taking 15 minutes to simply click on the things you want when you order online. This saves you money because you tend to avoid buying a lot of unnecessary things, paying for fuel and parking, and eating at a restaurant before heading home.
Overall, It's Healthier
When I am not walking past aisles with chips, candies, and chocolates, it's easy to stay away from temptation. Plus, not being able to catch a waft of freshly baked bread or Famous Amos cookies keeps my waistline from expanding.
The added advantage of cooking our own meals also means we know the amount of salt, sugar, and oil that goes into our dishes — something we cannot control when we buy cooked food from restaurants.
Cons
There are drawbacks to online shopping, however. There aren't many, but some of them are particularly disadvantageous.
Fewer Choices
Online stores do not carry as many brands or offer as many selections compared to physical stores. There are two reasons: the first is that the inventory is most likely not often updated and second, items could easily go out of stock.
Freshness and Condition of Produce
There were the occasional times when I got lessthan acceptable goods. They involved broken eggs and also meat that was past its freshness point. Bear in mind that you could opt out of buying unsatisfactory produce. The supermarket will not charge you for the rejected items.
Timing
Due to the onslaught of online orders, it is understandable that deliveries will not arrive at the time you expect. This may be a problem for those who have a strict daily schedule or need to go out for urgent matters when your groceries are supposed to arrive but are late. In cases like this, you will need someone else at home or ask a neighbor to help you accept the deliveries.
Online Grocery Shops
There are many supermarkets that have online delivery services. If you live in Kuala Lumpur, all of these services are available to you.
Without further ado, let's dive in.
Lotus (Formerly Known as Tesco)
Being one of the most popular supermarkets in Malaysia with many outlets nationwide, Lotus or Tesco online is the top pick for most people who want to shop online. They carry a wide range of produce, both local and imported. I particularly love Tesco's own products as they are usually priced well below other brands.
If you are not fussy about brands, their biscuits and milk could be a staple in your pantry. The online shopping website is clean and user-friendly.
Just by clicking the first button, you can see the categories of groceries they have: fresh food that includes baked goods, eggs, fish and poultry; groceries like canned food, cereals and all the things you need for cooking; baby products; beverages; household items, and many more.
You can choose when you want the goods to be delivered from their daily delivery time slots. You are allowed to book as far as three weeks in advance, so plan ahead. They cater to selected cities and towns within Klang valley and other states. If you would like to try it out, check if the service is available where you are by clicking here. The delivery charges depend on location and the time you select.
Note that previously, you could pay when your groceries arrive for the home delivery service. You can no longer do that. You have to pay using a credit or debit card right after you check out your groceries when you order through the website.
You could also choose to order your groceries online and pick them up yourself. I find that this is a convenient alternative if delivery timing is an issue for you or delivery slots are full for many consecutive days. You still save time because you do not have to run around filling up a cart and going through the payment counter.
The whole picking up process just requires you to check that every item you want is correct and then paying the person in charge using your credit card.
The delivery time is between 8 a.m. and 10 p.m. daily, with the earliest availability being the next day, or you could opt for self-collection at the supermarket. You can get free delivery for purchases above RM300 (USD 75) in a single order.
Mydin
Expatriates may not know the local supermarket called Mydin, which offers grocery delivery service to several parts of Klang Valley and other states. Malaysians like to shop here because of the affordable prices and also the ongoing promotions. Keep an eye out on their website for their sales.
If you are looking for halal products, you can rest assured that Mydin sells only halal products. Their website is well organized too, with goods categorized into chilled and frozen foods, drinks, baby products, health and beauty products, household supplies, and pet products. There is a special category catered for Muslim customers.
Here you can easily find certain items, so you can practice your religion with ease. There are prayer mats, sarong (a piece of clothing worn by men during prayers), head covering for women, and even a digital tasbih (prayer beads) counter for sale.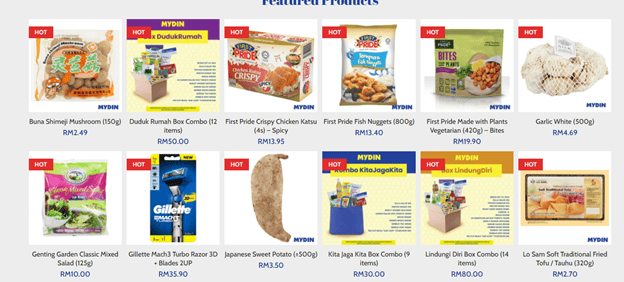 Besides delivery, the shop also offers store pick-up for your purchase. The delivery charge is RM10 (USD 2.50) and upwards, while it is free of charge if you collect the groceries from the store yourself. To find the store closest to you, have a look here.
Bear in mind that you will not find non-halal food here (i.e., pork meat and similar products and alcoholic drinks).
Delivery times are between 10 a.m. and 10 p.m. for this store, with the earliest availability being next-day delivery or pick up.
MyGroser
As a somewhat newcomer to the online grocery scene, MyGroser delivers only to selected areas within the Klang Valley. What's interesting is that they have a ready-to-cook section for Asian meals and Western meals.
I find these incredibly helpful for those who want to know what ingredients and in what amount go into meal preps for different dishes. You just need to order these preselected ingredients for the dishes of your choice. In addition, you will get detailed instructions on how to cook them!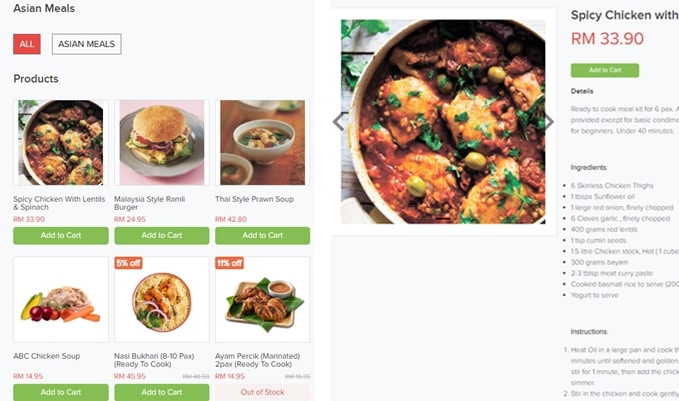 MyGroser is also special because it has ready-to-eat food like kuih (local dessert) that I had never seen sold in other supermarkets. One can only normally buy kuih from very few restaurants or stalls that sell only these delectable Malaysian "cakes". In this section, you can also get chicken, beef, or lamb satay (skewered meat). You deserve a snack after unpacking all those bags of groceries!
You could have your items delivered between 9 a.m. and 9 p.m. The best part is that MyGroser has same-day delivery!
RedTick
RedTick fulfills all your grocery shopping needs at great prices. Many users have found this grocery delivery service to be reliable. To get discounts, be sure to check out their weekly and monthly offers. RedTick grocery is only available for those living in the Klang Valley area. For those living outside Klang Valley, you too can get your groceries delivered through RedTick Plus.
I personally love the display on their website as all the categories are already presented without your clicking through the buttons. There is also a rolling advertisement showing pictures of all the different poultry, seafood, and fresh produce they sell, which I find attractive.
They carry all the regular products you can find in most supermarkets. The most surprising thing was seeing the "alcohols" button right on the landing page. It takes a little more navigation to find alcoholic drinks in other supermarkets as they are "hidden" from view due to the country having a Muslim-majority population.

There are six slots available between 9 a.m. and 9 p.m. For those in the Klang Valley, next-day delivery is possible, while nationwide delivery is between one and five days. However, there is a caveat: To get your order the next day, you must place the order by 1 p.m. Orders made after 1 p.m. will only be delivered the day after the next.
HappyFresh
While HappyFresh does not have its own supermarket per se, it allows you to order from several different supermarkets including Tesco, Giant, Aeon, and Mydin. The selections of supermarkets vary depending on where you live. Unfortunately, HappyFresh is currently available only in select areas in Klang Valley.
Besides partnering with supermarkets, HappyFresh also allows you to make your purchase from specialty stores such as organic and natural food shops, pet food and pet care centers, fresh seafood, frozen meals, fresh fruit, and a whole lot more. Their availability, again, vary according to your location.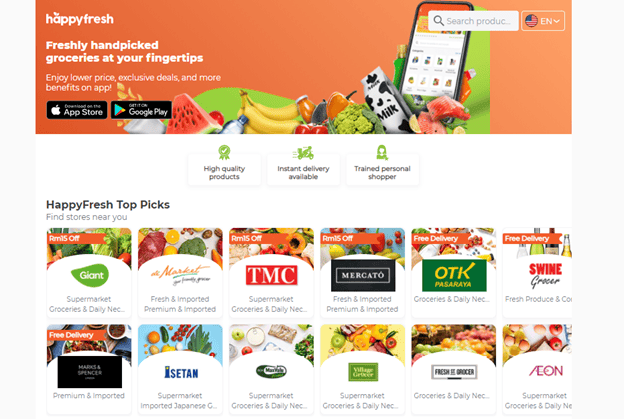 The delivery times depend on the opening hours of the different stores, but they are typically between 10 a.m. and 9 p.m. The benefit of using HappyFresh is that it has same-day delivery, which not many supermarkets offer.
International and Ethnic
For those who want to easily get imported, rare products from other countries, you will have to shop from the stores that are catered to a more international crowd. Expats in Malaysia from both the east and west will appreciate the following places.
Ben's Independent Grocer
With a singular idea to be the one-stop eat, drink, and shop place for people who love food as much as the founders, Ben's Independent Grocer (B.I.G.) certainly delivers on its promises. They are proud to curate only the finest and freshest ingredients from every corner of the world so that those residing in Malaysia can explore and expand their taste buds.
They have specialized ingredient-themed sections; for example, Barn Butchery and Botanical Produce — if these don't excite a discerning shopper, I don't know what will.
For now, you can buy your everyday kitchen and household needs from B.I.G. via Bites Shop. First-time users to the online platform can enjoy free delivery for purchases above RM 30 (USD 7.50).
Jaya Grocer
A favorite within the expat community, Jaya Grocer has been thriving since the mid-2000s. They boast a wide selection of global brands to cater to the expats and foreigners in Malaysia. Just to illustrate, they import meats such as chicken, lamb, and beef (including wagyu) from countries such as Australia.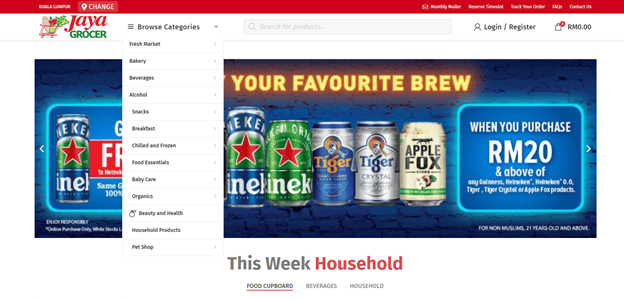 The alcoholic beverage section is well stocked with a wide range of imported beer, wine, and liquor from Italy, Germany, France, and South Africa among other countries.
Village Grocer
Village Grocer procures only the best locally and imported produce. Prices may be high, but it's a bargain for the quality of produce being sold. While the physical store is open, just like B.I.G., items from Village Grocer can be bought via Bites.
Modern Store Indian Grocery
If you enjoy cooking all types of Indian cuisines, Modern Store Indian Grocery is the place to get authentic Indian ingredients such as spices, fruit and vegetables. From edible oils to pulses, rice, flour, frozen goods, and much more, you cannot go wrong with its reasonable prices. Relive your fondest memories of India through the provisions that are carefully curated and well stocked from all across India. Order your goodies here.
Shojikiya
Shojikiya is a Japanese food specialty store that offers customers a complete one-stop shopping experience. They carry more than 1,000 imported Japanese food products such as snacks, noodles, and cooking ingredients. As the country is still under a movement control order phase, allow a delay of three to five working days for processing and shipping of orders.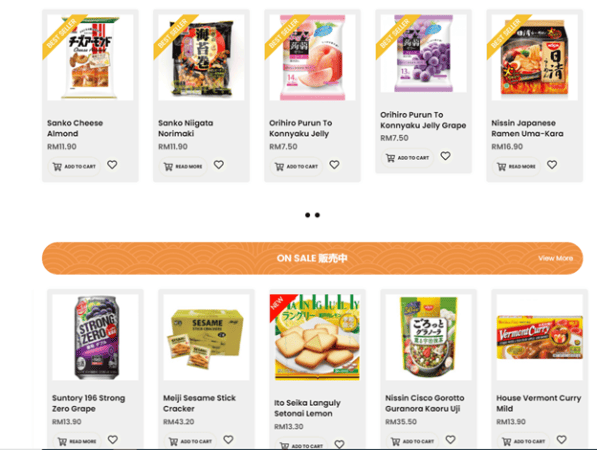 K Market
With Korean drama and pop culture on the rise, more people are attracted to the Korean culture. There are also many Korean expats living in the Klang Valley area, making Korean products a welcome necessity in the expat community. That's not to say that Malaysians are not into Korean food, too! Get your Korean food and snack fix from the new K Market.
As they do not have their own online shopping site, you can order via Grab if there is a K Market store near you.
Local, Organic, and Artisan Shops
You can now get many organic and specialty products and ingredients online. Most of these shops have an online or social media presence. They will be more than happy to deliver the goods to you via local delivery services like Grab or Lalamove.
Signature Market
For healthy snacks and quality organic food items, look no further than Signature Market. This is a one-stop online market for healthy snacks. They have a range of around 500 organic and natural products for the health-conscious buyer. Vegans will love this store too!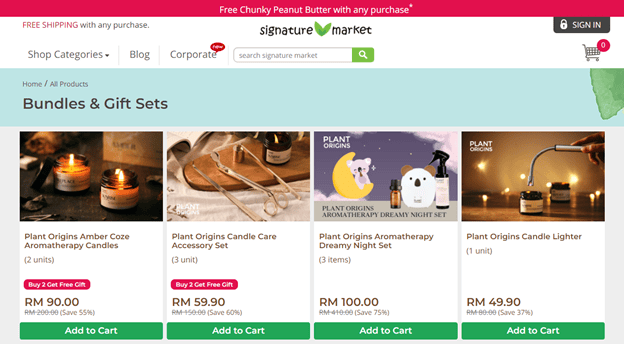 You can enjoy a free delivery with your first order. Feast your eyes (and your stomach) on the nuts and trail mixes, snacks of dried fruit, chips and crisps, and instant meals. There are also plant-based bundle and gift sets to treat yourself or your family and friends.
Why Not Organic
Why Not Organic specializes in products from seeds to shelves. If you want organic dietary supplements, spreads, herbs and spices, and many more, this shop has everything you need for a healthy lifestyle no matter where you are in Malaysia. They even carry imported brands like Babybio from France and Voelkel from Germany. The former makes organic infant formula and baby food while the latter makes organic juices.
BMS Organics
One of the pioneers in organic retailing in Malaysia, BMS Organics has a huge presence nationwide. Their motto "Eat Clean, Live Green" is reflected in the products they sell. You can get oils and honey, healthy seasonings and pastes, and even cooked food made from their own products. I have eaten at their café once and the food indeed tasted only of goodness.
Fresh from the Land and Sea
When we shop from supermarkets, produce such as fruits, vegetables, and meats have already gone through many hands. Some may reach you frozen after travelling hundreds of miles. What if I told you that you could buy these from the source? They are fresh and almost still alive. Here are a few shops to get fresh food.
My Fishman
From where I am from, fish is a rarity as I lived a very long distance from the coast. Seafood was almost non-existent for me then. In Malaysia, however, many people enjoy eating fish and they are able to tell when a fish does not taste fresh.
I have a hard time telling a stale fish from a fresh one. If you are also clueless like me or are highly doubtful of the fish that you buy from the iced trays in the supermarket, get your fish straight from the source. My Fishman allows you to do that.
You can select whether you want the fish whole or cut into fillets and get only the freshest from what is in season. Different fish species populate the waters throughout the year, so you will get a good choice of different fish. Some of the common fish eaten here are mackerel, bream, mullet, and grouper. You'll also find other types of seafood like shellfish, prawns, crabs, and squids.
They deliver nationwide from 11 a.m. to 1 p.m. Deliveries are made from Wednesday to Saturday every week.
Farm To Home Delivery
Farm To Home delivery was founded in November 2019, just a few months before the first news of COVID-19 hit the shores of Malaysia. They couldn't have established a fresh vegetable business at a better time. Their promise is to provide the freshest vegetables that are Chemical Pesticide Free, which is something uncommon in the mainstream markets.
The plants are grown in Cameron Highlands and at some other farms in KL by urban farmers.
Besides local and imported vegetables, they also have mushrooms that are commonly eaten here such as enoki, king oyster, and shiitake. Deliveries are made only on Tuesdays, Thursdays, and Saturdays, so plan ahead when you want to order your veggies.
Good4u Delivery
Chicken is the most common meat eaten in Malaysia. It is also one of the hardest things that you can get fresh via delivery. That's where Good4u comes in. Their chickens are free range and grass fed. The farm also claims that they do not use antibiotics and growth enhancers for their chickens.
You can get your chicken whole or cut into the pieces you want. Besides that, they sell free range chicken eggs too.
Other Options
Due to the rise in demand on delivered groceries and other products, various companies have gotten into the action by providing alternatives to the traditional online supermarkets.
E-commerce Stores
E-commerce giants in Malaysia, Shopee and Lazada, have a lot of edible products and household items for sale on their websites and apps to fill the gap of consumers' needs for grocery delivery. They offer fast 24-to-48-hour delivery of essentials during the lockdown.
Shoppers on a tight budget will appreciate the many free shipping and up to 50% off discount vouchers given by the multitude of merchants on the platform.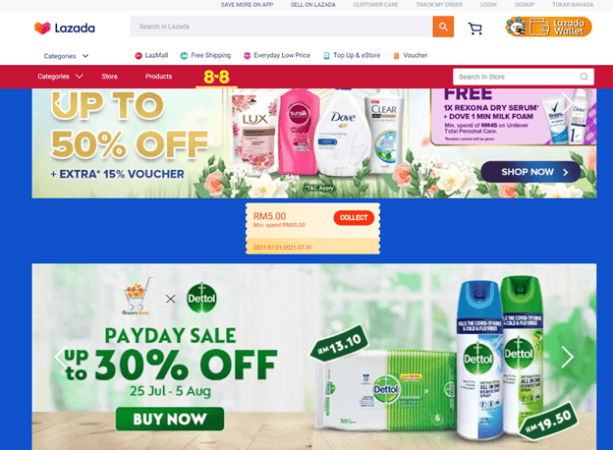 E-hailing, Food and Shops
If you thought e-commerce stores are the only ones with a FOMO mindset, you thought wrong. Grab, which was mainly an e-haling service, has also jumped on the delivery bandwagon. First, they offered food with GrabFood, and now, they have GrabMart.
It is no surprise that they have built their business quickly as they already have a dedicated team of riders and drivers, so why not add food and groceries to the business? You can buy groceries, cooked food and get a ride all in one place. That's how diversified they are now.
There's also FoodPanda, a food delivery service that has now ventured into grocery delivery via PandaMart. Some of the shops they partner with are 7-Eleven, FamilyMart, Health Lane (a pharmacy), and many more.
You also have the option to get a personal shopper to purchase things you need to be delivered to you via Lalamove's Buy4U Service.
Pharmacies
For non-food items like healthcare products and supplements, you can order through pharmacies like iCare Online and Guardian.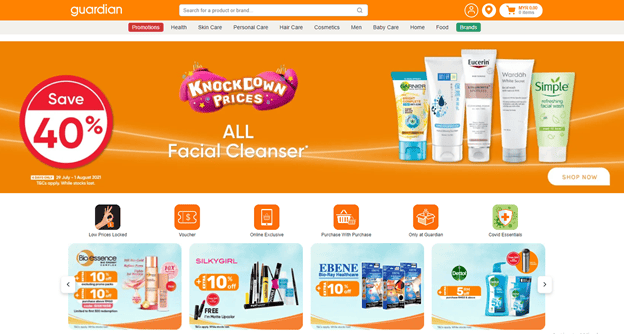 Bonus
To get through the horror that is life (I'm kidding!) and to celebrate everyday wins, sometimes what one needs is booze! Alcoholic beverages may be expensive, and not all supermarkets will carry them as Malaysia is a Muslim-majority country. I introduce to you… Drinkies — get your alcoholic fix delivered straight to your doorstep.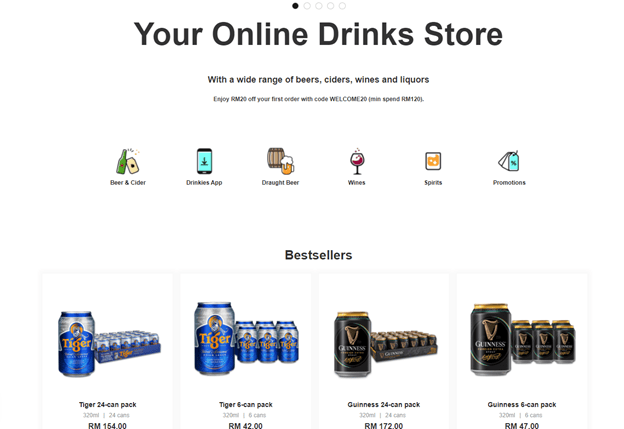 The awesome part about this store? They deliver within an hour and get this: the drinks are delivered already chilled!
Tips, Tricks, and Conclusion
No matter which online delivery service you use, always have a look at the promotion and discount page to get the best deals. Oftentimes, you will also get your delivery charges waived if you spend a certain amount within one bill. Buy things that are not perishable in bulk to meet that limit. This will save time and money in the long run.
If you live in a gated community or in a serviced apartment that has security guards, be sure to find out what time delivery people are allowed in to avoid issues with getting your goods.
I personally experienced not being able to receive my groceries one night because my building management did not allow deliveries past 5 p.m. during a special phase of a lockdown during the pandemic. Other places may have similar rules in place regardless of the current living situation.
With that said, I hope that you enjoy the convenience of not being in a crowded place while you shop. If you have an interesting story about your online shopping experience in Malaysia, drop a comment below. Happy shopping and stay safe!