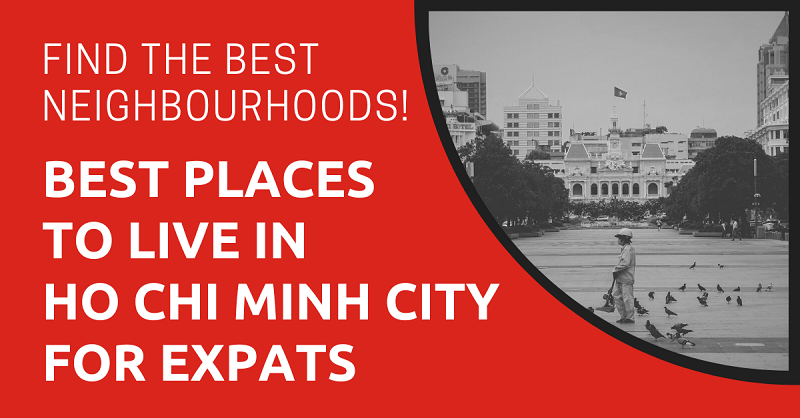 Ho Chi Minh City (HCM) is Vietnam's largest city by population. Sometimes referred to as Saigon, Ho Chi Minh City is a fascinating city in Southeast Asia offering lots to see and do for expats and locals alike.
One of the many positive aspects about living in HCM is that the city's energy and diversity allows for the opportunity to choose a neighbourhood to live in that feels right for you.
And with so many options, this makes HCM a city where you can find your own home away from home. The big question is though, how can you decide on the best place to live in Ho Chi Minh City?
This article will take approximately 18 minutes to read. Don't have the time right now? No worries. You can email the ad-free version of the article to yourself and read it later!
Ho Chi Minh City on a Map
Founded in 1698, on the Saigon River in southeastern Vietnam by the Mekong Delta with the South China Sea to the east and Cambodia to the west, Ho Chi Minh City is a bustling metropolis of approximately 9 million people in 2,061.2 square kilometres.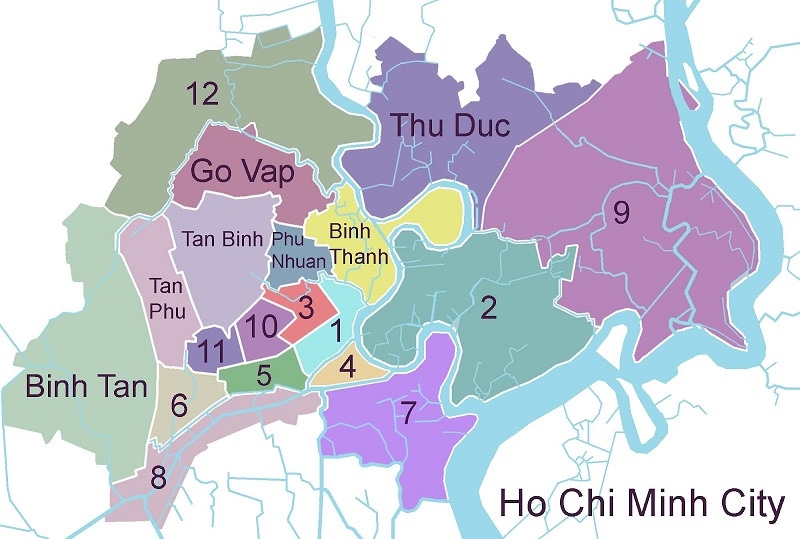 Only around 20 km from the Cambodian border to its west and stunning coastline and beaches to its east, former Saigon is a geographical hotspot. Perfect for travel to nearby nations but providing rich local adventure options close to home as well.
Ho Chi Minh City Districts
Ho Chi Minh City comprises 22 district-level sub-divisions or districts. Most of the districts in HCM are listed by number, while others are named. Smaller areas within these districts are then organised by 'ward'.
There are 16 "Urban" districts in HCM west of the river: Districts 1, 3, 4, 5, 6, 7, 8, 10, 11, 12, Gò Vấp, Tân Bình, Tân Phú, Bình Thạnh, Phú Nhuận, and Bình Tân.
In 2021, Districts, 9, 2, and Thủ Đức, east of the river were consolidated into one district and designated "sub-city".
Even though Ho Chi Minh City is one large urban area, the city does feel like a cluster of smaller cities stuck together. Every district in HCM is unique, each with its own vibe and different things to offer.
Living in District 1 means that you'll be in the heart of the action, District 2 is the self-proclaimed "expat bubble", while further out in District 7 you'll be in close proximity to a wide range of international schools, as well as higher-end shops and restaurants.
Below are the districts where most expats will choose to live in Ho Chi Minh City:
District 1: The Central Business District, which is also home to major historic sights and Bui Vien Street, the iconic bar street.
District 2: Large district east of the Saigon River, which has become a modern and developed area of the city. District 2 is where the Thao Dien neighbourhood is located, which is deemed as the "expat bubble".
District 3: A more relaxed version of District 1. D3 is home to lots of colonial architecture and some of the city's best parks.
District 4: Small district just south of HCMC's District 1. Here you'll find lots of cheap eats and co-working spaces in this area.
District 5: Also known as 'Cholon' or Chinatown. You'll discover outdoor wholesale markets, historic temples, and more local life in this district.
District 7: A more suburban, expat-centred area in the southern part of the city. Home to the Phu My Hung neighbourhood, which is known as "Little Korea."
Binh Thanh: This tiny district near downtown HCMC is located between D1 and D2. It's home to the tallest building in HCM and other new and fancy high rises.
Phu Nhuan: North of D1 and D3. Phu Nhuan District is for expats that are looking for lower rents and a more local way of life.
Best Districts in Ho Chi Minh City For Expats
We have chosen our favourite neighbourhoods and districts to live in Ho Chi Minh City, including some of the pros and cons of living in each one. These include Districts 1, 2, Binh Thanh, Phu Nhuan, 3, 4, and 7.
District 1
Welcome to the city centre of HCM, where adventure can be found at any time of day. There isn't any type of food, shop, or experience that can't be found in Ho Chi Minh City's District 1. This area is essentially the downtown core of the city, but it's so much more than that. If you truly want to be in the heart of the action (and within walking distance to your local embassy or consulate) then you might consider living here.
District 1 has some of the highest rent prices in the city, with some of Asia's top investors wanting to continue to develop here. Expect to pay upwards of 15 million VND (US$600) per month for a two-bedroom apartment here, which is above the national average.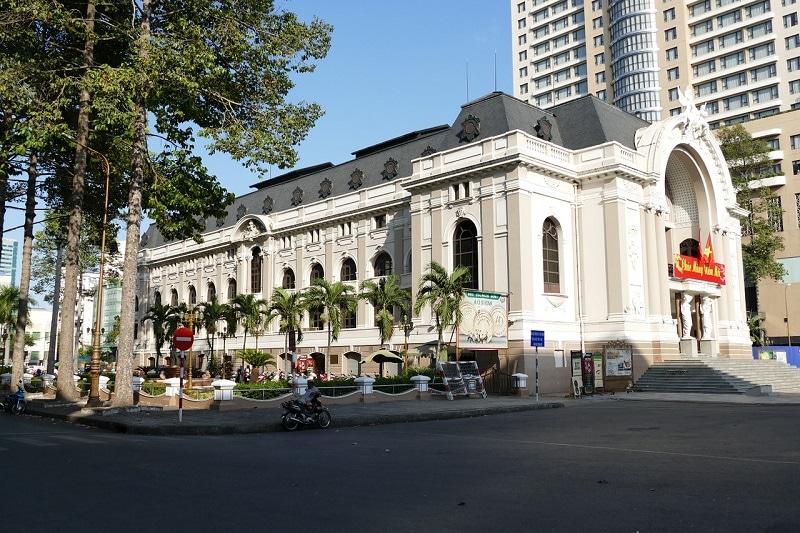 Food in this area of Ho Chi Minh City is also a little more pricey, with the cost of a local sit-down lunch meal with a soda going for approximately 95,000 VND (US$4). Still very cheap compared to many countries.
If you are a foodie, you'll be happy to know that District 1 has some of Ho Chi Minh City's most iconic restaurants and bars. Explore the city's old French roots with a fancy dinner at The Refinery, a stylish French bistro with an extensive wine list.
Think you can only find a few beer options in Vietnam? Think again. Over the past few years, the craft beer scene in Ho Chi Minh City has really taken off and as a result there's lots of small batched brewery delights to be explored with a wander around District 1.
Some top expat picks include Heart of Darkness and Pasteur Street Brewing.
And even though Ho Chi Minh City's District 1 may seem very commercial and touristy upon first glance, rest assured that there are hidden gems to be found all over the neighbourhood.
One of the most charming things about HCM is all of its hidden alleyway and half-abandoned buildings which make for some epic exploring.
If you want to get to know this side of the city, a good place to start is at Mockingbird Cafe, a retro-themed cafe on the 4th floor of an abandoned apartment building that serves up amazing drinks and has nice views of the city below.
Pros
Centrally-located
Amazing architecture and historical attractions
Good for newer expats
Walking distance to some of the city's top cafes and bars
Cons
Relatively more expensive compared to other HCMC districts
Busy and bustling 24/7
Lots of traffic
Further away from city's best hospitals and schools
Find out more in our guide on the cost of living in Vietnam as an expat.
District 2
Across the Saigon River is District 2, which is the largest district in Ho Chi Minh City and home to the "expat bubble," which is the Thao Dien neighbourhood.
Here in District 2, you'll find all the typical expat amenities like gyms, schools, western-style sports bars, international grocery stores, and more. If you're coming to Vietnam with a family and looking for a quieter day-to-day life, rent an apartment or villa on this side of the river. It's so very western though that you'll sometimes forget that you're in Vietnam.
D2 is also where you'll find some of the city's top international schools, including Saigon Star International School, British International School of Ho Chi Minh City, and Australian International School Saigon.
Cost of living is a big factor if you're considering a move to District 2. As a result of all the incoming expats, rents are not cheap compared to other parts of the city and for Vietnam in general. Apartments in the Thao Dien neighbourhood go for an average of 30 million VND (US$1,200) per month.
All of the higher-end imported food and drink that you can find in D2 also means that your monthly cost of living budget may also be higher. In many parts of the district you'll notice that international options will outweigh local Vietnamese places, which means that the area caters to wealthier expats. Sa Va: The Gourmet and Annam Gourmet are two of the foreign grocers in the area, and riverside restaurants like The Deck are spots where you're bound to spend a pretty penny.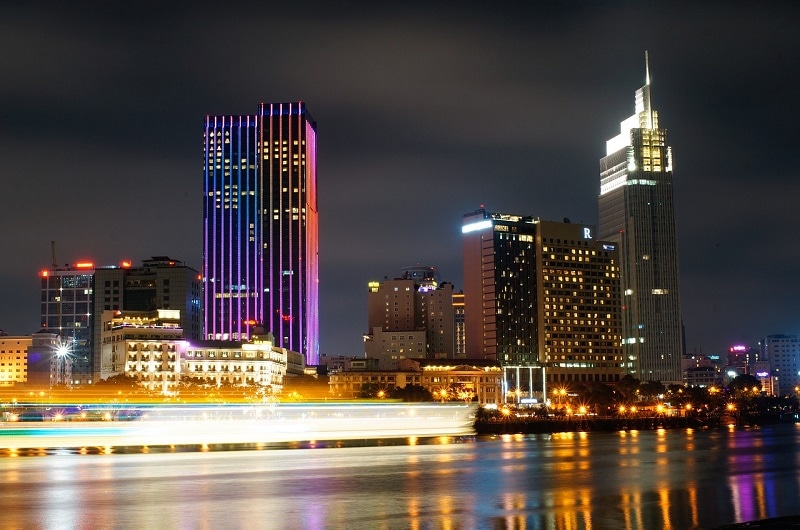 Another important factor about D2 is its geographical location, which is prone to flooding following heavy rains along the river where it is close to sea level. And if you plan on travelling by public transportation to get around the city, you also might find yourself dreading the commute across the river to attend social events in the trendy downtown neighourhoods on the other side. The commute between D1 and D2 can be up to an hour by bus.
Pros
Less busy
Less traffic
Lots of expats
International schools
Expat-friendly grocery shops, restaurants, cafes
Cons
Further out of town
More expensive
Floods, especially during the rainy season
Ready to take the plunge? Start practicing the local language with our expat's guide to learning Vietnamese for beginners.
Binh Thanh District
Located on the west side of the river, just north of D1 and D2 is the modern Binh Thanh District. This part of town is an interesting mix of local and international, so it's a good choice for those looking for a Vietnamese style of urban life without the chaos of downtown District 1. There's also lots of great food to be found here, including all of the restaurants of this district's blooming Japan Town, an alternative to the busy Little Tokyo of District 1.
Start at Phạm Viết Chánh street and wander along the connecting alleyways and check out Kyoichi, an authentic spot for Kyoto-style cuisine. For a cocktail, head to Birdy, a local gin joint with lots of character.
In 2020, Binh Thanh was named one of the 40 coolest neighbourhoods in the world by TimeOut, so it's worth checking out for yourself to discover this area's many charms. Bring your camera and a sense of adventure, as the hidden alleyways of this district with lots of gems to discover make for amazing exploring on your days off.
Being close to District 1 and D3, Binh Thanh is easy to get to from the city centre either by motorbike or on foot. Most expats use their own motorbike or GrabBike rideshare app to get around. If you're using public transportation, there's buses from Ben Thanh Market that will take you to the district in about 30-45 minutes, depending on where you're going. You can download the local app BusMap to your phone to get the latest information on bus routes in your area.
While it's on the rise, rent in the Binh Thanh District is a lot cheaper than in the more central districts of Ho Chi Minh City. Landlords are very open to renting to foreigners, so you'll have a lot of options for more affordable prices. You can still find one-bedroom apartments here for less than 10 million VND (US$400) per month. A two or three-bedroom in one of the district's modern high rises can be found for upwards of 16 million VND (US$670).
Pros
More affordable
Beautiful walk along the canal
New amenities such as the Pearl Plaza
High-rise apartment with views of the river
Home to the up-and-coming JapanTown
Cons
Older, lesser-known district
More spread out geographically
Phu Nhuan District
Phu Nhuan District is where you should move to if you're looking for lower costs and lots of fun. From the cheap and amazing street food to affordable rent prices, this district is for those looking for the thrill of living in Ho Chi Minh City but on a lower budget.
This district is one of the most densely populated in all of Ho Chi Minh City, so come here if you want to live amongst all that hustle and bustle that a Southeast Asian city like HCM can provide. Located about 10 km north of the downtown area, Phu Nhuan District lies north of D1 and D3 and west of Binh Thanh.
Lots of newer expats and 20-something Vietnamese professionals are moving to Phu Nhuan, so now's the time to get in on the trend.
For some of the district's best restaurants, head to the long strip that's Phan Xich Long Street where you'll find amazing eats along just about every corner. Some unmissable spots are Bo Sinh Doi, Hokkaido Sushi, and Dau Homemade. And for some of the top street food in the city, head to Dang Van Ngu and Van Kiep Street.
When looking for an apartment here, expect to pay about 11-13 million VND (US$460-550) per month on average, but you can also find some modern one-bedrooms for much less.
Phu Nhuan District is considered one of Ho Chi Minh City's central districts, so it's an easy getaway to D1 if you're living here. It's about a 10 or 15-minute journey by bus or by motorbike, depending on which area you're staying.
Pros
Affordable/very low rent prices
Good sense of local life
Great cheap food
Cons
Hard to get to D1
Densely populated
Prepare for your big move with our post on Moving to Vietnam: A Guide for Expats.
District 3
A tiny neighbourhood with lots of heart, District 3 is located just west of District 1. Here you'll find some of the city's top attractions like the War Remnants Museum and Turtle Lake (a local gem!), as well as amazing restaurants and cafes that will make you fall in love with this charming district. Be sure to check out Casanova and Monologues for coffee, as they'll quickly become your go-to cafes. When you want to impress any friends or family coming to visit you, take them to Dong Pho and Hum Vegetarian Cafe & Restaurant to sample some of the best dining experiences that this district has to offer.
District 3 is where you want to live if you're looking to be within walking distance to Bui Vien street and other major parts in the downtown area but not pay the high rent prices. It's a neighbourhood of winding alleyways and lots to discover around every corner.
Expats can still find affordable apartments in the district, with one-bedroom serviced apartments doing for around 7 million VND (US$300) per month. You can also find a decent amount of higher-end options in condo buildings like Leman Luxury Apartments, Saigon Apartments, and Saigon Mansion, as the area has been highly developed over the past few years.
Pros
Walking distance to HCM's main attractions
Affordable and central
Parks and colonial architecture
Cons
Densely populated
Lots of traffic
Read more: The Complete Guide to Finding an Apartment in Ho Chi Minh City.
District 4
Located south of District 1, this neighbourhood was known as the place to go for the best street food (and still is) but it now offers so much more for expat living. And only covering an area of 4 square kilometres makes D4 the smallest of all the districts in Ho Chi Minh City.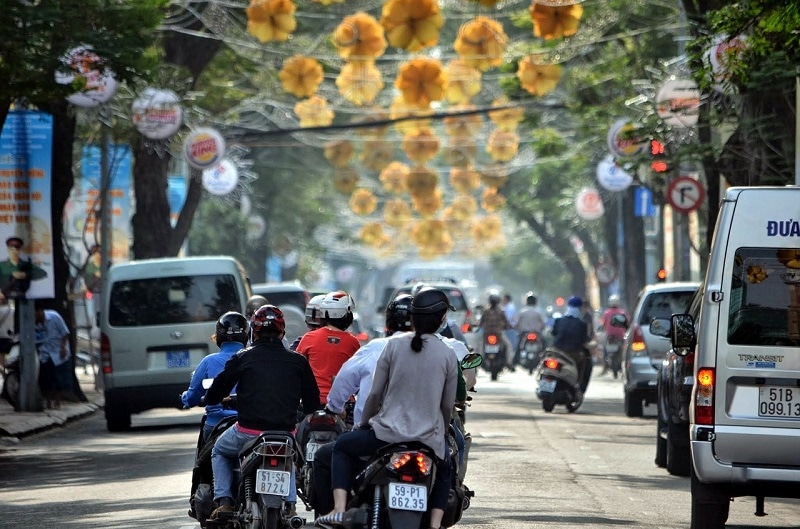 Lots of construction projects here have brought more housing options for foreigners and people are getting the hint. If you're looking for a taste of local life within close proximity to the centre, consider checking out places to live in District 4.
This area of Ho Chi Minh City attracts lots of young entrepreneurs and is home to some great co-working spaces like CirCO Hoang Dieu and WeWork.
District 4 is also where you'll find some of the more affordable rent prices near the downtown area of Ho Chi Minh City. If you want to live on a smaller budget, know that you can still find small one-bedroom serviced apartments for less than 9 million VND per month (about US$400). Some apartments to check out are at the Saigon Royal Residence and The Tresor.
Pros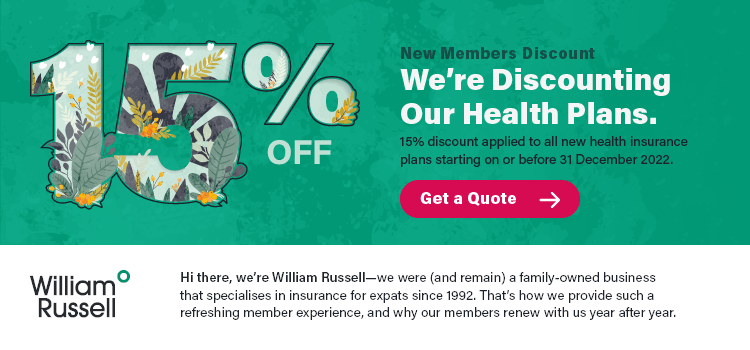 Advertisement
Great street food
Affordable
Local living
Cons
Small and further away from expat amenities
Busy, lots of traffic
Read more: Choosing the Best VPN for Vietnam.
District 7
Along with D2, District 7 is another popular choice for expats with families in Ho Chi Minh City, including a large Korean population. Also known as Phu My Hung, this neighbourhood is more remote than District 2 and really for those expats looking to enjoy a more relaxed lifestyle with the convenience of being closeby to some of the city's top international schools and hospitals.
Among the notable schools in District 7 is The Korean International School of Ho Chi Minh City, the Canadian International School, and Saigon South International School. You'll also find the French Vietnamese Hospital, which is one of the top hospitals in all of Ho Chi Minh City.
Because it's so far out, you can find cheap one-bedrooms to modern, high-rise villas for a more affordable price than in D2 or D1. But as this area is aimed more at families, it is the place to go to for a bit more space. Expect to pay between 20-30 million VND (US$800-1,200) per month for a nice and large two-bedroom apartment in District 7.
Pros
International schools
Quieter way of life
Lots of green space
Availability of Western and other international foods
Cons
Further away from downtown area
Expat bubble
Not much nightlife
Read more: An Easy Guide to Expat Health Insurance in Vietnam.
Now, on to You
Ho Chi Minh City is a large and developed city (with notorious traffic) so you need to carefully consider the best places to live. Some of the top things that expats need to think about when moving here are the availability of apartments, the cost of living, the proximity and accessibility to important amenities like international clinics and hospitals, international schools, and of course, finding a job in the city.
Even things like the amount of greenspace and day trips or long weekend opportunities are important things to note. While there is of course more to consider when picking your home, these aspects that make a new destination livable should be top of mind when doing your research.