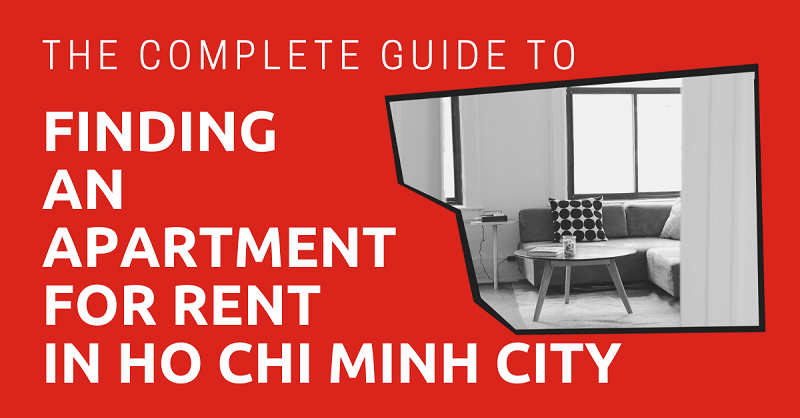 If you're an expat hoping to write the next chapter of your life in Ho Chi Minh City, you're going to need a place to stay.
But it's not easy finding an affordable yet comfortable place in the city, dealing with landlords and leases, and protecting yourself from legal issues.
This guide will help you sort out all the logistics of renting an apartment or house in HCM City while advising you on what to look out for so you don't run into any unexpected problems.
This article will take approximately 27 minutes to read. Don't have the time right now? No worries. You can email the ad-free version of the article to yourself and read it later!
Things to Keep in Mind
There are many things you should take into consideration before renting a place in HCM City.
Although some may seem insignificant, they'll greatly effect your future quality of life.
Traffic
HCM City isn't among the most congested cities in the world. But with millions of motorbikes and cars on the roads, and more being added every year, the roads are getting more crowded.
If you rent an apartment downtown, which covers District 1 and part of the surrounding districts (3, 4, and Binh Thanh), traffic jams during the rush hour are inevitable.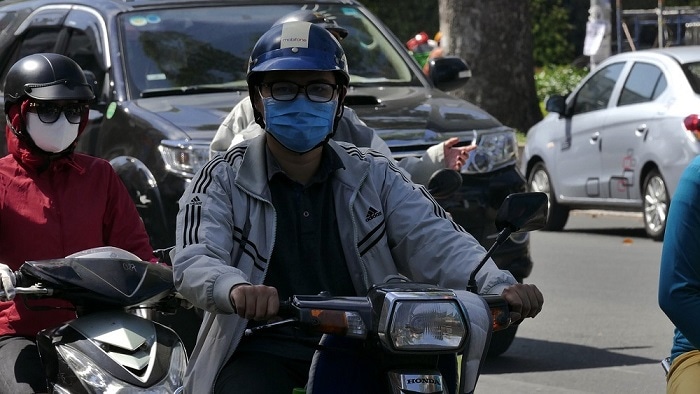 Moving to less populated districts may make traveling easier. But living in the city center means better access to buses, which are the only form of public transport available. (The HCM City Metro is still under construction.)
Floods
Another thing to consider are the monsoon season and off-season rains that leave floods.
It's a nightmare to travel around with water levels reaching your knees. However, it could be the reality if you live in or near the city's flood-prone areas.
Some notorious hotspots expats should avoid are Nguyen Van Huong and Quoc Huong Streets in District 2's Thao Dien area and Nguyen Huu Canh Street connecting District 1 with District 2.
Tourism and Nightlife
As a tourist, it's fun to visit places of interest and enjoy Vietnamese nightlife. But living next to a tourist site as an expat, putting up with the noise and excessive lights from a nightlife area, is a different story.
In addition, tourists along with shops and restaurants built for them drive the cost of living up. This is no joy if you want to live like a local.
The perfect solution is to live a short distance from expat hangouts.
Some of the most popular destinations for foreigners living in HCM City are downtown in District 1.
They are:
Language Barriers
HCM City is one of Vietnam's most open and prosperous cities and has a large population that can communicate in acceptable English.
Therefore, you're more likely to find English-speaking landlords or apartment managers in the city than elsewhere in Vietnam.
But language barriers still exist, especially when you move away from the city center and have to deal with leases.
They may be written in Vietnamese and translated crudely into English by dull AI to save on costs. In this case, even minor mistakes can lead to annoying legal issues.
Your best bet is to bring along an actual translator or a bilingual friend who can have a look at the lease.
Families
Many Vietnamese families with children to raise and money to spend prefer to rent houses, preferably with yards.
This is more feasible in the suburbs where rent is lower and there is more space. Following their footsteps isn't a bad idea.
If you'd rather rent an apartment, go for one with kid-friendly facilities. All developers are eager to put them in their ads.
You should check the deck, balcony, and window safeties. Some buildings may fail to conform with building standards in terms of injury prevention for children.
Even if your family has health insurance, you definitely don't want to put your children's safety at risk by moving into an unsafe house or apartment.
You should also consider how close you need to be schools.
Special Needs
To be frank, a few decades ago not may apartments in HCM City were built with the disabled in mind.
Today, however, you can safely assume that most modern buildings will have wheelchair access.
If you look for apartments that are older, or on the outskirts of the city, the chance is fifty-fifty.
A fail-safe way to find wheelchair accessible accommodations is to ask a real estate agent.
If he or she isn't available, you can go to travel sites like TripAdvisor or Expedia, type in your location, and filter search results using "Wheelchair access." Expat.com and livinginvietnam.com are also great resources.
On the other hand, most Vietnam rental websites don't mention wheelchair accessibility explicitly so it's going to be difficult if you look it up on Vietnamese websites.
Pets
If you live in an apartment in HCM City, moving here with a fluffy or feline companion can be a pain.
A few places in the city allow pets, a few others tolerate pets, though they would rather not. But many apartments deny pets outright.
As is the case with wheelchair access, it could be a problem if you look for information from Vietnam rental websites.
They don't usually list pet friendliness. One exception is Vietnam House, which has a whole category devoted to pets.
Where to Live in HCM City?
Which part of HCM City you'd like to call home depends on your wants and needs.
Most people will think of trendy downtown. The largest expat community is concentrated in the affluent District 1, where various streets are filled with offices and apartments for foreign tenants.
You can also find a lot of international dental clinics here.
At the same time, District 2 hosts the Thao Dien area, widely known as the coolest neighborhood, while District 7 has Phu My Hung, a modern and diverse urban area.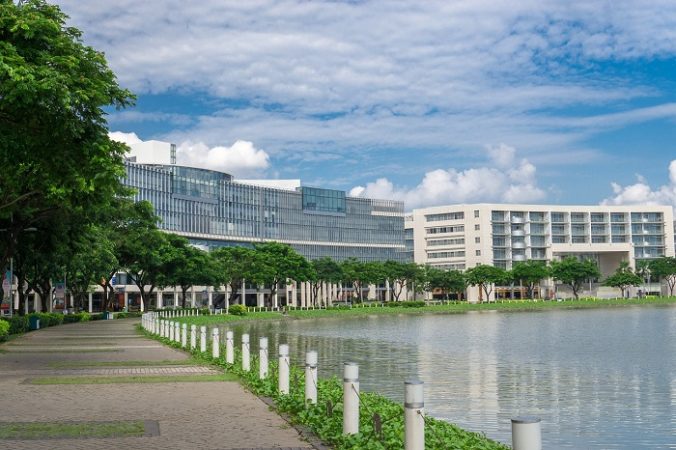 But the city center doesn't steal all the spotlight. The rest of the city has good things to offer, with low cost of living as one of them.
The downtown districts have become more expensive over the year, even for some expats, which in turn makes the other districts better candidates for an affordable lifestyle.
District 3 and Phu Nhuan District share the Nhieu Loc–Thi Nghe Canal, which is one of the city's best green space areas.
Also, the absence of tourists helps create a peaceful atmosphere that is truly Vietnamese and free from touristy tumult.
Meanwhile, District 9 is fast becoming the hi-tech hub of the whole city, welcoming the young and the creative.
The suburb of the city, such as the Can Gio and Binh Chanh Districts, has awakened with exciting potential.
Locations
A safe neighborhood with low crime should rank high on your list. Luckily, there are plenty of them in HCM City.
Many buildings have CCTV, which enhances security even further.
You also want to live in a place that doesn't lie too far away from essential facilities.
Many apartments in HCM City come with a motorcycle parking lot. But if you have a car, you need to check with the landlord first.
Next, you should look for a supermarket, a convenience store, a park, a gym, and laundry services, all within reach.
Buying Vs. Renting
Vietnam laws allow foreigners to own condos or independent houses in housing construction projects.
If you're undecided on whether renting or buying a permanent home is better, you're in the same pinch as many Vietnamese people.
Ultimately, the decision should be made according to your needs and budget.
Renters can always move to the most suitable places for them. They also need not to worry about property taxes, home renovations, maintenance, and so on as their landlords have to shoulder those matters.
On the other hand, if you prefer stability and total freedom over where you live, it's worth considering buying your own place.
Apartment Options
There are various kinds of rental properties available in HCM City. From unfurnished studio apartments to downtown penthouses, you can find whatever you need.
The monthly costs depend on many factors, most notably the location, space, and conditions of the building.
As a rule of thumb, the closer you live to downtown, the higher your rent will be.
Flats within the Landlord's Home
Many people with shallow pockets like to rent studio apartments.
But another affordable, yet popular, accommodation in Vietnam is to live in the landlord's home.
The landlord's family usually lives on the ground and second floors, while tenants occupy the rest of the house.
Each floor usually has a shared kitchenette and functional bathroom, along with a set of unfurnished rooms for occupants.
This kind of room may range from 12 to 36 square meters and cost from $100USD to $300USD per month. You can even have roommates, which will lower your costs.
The landlord takes care of weekly cleaning, and most houses have balconies or roof terraces where you can hang your laundry.
The best thing about this kind of accommodation is that you can save money while having a richer experience in Vietnam. It's great to socialize with your Vietnamese landlords and fellow tenants.
However, living in a small room and so close to strangers, you may have some privacy and comfort concerns.
Apartments
Some standard apartments are in the same buildings that you would find serviced apartments in.
They are quite similar to hotel rooms. In fact, most of them come with furniture, basic appliances, air conditioners, 24/7 security, laundry rooms, and gyms. Some rooms may even come with a private bathroom and a kitchenette.
Compared to flats within a landlord's home, apartments could be twice as spacious but twice as expensive. However, you may have trouble finding a large apartment in HCM.
Serviced Apartments
If you started a family and want a bigger space for your children, or you're want more privacy and higher standards of living, then it might be time to rent a serviced apartment.
When it comes to space, serviced apartments in HCM City come in many sizes. They range anywhere between 50 and 300 square meters.
Moreover, each apartment could have one to five bedrooms and multiple bathrooms.
Rental prices vary accordingly, but you can expect to pay between $500USD to $3,000USD and up per month.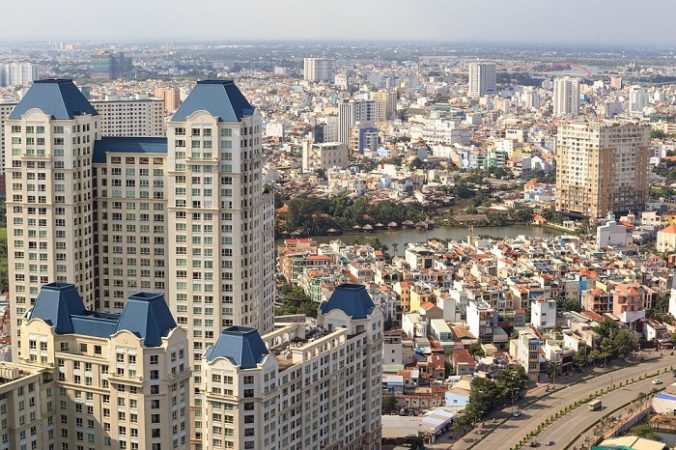 The average price for a serviced apartment ranges between $600USD and $2,000USD per month in the downtown area, or $1,500 per month in other parts of the city.
Service apartments overlooking the Saigon River or located in commercial centers or trendy neighborhoods like Thao Dien are more expensive.
Also, serviced apartments usually come with great amenities and facilities that'll make your life comfortable.
Some of them might even include regular cleaning and laundry services.
Most of them have swimming pools, gyms, tennis courts, playgrounds, and outdoor BBQ areas. Some places will let you keep pets.
Luxury Apartments and Penthouses
If you have money to spend but are on the fence about whether to rent a house or an apartment, a penthouse in HCM City may solve your problem.
Most luxury apartments are extremely spacious, stretching from 200 to more than 500 square meters.
With a terrace or balcony garden, you can also enjoy the privacy and comfort you'd get with a house but without worrying about repairs or security.
Penthouses mostly start at $2,500USD and can go as high as $10,000USD per month.
For $3,500 to $6,000USD per month, you'll get a fully furnished apartment with modern furniture, multiple bedrooms, and amazing views of HCM City.
Houses, Townhouses, and Villas
In terms of rental price per square meter, a house in HCM City can be cheaper to rent than a comparable apartment.
If you're keen to live on the ground and far from the crowd, it's worth thinking about renting a house or a villa.
Most houses for rent in HCM City are never smaller than 50 square meters.
Large villas can be as big as 400 square meters, not including the surrounding land you'd get. Also, villas tend to come with furniture while small houses won't have much.
You'll pay anywhere from $400USD per month for a small house on the outskirts of the city up to $8,000USD per month for a downtown villa.
For a 60-square-meter house, you should expect to pay $500USD to $1,000USD per month.
Many villas for rent are located outside of the city center, and their average monthly rental is around $1,500USD to $2,500USD for 250 square meters.
Downtown villas cost as much as luxury apartments.
Finding Apartments
You should start your apartment hunt when you get to Vietnam because you would waste your time setting up appointments in advance from another country.
Only when you move to Vietnam should you use the following methods to find your next home.
While you're looking, spend your first days at a hotel or holiday apartment. You can check the below section on how to find a short-term rental.
Contacting Real Estate agents
Hiring professional real estate agents is an easy and convenient way for you to find an apartment. They have the connections, language skills, and knowledge of local areas to find a place that suits your needs and budget.
Those agents can also function as local guides, telling you about trendy restaurants or routes with the least traffic.
Your local friends can recommend some reliable agents. Otherwise, you can contact real estate agents either independently or through agencies, or by joining Facebook groups for expats in HCM City.
Some well-known groups about housing are:
This way you can find real estate agents and discuss your situation through Messenger with them.
Needless to say, you should watch out for scams and fake agents. If security is your top priority, you can check AsiaPropertyHQ or Expat.com for a list of reliable real estate agencies based in HCM City.
If you decide to hire an agent, keep in mind that they prefer to work with long-term leases, usually those lasting one year.
Professional agents might ask for your visa and work permit to make sure you're going to be here for at least one year.
Assuming that you only have a tourist visa, or your stay is too short, things can get tricky. No one may be willing to find you an apartment that promises little-to-no commission.
Walking Around
This is surely the oldest form of house hunting—simply venture into the area you'd like to live in and start your exploration.
Look for signs that read "Cho thuê phòng" or "Cho thuê nhà" (Rooms/ Flats for rent).
Going into an apartment building and talking with the owner or available staff is another way, if you're bold enough.
To increase your chances of finding a place, you can ask the locals along the way about houses or apartments nearby (more effective if you can speak Vietnamese).
What's obviously so great about this way is that it's free and fun.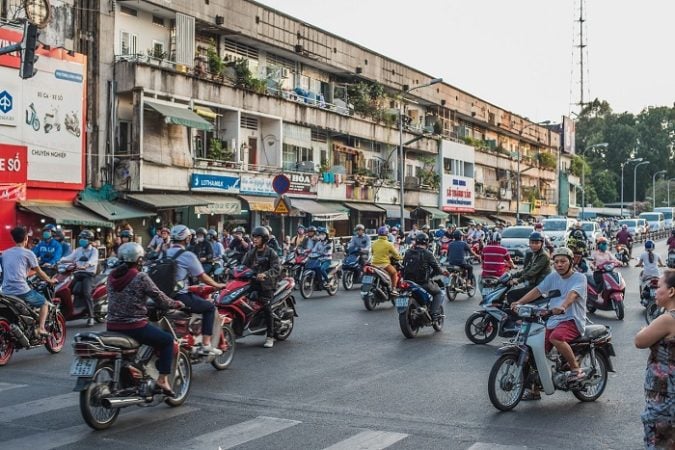 However, what's not so great is the low likelihood of success. After all, if people could just pop in and find an apartment that easily, we wouldn't need real estate agents.
You can spend days walking around your dream neighborhood and fail to find any available apartments.
Or you could come across a perfect place, only to find that it doesn't allow pets or the rent is too high.
Occasionally, while you're waiting for the traffic light, you may stumble on leaflet distributors handing out ads for new houses and apartments. Those are mainly for sale, but you can still try your luck.
Looking Online
The Internet has made apartment hunting more affordable and effective.
You can start your search from the Facebook expat groups mentioned above. They are great places for all expats in Vietnam to connect, not just real estate agents.
Just browse the listings, read the descriptions of apartments on offer, and send a message to the owners of those you're interested in.
Or you can compose a post about your needs, preferences, and budget, and then wait for someone to respond.
If social media isn't your thing, you can get information about places for rent in HCM City from rental or real estate websites.
Some of Vietnam's top websites are (some in Vietnamese only):
Housing websites catering to expats include:
Again, be careful with what you read online. Listings from Facebook posts or rental websites aren't guaranteed to be 100% accurate.
Watch out for any possible scams tempting offers too good to be true.
Always ask to see an apartment in person before signing a lease online.
Short-Term Rentals
It could be days or weeks before you've got your hands on your dream apartment.
But if you have friends or relatives willing to offer temporary accommodation, this shouldn't be a concern.
Otherwise, you'll have to come up with a short-term rental until you find something more permanent.
Hotels
The most popular option is to stay in a hotel. There are so many of them in the downtown districts of HCM City that you'll never be in an area where you can't see a hotel.
Some three-star hotels offer rooms at $20USD per night while certain luxury ones charge up to $200USD per night.
There are many websites enabling you to find a good hotel and to make advance bookings online.
Some of them include:
They offer many discounts and make it easy to compare prices between hotels to find the best deal.
Holiday Apartments
Besides staying at a hotel, you can rent an actual apartment for a short time without having to sign a lease.
In doing so, you'll have a nice place to live for up to 30 days at most before extending your stay or moving to a more permanent home.
Compared to renting long-term, renting short-term requires far less troublesome paperwork.
You can use hotel booking websites to find and book not only hotels but also holiday apartments.
All you need to do is to visit the website, enter your location, type in your check-in and check-out dates, and make your needs clear by using the filters.
Browse the search results to find your best pick.
A holiday apartment can be cheaper to stay in than a hotel because the latter comes with room services and creature comforts.
However, they're still more expensive than long-term apartments.
Boarding Houses and Hostels
Many boarding houses in HCM City lie in the suburbs. They are the cheapest accommodation and most unlikely to place online ads.
If you don't mind sleeping with strangers in the same room, a hostel could be a great place to stay.
They offer affordable lodging because the price is split among roommates.
You can also use hotel booking sites to find a hostel in HCM City the same way that you search for hotels or apartments.
Important Legal Issues
There are certain legal issues you need to know before renting an apartment in HCM City. They include deposit, rental lease, rental duration, and protection against legal disputes.
Leases
Some landlords will want to seal the deal with nothing more than a handshake, but always ask for a lease to protect your interests.
If a lease is only available in Vietnamese, you should get one made in your language as well. If the landlord agrees, you can download lease templates.
Certain parts of the template can be modified or omitted to suit your situation. Be wary if the landlord insists on making the lease entirely in Vietnamese.
The landlord might add vague clauses and conditions that put the tenant at a disadvantage.
If your knowledge of Vietnamese language is limited, bring along a Vietnamese friend or even a lawyer.
They can review the lease and help you with the interpretation. In Vietnam, leases are up for negotiation. Don't hesitate to haggle over prices or demand smaller deposits.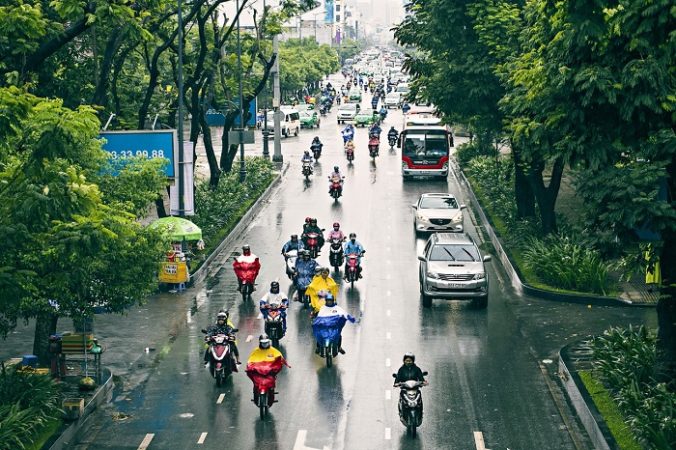 Additionally, you should include a sales clause in the lease. While absent from many leases in Vietnam, it helps prevent your rental from being sold to someone else before the end of your lease.
Another important thing is to specify clearly who pays for maintenance and structural repairs.
What if halfway into the monsoon season you found the roof leaks? The answer varies from lease to lease in HCM City.
Make sure your lease states who is responsible for paying for repairs.
Lease Duration
The standard rental length for an apartment in HCM City is 12 months, but good negotiators can get it down to as much as a half.
Most landlords like tenants to renew leases on a yearly basis. They are reluctant to sign leases lasting multiple years for fear of early termination—but some persuasion might help.
Police Registrations
Landlords must register new tenants with the local police. Some expats are scared of công an (Vietnamese police) and reluctant to deal with them.
But failure to make your presence known to the police can lead to problems. It will interfere with your visa or residence stamp renewal or result in fines if the police do a routine check at your place.
Remember, it's the landlord who has the responsibility to register with the police, not the tenant.
If your landlord refuses to register you, there's something fishy going on. The worst-case scenario is that they aren't licensed to lease apartments. Be persistent, or you're going land in trouble.
You can also register yourself with the local police. If you choose to do so, bring your passport, immigration declaration, temporary residence certificate, and visa.
But seriously, your landlord should do it.
Deposits
In HCM City, the rental norm is to pay a deposit equal to two months of rent, which makes your first bill equal to three months of rent.
If you're a digital nomad or traveler who might not stick around for long, you can negotiate with the landlord to halve the deposit.
After you move out, you'll get your despot back. But the landlord will have justifications to keep the deposit if you terminate the lease before the expiry date.
You can alter the payment or deposit terms of the lease in some cases, allowing you to end the lease prematurely and still get a refund.
It's usually required to give your landlord a month's notice before moving out so that they can prepare your deposit.
Sometimes the landlord may "forget" to return your deposit on purpose when you move out.
If you've honored the contract, a trip to the local police station will convince your landlord to return your deposit.
Legal Disputes
Always prevent problems if you can. This means you should sing a lease with no loopholes, keep to the terms, make payments on time, and remain the landlord's good side.
Many landlord-tenant disputes revolve around deposits. Not all landlords have enough cash available at a moment's notice, so you should inform them one month or more before ending the lease.
If the landlord deliberately avoids refunding your deposit, call the police or a lawyer.
The landlord may blame you for wear and tear of the apartment and take your deposit as compensation. Therefore, the day you move in you must take photos of the place.
From the living room to the toilet, from the walls to the carpet and the roof, document everything.
Keep your photos secure as they could help you win any possible deposit disputes.
You could also do a thorough cleaning of the place before moving out to help decrease the odds of a deposit dispute.
Visas and Work Permits
Legally speaking, you need a work permit or a business visa with valid for at least 12 months to rent a long-term apartment or house.
Actually, this is what serious and law-abiding landlords will require.
Indiscriminate Vietnamese landlords are prepared to lease rooms or apartments to foreigners even if they don't have the necessary documents.
This poses huge risks to tenants who won't be protected by renting laws.
It's more practical to find short-term rentals if you have a tourist visa—at least until you acquire something more sustainable.
Related Expenses
While some landlords are open to different deals, there's an unwritten rule that rent doesn't include electricity, water, WiFi, gas, and so on in HCM City.
But when it comes to serviced apartments and more expensive rentals, several utilities may be included in the rent.
Management Fees
Apartments in large buildings with various amenities can incur management fees.
Depending on your negotiation with the landlord, you might have to pay for these fees.
The fees are spent on security systems and extra amenities such as swimming pools, gyms, clubhouses, and more.
They can be charged at a flat rate or according to apartment size.
For well-known buildings in HCM City like Masteri Thao Dien or Xi River View, monthly management fees range between $0.50USD to $1USD per square meter.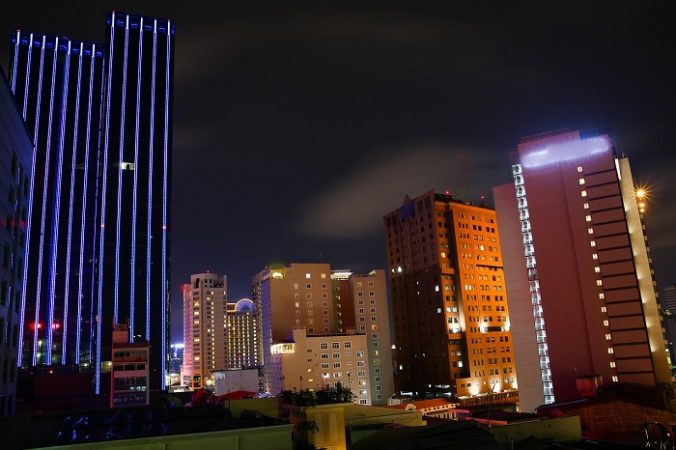 However, buildings with fewer than 20 units might not charge management fees even if they have extra amenities for tenants.
In these cases, landlord pay the management fees.
Electricity
The highest utility bill you'll have to pay in Vietnam is electricity. If you rent an apartment complete with all home appliances, expect to pay $30USD to $50USD every month.
Air-conditioners use the most energy, given the hot weather of HCM City. Without using them, the bill could be half as expensive.
It's your responsibility to pay for electricity though it will be in the landlord's name, not in your name.
In fact, you should pay your own bills even if the landlord suggests otherwise.
And always ask to see the bills. It's a criminal offense in Vietnam for landlords to resell electricity to tenants and inflate the costs.
One more important matter is to make sure you're only paying for your house or apartment's electricity.
Checking the electricity meter is advisable. Unplug everything and see if the meter still moves.
If it does, you're paying for someone else's electricity and a meeting with the landlord is in order.
Water
The cost of water is cheap in HCM City, averaging between $2USD and $3USD per person per month.
Water is usually included in monthly rent, with the exception of studio apartments.
In some parts of the city where groundwater supplies aren't exactly of high quality, landlords may provide domestic water for free and only charge for drinking water.
Internet and Phone
With the exception of apartments, internet bills should be included in the rent.
If not, you can ask the landlord to sign up for an internet package.
The average price for an acceptable WiFi connection is $15USD per month, though there are internet plans available for from $7USD to $38USD per month.
Popular providers include:
The immense popularity of mobile phones in Vietnam has made landline telephones rather obsolete.
However, if you want to connect to a landline, you should ask your landlord for advice.
The common choices are Vietnam's two greatest telephone companies: VNPT and Viettel.
Other Expenses
Trash collection fees are around $2USD per month. So is the cost of gas for cooking.
Monthly parking fees can range from $30USD to $70USD for a car. Parking a motorbike costs one-tenth to one-fifth as much.
If you want space for a second or a third vehicle, the fees are higher.
Now, on to You
Now that you know what to do and what to avoid when renting an apartment or house in HCM City, put these resources and tactics to good use.
In no time, you'll find a rental that's within your budget and one that offers you all the amenities you desire.
After that, you can focus on what matters most, which is enjoying your life as an expat in Vietnam.