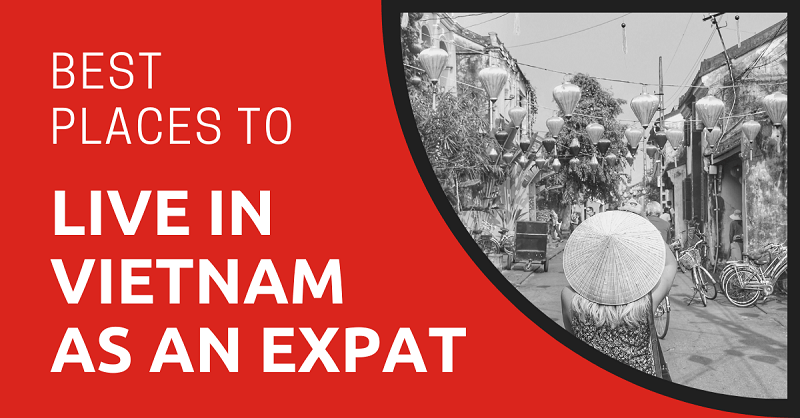 Moving to Vietnam as an expat is an adventure that comes with some preparation and lots of positives. You'll be living in a fascinating country filled with history, incredible nature, culture, and let's not forget about all the amazing food!
To begin your research, there are a few things to consider. Most importantly, picking a city to live in. Whether you are looking for a cultural city or a backroads beach town (or a bit of both), there's plenty to choose from when it comes to the best places to live in Vietnam.
This article will take approximately 25 minutes to read. Don't have the time right now? No worries. You can email the ad-free version of the article to yourself and read it later!
Vietnam on a Map
Located on the western shores of the South China Sea, Vietnam is the 3rd largest country in mainland Southeast Asia (after Myanmar and Thailand). It borders Laos and Cambodia to the west and China to the north.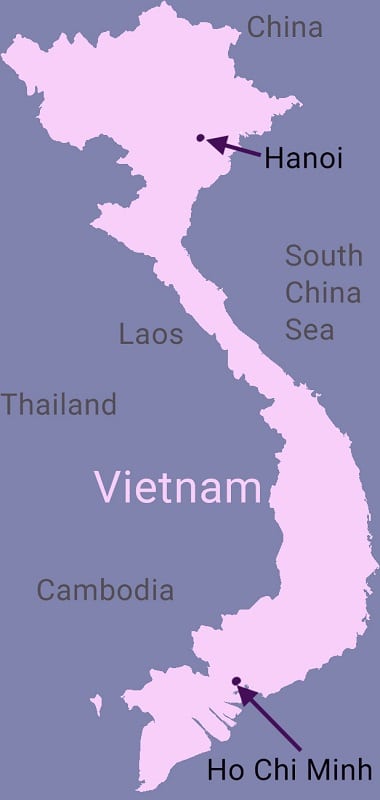 Vietnam's total land area of approximately 317,600 square kilometers comprises 58 provinces, and 5 centrally-governed municipalities (Hanoi, Ho Chi Minh City, Can Tho, Da Nang, Haiphong).
The south of Vietnam consists of coastal lowlands and port cities where you can find the country's best beaches. This is also the home of the largest part of the Mekong River delta, also known as Vietnam's "rice bowl". In Vietnam's north, you'll find karst mountain peaks, caves, and the highlands north of Hanoi with most of the country's ethnic minority villages.
Established as the capital city since 1976 is the northern city of Hanoi, which is Vietnam's political heart. It's the second most populous city after Ho Chi Minh City, and preceded by Haiphong, Can Tho, and Da Nang.
Choosing Your City in Vietnam
Looking to move to a big city that never sleeps? Or is a laid-back historic town more your vibe? To help you decide, here's a look at the best places to live in Vietnam with practical information for expats.
More resources on moving to Vietnam for expats:
Hanoi
Best place to live in Vietnam for culture seekers looking to live it up in the northern capital city
Hanoi, Vietnam's dynamic capital city in the north is a popular choice for expats living in Vietnam. This is probably because of the number of international schools and kindergartens in town that are always looking for English teachers.
There are also residential neighbourhoods outside of the city centre in Hanoi where you can find a good-sized, modern apartment at an affordable price.
Expat District
The area of Tay Ho is a popular choice for expats to live in Hanoi. Located in the northern end of the city, Tay Ho has lots of cafes, grocery stores, breweries, wine bars, and high-rise apartments that make for comfortable expat living.
Entertainment
Hanoi's Old Quarter bar street provides endless nightlife and dining options for expats. From packed nightclubs like 1900 Le Théatre to more chill vibes of Binh Minh's Jazz Club, there is something for everyone in this lively and historic district of Hanoi.
And when you find yourself in the area, don't miss an elegant meal and cocktail at the Hanoi Social Club.
For things to do during your time off when living in Hanoi, beautiful destinations like Sapa and Ninh Binh are a bus ride away. The popular Halong Bay is also a few hours east of Hanoi, so you can easily check that off of your Vietnam bucket list.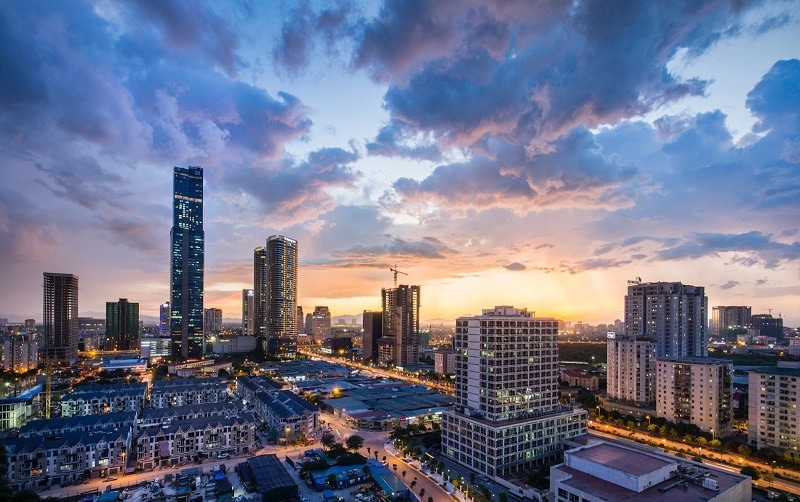 With such wonderful culture, history, attractions, and things to do, it's hard to get bored living in Hanoi. Take an afternoon to play tourist and wander around the Hoan Kiem Lake or head to the stunning Temple of Literature. In addition, there's nothing like exploring Hanoi's Old French Quarter on the weekend to get to know your city.
Community
Facebook groups like Hanoi Expats and Expats in Hanoi are a great way to make friends and get to know your new city. They are also good for browsing apartment listings, shopping for second hand stuff, and searching events.
You will easily find groups of local and expat friends through your job and through social activities that before long, Hanoi can easily feel like home.
Transportation
The Hanoi International Airport is easily accessible by bus and connects to major destinations throughout Vietnam, the rest of Southeast Asia, and beyond.
Hanoi has a small but convenient subway system, the Hanoi Metro which is under highly-anticipated construction to provide more than the current 2 operating lines. The fares are very cheap, starting at around US 35 cents per trip.
Until the subway work is complete, the public bus systems are still the cheapest (starting at 35 cents a trip) and most popular way of getting around the city. With more than 150 routes to get you all over town, you can easily learn the bus numbers you need to and from work.
Health Care in Hanoi
International quality and affordable healthcare is readily available in Hanoi at the many hospitals and clinics such as Vinmec International Hospital, Raffles Medical Clinic, and Family Medical Practice.
Schools for Kids
For families with kids, there are around 22 international schools in Hanoi to choose from. The most highly recommended include The British Vietnamese International School, The International School at Parkcity, and the British International School.
Finding Jobs in Hanoi
As well as teaching jobs, Hanoi is the country's commerce capital too. You can look for jobs in banking, finance, embassies, and the media via online job platforms like careerjet, or through recruitment companies like talentnet.
VietnamWorks is another popular job search site. You would do well to keep your LinkedIn profile up to date and also peruse Facebook groups like Vietnam Teaching Jobs to find your ideal job in Hanoi.
"Finding a teaching job in Hanoi is a simple task as a native English speaker. There are plenty of opportunities from private kindergartens to public schools. With the low cost of living, it's easy to save money and have plenty of time for recreation." – James, American expat and English teacher in Hanoi for four years.
Pros:
Filled with history and culture
Lower cost of living compared to the south
Easy day trips for beautiful scenery
Good food
Cons:
Weather can get cold in the winter months
Air pollution year-round due to Hanoi's location in a valley
Limited public transportation options for a big city
Ho Chi Minh City
Best place for expats looking for a big city lifestyle and exciting nightlife
Vietnam's largest city when it comes to size and population, Ho Chi Minh City (formerly known as Saigon) has been attracting expats from around the world for years.
With a high number of international schools, public schools, as well as private academies, you can easily find teaching work in Ho Chi Minh. The city is also the center for business in Vietnam, so this is appealing if you're an entrepreneur.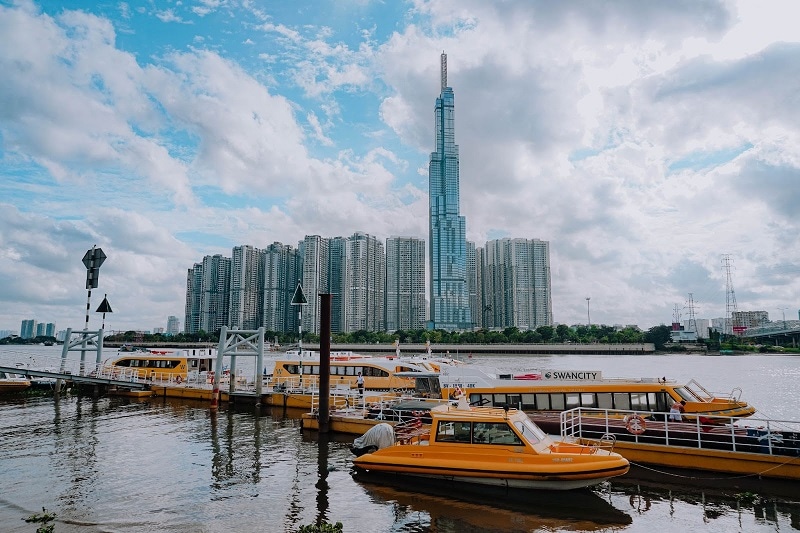 Expat District
District 2 is the expat-heavy area of Ho Chi Minh City. Apartments and food tend to be more expensive here (sometimes you'll forget that you live in Vietnam) but you'll be within walking distance to international schools, international boutique groceries, and lots of cafes with expat meetups.
Other districts in Saigon offer more affordability, and there's also no shortage of historical sights, parks, markets, and amazing restaurants worth checking out. All areas of the city have their own charm, so we recommend spending a few days or even weeks in a hotel while you go apartment hunting and see which district in Ho Chi Minh City suits you best.
Entertainment
Ho Chi Minh City is a great option for expats in Vietnam who want to stay busy; there's always something going on in the city and always a new restaurant, bar, or cafe to check out on weekends.
To get to the heart of it all, head to District 1. On top of some amazing local spots to be found once you venture off of the infamous Pasteur Street, this district in Ho Chi Minh City is known for international brands, great shopping, and a thriving nightlife scene.
Community
Groups on Facebook and WhatsApp are some of the best ways to connect and network with other expats in Ho Chi Minh City. To start, check out the group Expats in Ho Chi Minh City (Saigon) Vietnam, which has over 10 posts a day and over 148k members.
There's also Living in Ho Chi Minh City. For women, there's Fexpats – Female Expats and Locals in Ho Chi Minh City.
Transportation in Ho Chi Minh City
It's been in the works for years and the HCMC Light Rail is finally set to open at the end of 2023. So for now, the bus is the only public transportation option.
The main bus hub is the Ben Thanh Bus Station Market and the system connects Saigoners to the main districts of the city as well as the suburbs and outlying regions.
But to be a real Saigon expat, you'll find yourself getting around by motorbike, either with your own or grabbing a ride using a motorbike taxi app.
Health Care
Another bonus of living in Ho Chi Minh City is that you can easily access some of the best healthcare in the country. Some of the main international hospitals are the American International Hospital, City International Hospital, Franco Vietnam Hospital, and Victoria International Healthcare.
Many private hospitals and clinics in the city have internationally-trained doctors who speak English.
International Schools
If you're moving to Ho Chi Minh City with kids, you'll be happy to know that there are 33 international schools to choose from, located in and around the city.
Here's an extensive list of all international and bilingual schools in Ho Chi Minh City.
Finding Jobs in Saigon
Just like using Facebook groups to find out about weekend events and happenings in the city, it's also a great way to browse for jobs. If you're an ESL teacher, check out this Ho Chi Minh City ESL Teaching Jobs group.
There are a ton of schools looking for full-time and part-time teachers, so finding a teaching job shouldn't be too difficult. Job sites like CareerJet also post about non-teaching jobs for expats in Ho Chi Minh City.
Pros:
Biggest city in Vietnam with lots of amenities
Lots of choice for food, drink, and things to do
Big for nightlife
Shopping
Lots of schools and opportunity for work
Great cafe culture
Cons:
Lots of traffic
Hot year-round
Lots of people
More resources for expats:
Da Nang
Best place for beach folk who are looking for the modern amenities of big city life
Located in the middle of the country and along the coast, Da Nang is the perfect mix of fast-paced urban life and relaxation. It's a beach city and you can feel it. There are always events happening along the beach for foreigners and locals alike, making it easy to make friends with other expats and feel at home.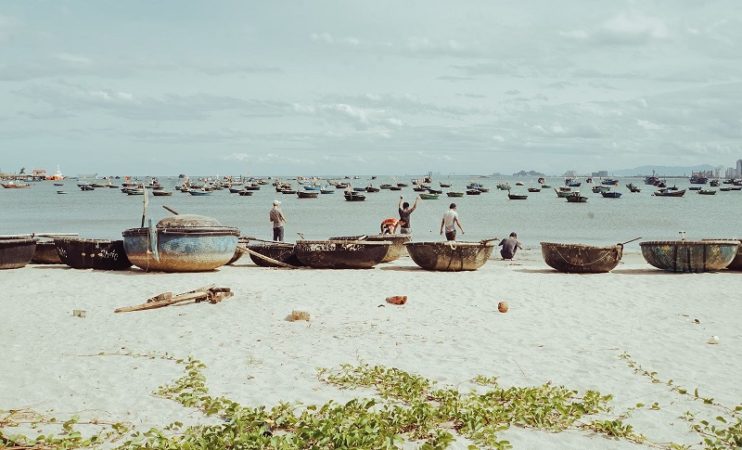 Expat District
Da Nang has really developed over the years and there have been lots of international investment in building up the city's infrastructure, making it much easier to find an apartment compared to ten years ago.
Lots of expats choose to live in An Thuong, which is casually referred to as the foreigner area of Da Nang. Located steps away from the beach, here you'll find the highest concentration of Western food options, including lots of bars and trendy cafes.
Entertainment
An Thuong district is the hottest spot in town to meet other expats and locals. While the nightlife in Da Nang isn't as happening as in Hanoi or Ho Chi Minh City, there are some bustling nightclubs and rooftop bars scattered along the Dragon Bridge.
For daytime entertainment, Da Nang is the perfect spot for outdoor excursions and visiting historic attractions. Take a half day trip up the mountain to the Lady Buddha Statue, visit the Marble Mountains, or just relax on the beach.
Transportation in Da Nang
Da Nang doesn't have a subway or light rail system, but there is a public bus system. Run by Dana Bus, there are a total of 11 bus routes in Da Nang. Single-journey tickets start as low as 5000 VND (0.20 USD).
Health Care
International standard health care is readily available for expats in Da Nang. Some of the city's top hospitals include Vinmec Danang International Hospital, Danang Family Hospital, and Hoan My Danang Hospital.
International Schools
You may not have the same range of choices as you would living in Hanoi or Ho Chi Minh City, Da Nang still has a few international schools, with 2 in nearby Hoi An. Verified international schools in the city include the APU American International School (American curriculum, 3-18 years, and the Singapore International School, preK-12 British curriculum).
Finding a Job
Most expats visit Da Nang, fall in love with it, and then find a way to make a living there. Same goes for Hoi An. There are plenty of jobs for English teachers in Da Nang (most will be in smaller, private English academies) but there are also opportunities if you're in the tech industry.
You can check out VietnamWorks for job postings and there's also LinkedIn.
Pros:
Housing is close to the beach
Unique foods (Da Nang specialty dishes like mi quang noodles)
Accessible to long-distance travel (airport, train)
Beaches
International culture
Cons:
Hot climate year-round (which might be a pro for some)
Humidity and mold can be an issue
Internet can be slow in apartments
Smaller city and fewer expats might get boring
You might need to travel for good medical care
Learn more: Health Insurance in Vietnam: What You Need to Know as an Expat
Hoi An
Best place in Vietnam for history, culture, and tranquility
Hoi An is a small but mighty town just 30 kilometers south of Da Nang. It's a popular destination with tourists because of its charming UNESCO World Heritage Old Town, amazing attractions, and bustling morning markets. Living here as an expat means you can slow things down and get to know this unique part of Vietnam.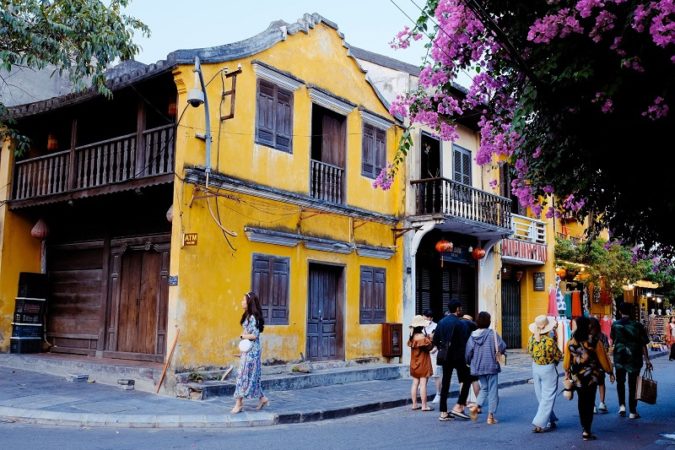 Expat District
Expats in Hoi An tend to stick to just outside the city centre, which is the Cam Pho district. The main areas for expats are just north at An Bang Beach, Cam An and Cua Dai Districts, as well as Cam Chau District.
Entertainment
From beach yoga to early morning market runs to cocktails along the river, there are lots of ways to pass your leisure time when living in Hoi An.
Most expats choose to live in Hoi An for the easygoing way of life that it provides, so expect lots of fitness and spiritually-driven meetups rather than all-night dance fests.
The nature here is something to brag about. In Hoi An you'll be treated to views of the nearby green hills and you'll have access to some great beaches, too. You can easily play tourist for the day and also take it easy and start to live a more local life.
Take it all in and enjoy nightly dinners of some of Hoi An's foodie delights like Cao Lau and Banh Nao Banh Vac (White Rose dumplings). And if you're craving bigger city vibes, Da Nang is just a short drive away.
Transportation in Hoi An
Given its small size compared to other cities, most expats in Hoi An use a bicycle or a motorbike to get around. The calm nature of Hoi An makes cycling the top mode of transportation for expats.
Health Care
There are only a few health care options in Hoi An, so if you need more extensive treatment, we suggest heading to Da Nang. The clinics in town are Pacific Hospital (no website, phone number is ​​+84 235 3921 656) and Hoi An Hospital (+84 235 3914 660), with the latter being a publicly-funded hospital.
International Schools
There are currently two verified international schools in Hoi An – the Hoi An International School and Green Shoots International School.
Finding a Job
Because of the small population and availability of schools, Hoi An isn't the best expat city to live in for English teachers or finding other work as a foreigner. Digital nomads however love Hoi An because of its picturesque cafes and proximity to the beach.
Pros:
Proximity to nature
Great food
Culture and history
Close to sights and attractions
Scenery, good balance and quality of life
Co-working spaces for remote workers
Cons:
Can be more expensive than other parts of Vietnam
Smaller city, so expats will have to go to Da Nang for amenities
Calmer nightlife scene
Da Lat
Best place to live in Vietnam for smaller town living in the mountains with great coffee
Surrounded by nature, Da Lat is Vietnam's adventure travel capital. There's lots to do outside of the city, but many expats come here for the cool climate and slower way of life compared to bigger cities. Just a few hours away from Ho Chi Minh City, Da Lat was once the holiday getaway destination for Saigon's wealthier class.
Now, it's a busy yet charming city that's home to the country's coffee crops and lots of day trip opportunities.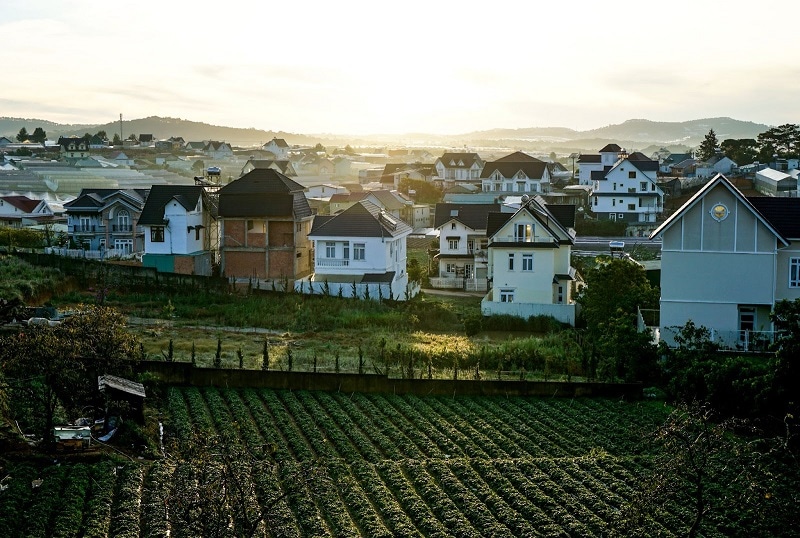 If you're looking for a place in Vietnam with a low cost of living, consider moving to Da Lat. Rent here is some of the cheapest in the country for expats and retirees alike.
If you love coffee (and love working on your computer in cafes) Da Lat has a high density of coffee shops in the city centre. You can easily spend your first few weeks here trying to find your favorite one.
Expat District
The central area of Da Lat is just west of the Xuan Trong Lake and you'll find most expats living in this part of the city. Phuong (Ward) 1 and 2 are some of the most popular districts for expats in Da Lat.
Entertainment
Da Lat has become an adventure tourism hub over the past few years. Head to one of the tour agencies in the city to book anything from canyoning, rafting, biking, and trekking tours. After a little trip immersed in some of the best nature escapes in Vietnam, you'll feel refreshed in no time!
When it comes to nightlife in Da Lat, the main street near the central market is home to a few good bars and pubs. Maze Bar, also known as the 100 Roof Bar, is the most popular spot in town to enjoy a drink and a good time. If you've been to Da Lat at least once in your life, you know about (or have at least heard of) this bar.
Transportation in Da Lat
Da Lat is a small city but it's also very hilly, so don't rent or buy a motorbike to get yourself around unless you feel very comfortable. GrabTaxi bikes or cars are still a cheap and popular option to get around everyday.
There are also a few local bus routes to take you between the city centre and districts such as Lac Don Duong, Xuan Trong, and Dai Lao.
Buses aren't very frequent however and service stops at 7 p.m.
Health Care
There is unfortunately no international hospital or clinic in Da Lat, so you'll have to make the trip to Ho Chi Minh City if you're looking for substantial medical care. Some expats have reported that Hoan My Hospital in Da Lat does sometimes have an English speaking doctor but it might be hard to find a bilingual doctor elsewhere.
International Schools
There currently aren't any international schools in Da Lat. If you're moving to Vietnam with kids and want them to have an international-standard education, your best bet is to head to Ho Chi Minh City or Hanoi.
Finding Work
Most expats in Da Lat either work remotely, are retired, or are taking an extended gap year holiday. That being said, there are a few Montessori-style kindergartens and other small schools in town that are always looking for English teachers.
Check on Expats in Dalat Facebook group for some leads.
Pros:
Cheaper cost of living
Spring climate year-round
Nature getaways
Cons:
Fewer opportunities for work and business
Slow nightlife scene
Difficult to get around by public transportation
Fewer big city amenities like international hospitals
Nha Trang
Best place for an international scene in a beach setting
Located in south central Vietnam along the coast, Nha Trang has been an established expat city for years now. The infrastructure here is some of the best in the country and you'll be able to find international hospitals and schools easily.
Nha Trang is also a top choice when it comes to the best places to retire in Vietnam.
Expat District
Nha Trang's beautiful seaside location, modern accommodation options, and international food scene are just some of the reasons why expats continue to flock here. Many expats stick to Nha Trang City (central area) and the most popular area is Tran Phu Beach.
There are also quieter areas just north of town, such as the beautiful Hon Chong Beach. If your dream is to live in a modern condo by the beach at an affordable price, Nha Trang has lots of options.
Entertainment
Living in Nha Trang means you'll be close to some of the best diving opportunities in the country, so make note of that if you're an underwater adventurer. The islands off the coast are great for both snorkeling and SCUBA diving.
Nha Trang also has a thriving nightlife scene and you'll find the main bars scattered off the long strip by Tran Phu Beach.
Transportation in Nha Trang
Nha Trang isn't very big so most expats either get around on foot or by motorbike. There isn't a subway system, but there's a bus network of six routes that start from the south and north piers.
Health Care
You won't have options like in Ho Chi Minh City, but Nha Trang still has a few decent places where you can go for quality medical care. Check out Vinmec Nha Trang International Hospital, VK Hospital, or Tam Tri Hospital.
International Schools in Nha Trang
The two main international schools in Nha Trang are KidCastle International School (K-8) and KC Academy International School (K-9).
Finding a Job
Nha Trang is very tourist-heavy, so that's a big part of the city's economy. For finding an English teaching job, your best bet is to arrive in the city and start networking. The group Nha Trang Expats & Locals also has job postings so that's a great place to start.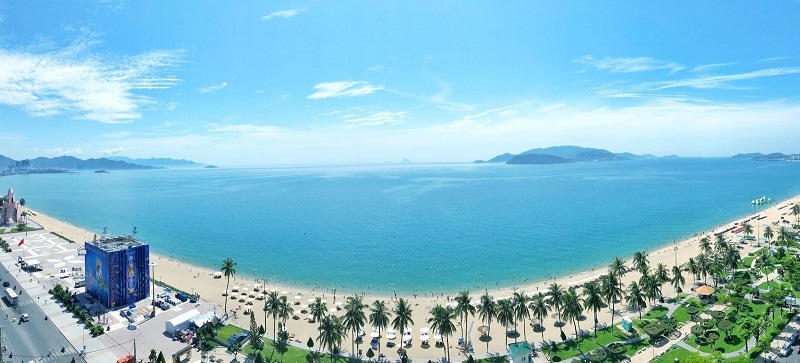 Pros:
Beach location
Nightlife
Big city amenities
Cons:
Very close-knit population makes it harder to connect with other expats
Not as much of a food and coffee culture compared to other cities
More resources for expats:
Most Affordable Vietnamese Cities
If you're trying to decide between big cities Ho Chi Minh City and Hanoi and cost is a factor, know that Hanoi is the more affordable city. With rents starting at around 5 million VND per month for a 1-bedroom.
Given the different levels of jobs for expats in Ho Chi Minh City, your cost of living will vary, but it is generally the most expensive place to live in Vietnam, while still very affordable compared to other countries in Southeast Asia. Rents in Ho Chi Minh City will start at about 7 million VND per month for a 1-bedroom.
Living costs will be slightly lower in smaller cities around Vietnam than in Ho Chi Minh or Hanoi.
Food costs are generally low in Vietnam. Expect to pay around 50,000 VND ($2 – 3 USD) for a meal at a cheap local restaurant. A nice sit-down meal for two at a mid-range restaurant should set you back about 500,000 VND ($20 USD). A coffee typically costs less than 2 USD. Pints of local beer go for 20,000 VND (about 80 cents) and a pint at an expat-friendly bar or brewery like 7 Bridges Brewery in Da Nang will set you back 80,000 VND.
Now, on to You
Moving to a completely different country is no small feat but it will come with a ton of rewards, whether it be professionally or personally.
Once the dust settles after your arrival and you're able to start cultivating your new life in Vietnam, be sure to enjoy every moment! Life can go by pretty quick and you want to soak up as much of this experience as possible. Be open-minded, learn to take things slow, and enjoy the ride.