Podcast: Play in new window | Download
Subscribe: Apple Podcasts | Android | RSS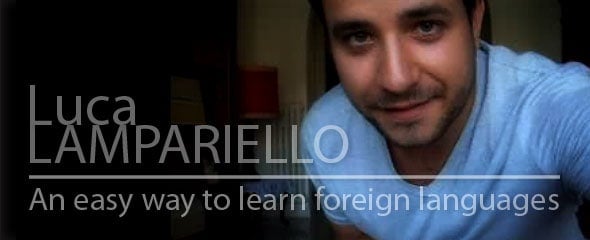 Luca Lampariello's language learning method…
To refresh your memory of Luca's previous post, An Easy Way to Learn Foreign Languages: Part One, here are the main points of his language learning method:
If you are looking a good way to learn Thai online, check out ThaiPod101. Although their courses are not free, they are cheap, effective, and can quickly teach you conversational Thai. All ExpatDen readers get a 25% discount using this link.
The timeframe of the method is: Quality, then quantity.
The method is based upon a strategy of: Often, natural, and sà-nùk.
The strategy consists of: Listen, read, repeat, translate, translate back.
Often: Study Thai on a daily basis.
Natural: Don't bother with the heavy tomes of grammar.
Sà-nùk: Make your language learning experience entertaining, not stressful.
Full circle: Thai (source files) => English => Thai
To explain the three phases of the method, I hand you over to Luca…
The elementary phase…
For this phase of the method, I often use the Teach Yourself series. You might be familiar with David Smyth's Teach Yourself Thai.
It does not matter if you don't have Teach Yourself Thai. What does matter is choosing a quality course with Thai script and sound. Benjawan Poomsan Becker's Thai for Beginners, and Yuphaphann Hoonchamlong's Thai Language and Culture for Beginners 1 both come to mind. And when they update (soon), the free FSI Thai materials are recommended too.
Note: The bulk of my method concentrates on the dialogues – listening, reading, translating the Thai into English, translating your English back into Thai – but do not ignore the lesson plan that comes with your Thai course.
The elementary phase consists of: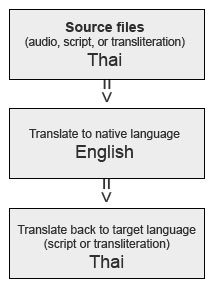 Listen to the audio files.
Repeat the audio files.
Read the materials with and without the audio files.
Translate the Thai dialogue into English.
Translate your English translation into Thai (transliteration or script).
When you translate the Thai dialogue (audio, transliteration, or script) into English first, then translate your English version back into Thai (transliteration or script), you come full circle.
Note: It is important to translate into English first. I am only emphasising this point because it is often misconstrued by those following my method (and I don't want you to lose out).
Full circle: Thai (source files) => English => Thai
The full circle attributes of my method are what makes for a quality outcome.
For this phase, spend an hour a day on your lessons. If studying for a full hour is too much for you, break the hour into 15 or 30 minute sessions.
Below is a potential two week schedule:
Days 1-5: Listen, read, and repeat. Take notes on grammar.
Day 6: Listen, read, and repeat. Translate the first Thai dialogue into English.
To give you an idea on how it will work, Catherine contacted the publishers of Teach Yourself Thai for permission to share the first dialogue.
Official notice: Teach Yourself Thai reproduced by permission of the author (David Smyth) and Hodder & Stoughton Ltd.
The sound files for the first dialogue:

The Thai sound files translated into English:
Hello.
What is your name?
My name is Peter.
Peter, you are American?
No.
I am English.
I come from Manchester.
Excuse me.
What is your name?
Day 7: Either give your studies a rest, or review what you have learned.
Days 8-14: Follow the same schedule for Unit 2.
Day 15: Take your English translation, and translate it back to Thai (script or transliteration).
The English translated back to Thai (transliteration):
sà-wàt-dee kâ
kun chêu à-rai ká
chêu bpee-dtêr kráp
kun bpee-dtêr bpen kon à-may-rí-gan châi măi ká
mâi châi kráp
bpen kon ang-grìt kráp
maa jàak man-chét-dtêr
kŏr tôht kráp
kun chêu à-rai kráp
The English translated back to Thai (script):
สวัสดี ค่ะ
คุณ ชื่อ อะไร คะ
ชื่อ ปีเตอร์ ดรับ
คุณ ปีเตอร์ เป็น คน อเมริกัน ใช่ ไหม คะ
ไม่ ใช่ ครับ
เป็น คน อังกฤษ ครับ
มาจาก เเมนเช็สเตอร์
ขอโทษ ครับ
คุณ ชื่อ อะไร ครับ
Tip: When you translate, work line by line. It doesn't matter if you can't remember everything, just do your best. Oh, and be sure to check your work for any mistakes.
Complete the rest of the course in this manner: Listen, read, repeat, translate the Thai source files to English, and then translate the English back to Thai.
After 1 month, start talking. Even if you don't have a native speaker in front of you, imagine that he/she is there. Make an attempt at simple conversations.
Partway through this phase, you will be able to get by in an actual conversation. This is because translating the dialogues back and forth gives your brain the necessary rehearsal time to eventually speak in real time.
After 6 months, everything will be enormously easier.
The secondary phase…
The second, or intermediate phase, is very similar to the elementary phrase. You will use slightly more complicated texts, which will also need to be translated to English first, and then translated back to Thai.
I depend on Assimil for this phrase. Assimil offers one of the top Thai courses out there, but to get the most out of it you do need to read French.
Here are a three alternative Thai courses: Everyday Thai For Beginners by Wiworn, Ph.D. Kesavatana-Dohrs (don't be put off by the title, this book is not for raw beginners); Thai for Intermediate Learners, by Benjawan Poomsan Becker; and Thai Language and Culture for Beginners 2, by Yuphaphann Hoonchamlong.
The secondary phase lasts 6 months, more or less.
The advanced phase…
This phrase is centred around talking with locals, watching movies, singing Thai songs, and reading advanced Thai materials. You might have nibbled away at each already (especially the Thai movies, songs and conversations) but this phrase concentrates even more so.
Movies: Watch Thai movies. Take notes.
Talk: Whenever you can, talk to the locals you meet (in person, or via Skype).
Sing: Take the time to learn Thai songs.
Read: Get stuck into Thai books, newspapers, and Thai language sites.
Movies: YouTube is a treasure trove for Thai movies. If you want to follow along with subtitles, here are a few of the excellent channels available: EDIT… even though they are educational, the videos have been taken off line.
Talk: If you do not live in Thailand, you can always join one of the online language learning groups which utilize Skype. As there are too many to list here, go to WLT's Learn Thai for FREE resources page, then scroll down to 'Online language exchange partners with Thai learners'.
Awhile back, I was talking with some Americans who asked, "Luca, how can you speak English like that, if you've never even been to the US before?"
My answer? For those who praise mp3's as incredible for learning languages, think further: Skype.
Skype is the real deal. Audio-material – although the old-fashioned tape sound quality was often miserable – has been around for over 40 years. And while Skype has only been around for a short time, it is excellent for learning languages.
Bottom line: Conversations with native speakers are a must.
Thai songs: Learning to sing in your target language is a part of the sà-nùk factor we were discussing earlier. Again, YouTube is the place to go (search to find your music style). A decent site for Thai songs with lyrics is ethaimusic.com (offline for now). And AnothaiDara not only translates Thai movies, but Thai songs too.
Other advanced Thai learning resources: To progress in your reading, download Hugh Long's triple package of free: Advanced Thai Reading and Vocabulary Building. Also advised is Benjawan Poomsan Becker's Thai for Advanced Readers.
Again, an overview of the method…
The timeframe: Quality, then quantity.
The strategy: Often, natural, and sà-nùk.
Strategy breakdown: Listen, read, repeat, translate, translate back.
Full circle: Thai (source files) => English => Thai
If you use my method, after a year and half (2 years max) you will be very good. And it won't be a miracle, but a reality.
Anyone, I repeat, anyone, can use my method for self-study and get to an excellent level in a foreign language.
Luca Lampariello
Web: thepolyglotdream
Facebook: Luca Lampariello
YouTube: poliglotta80
WLT: An Easy Way to Learn Foreign Languages: Part One
WLT: Luca on Active Learning vs Passive Learning