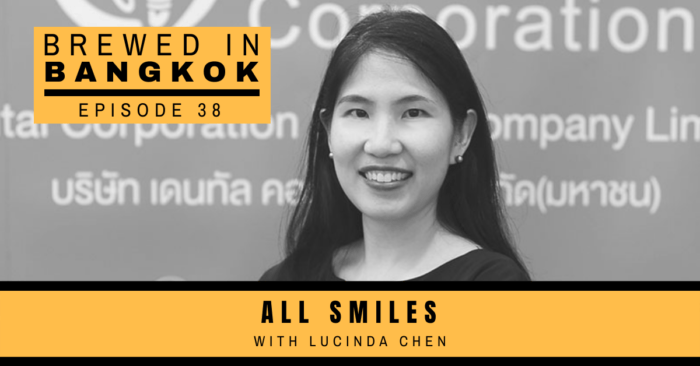 On this episode, Siddhant visits the Bangkok International Dental Hospital and meets Lucinda Chen, one of the directors of Bangkok International Dental Center. Lucinda is from Singapore and is a London School of Economics graduate. She moved to Bangkok a few years ago and really dove headfirst into learning the Thai language at Chulalongkorn University before working on BIDC full-time.
With the Bangkok International Dental Center and its many branches, Lucinda has been striving to provide the best dental care possible to the people of Thailand and visitors from all over the globe. BIDC clinics and hospitals are JCI certified (one of the most rigorous and exacting certifications in medicine) and the dentists here are some of the best in the country.
We discussed everything you want to know about dentistry, from the new practice of sedative dentistry to dental tourism in Thailand. Just in case you haven't already, please go see your dentist at least once a year!
Sponsor
About Lucinda
Lucinda is from Singapore
Graduated from the London School of Economics
She used to work at Accenture in Singapore as a Business Consultant
She has three children (that love visiting the dentist)
Lucinda is the Director and International Relations Manager of the Bangkok International Dental Center (BIDC), which is managed by the Dental Corporation PLC
Topics Discussed
Bangkok International Dental Hospital
Dentistry
Medical Accreditations
Settling into Thailand
Understanding the Dental System in Thailand
Bringing high standards to Dentistry in Thailand
What is Sedative Dentistry?
Major Competitors to Thailand's Dental Tourism
Why is Dentistry so expensive?
Dental insurance
Taking Kids to the Dentist
Cosmetic Dentistry in Thailand
Attracting medical tourists to Bangkok
Making plans in Bangkok totally depends on the location
New locations for BIDC
How do Thai Dentists get certification to practice Dentistry?
Resources Mentioned
Want More?