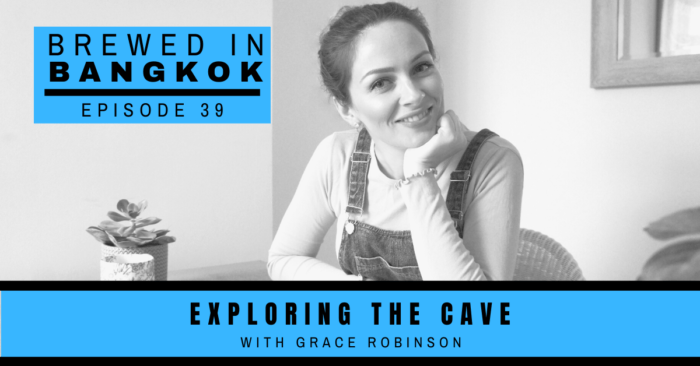 On this special episode of the Brewed in Bangkok podcast, Siddhant got a chance to chat with Grace Robinson, an assistant producer of the 'The Cave'.
The movie is based on the rescue of the Wild Boars football team from caves in Chiang Rai, Thailand in 2018. It was a national story that become an international story and culminated in a miraculous ending. Grace talks a little bit about making the movie but we also had a chance to talk about her time in Thailand as well.
From studying about Thai culture and the Thai language abroad to living in Chiang Mai as a journalist to even working in many media roles in Bangkok, Grace has seen many facets of Thailand. We discussed learning Thai abroad, gentrification, domestic tourism and many other topics in this episode.
About Grace
From Lancaster, United Kingdom
Studied Thai Culture at the University of Leeds
Spent one semester in Chiang Mai University
Finished an MA in research on Thai Culture, specifically the Floating Market
Spent time in Chiang Mai as a Deputy Editor at CityLife Magazine
International Relations Liaison for the Thailand Amateur Boxing Team
Worked as a presenter on Thai television (Voice TV)
Worked on 'The Cave' as a producer
Founded her own business in the UK called 'Eden Assistants', a virtual assistant service
Topics Discussed
Studying Thai Culture from Abroad
Learning and Speaking Thai in the UK
Chiang Mai has changed
Gentrification and malls outside Bangkok
Going to University in Chiang Mai
Working on an MA about Thai Culture
The story of the Floating Market
Domestic Tourism in Thailand
Writing about Chiang Mai at CityLife Magazine
Working at the International Relations Department for Thai Boxing
TV Presenting in Thailand
Getting better at speaking Thai
Helping out with 'The Cave' movie
Thailand Amateur Boxing stint
Living in Phra Khanong before it was 'cool'
Eden Assistants
Collaborating on Future Projects
Resources Mentioned