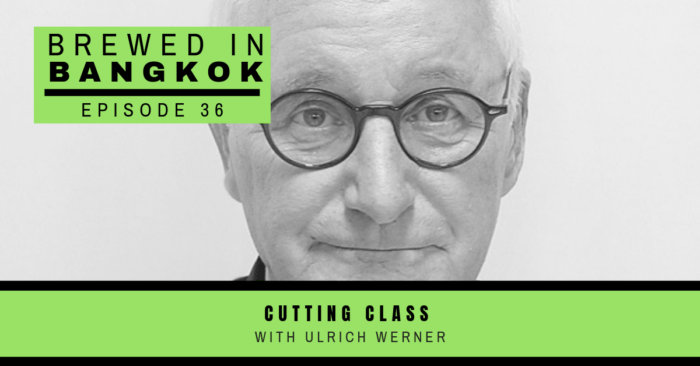 Sponsor
After a long hiatus, Brewed in Bangkok is back and better than ever before!
On this episode, Siddhant has a chat with Ulrich Werner, a university professor in Thailand that has all kinds of stories to tell about the education system in Thailand.
Ulrich is originally from Germany and has worked in telecommunications for a number of years before a chance opportunity to give a guest lecture in Thailand, changed the course of his life dramatically.
After coming to Thailand and giving the lecture, Ulrich decided to quit his job in Germany and begin his life as teacher in Thailand. For years, Ulrich taught at Ramkhamhaeng University in Bangkok and encouraged foreign students to come to Thailand.
One of Ulrich's contributions of education in Thailand is the website studyinthailand.org, one of the first websites that compiled all the international programs available to foreign students that are interesting in studying in Thailand.
We talked about the Thai education system, uniforms at university, why studying in Thailand is a good idea for some and why teaching in Thailand has been so rewarding.
About Ulrich
used to work in a German Telecommunications company
came to Thailand as a Guest Lecturer in Business Informatics
taught Business Informatics, Management, and Communication and at Ramkhamhaeng University from 2002
created studyinthailand.org, one of the best resources for learning about international university programs in Thailand
teaches at Siam Technology College
Topics Discussed
Getting to Thailand as a lecturer
Thais love uniforms
What was it like being a foreign University student in Thailand in 2003?
Starting studyinthailand.org
The status of studyinthailand.org
Do Thai universities want foreign students and what are typical international programs like?
Great courses to study in Thailand
Pressures that Thai universities are facing
What does Thailand have to offer for foreign students
Why is teaching in Thailand so special?
The new wave of international students from ASEAN
Meeting expectations in education
Growth of STEM fields in Thailand
Diminished value of a Bachelor degree
The joy of teaching Thai students
Thai students on their exchange semesters
Ulrich's observations as a university professor in Thailand
Resources Mentioned
Additional Resources