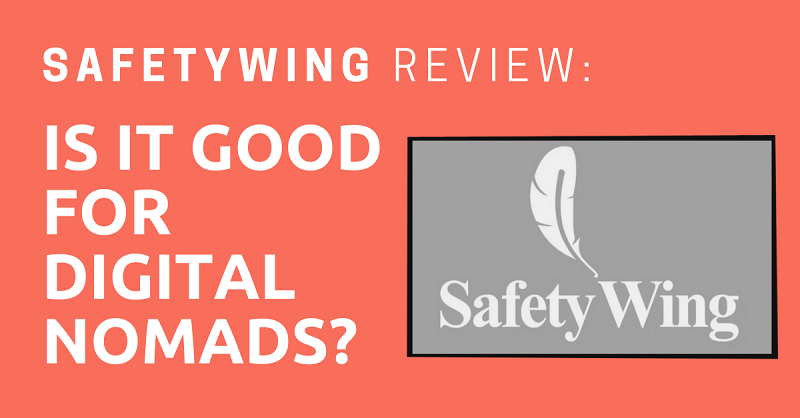 If you're planning your next trip—or you're already on it—chances are you've been thinking about getting travel and health insurance.
Worrying about unforeseen medical costs is probably one of the biggest concerns for global nomads, expats, and travelers alike.
Unexpected hospital bills can leave you broke—and that's not something anyone likes.
Having said that, you might want to consider getting coverage from SafetyWing, a travel medical insurance company that offers hassle-free and affordable plans for short- and long-term travelers.
You might've read about SafetyWing in our guide to travel insurance for expats, but in the post below, we dive into the pros and cons of it's insurance policies, exclusions, inclusions, deductibles, and claims process.
In other words, we do all the hard work for you so you don't have to.
This article will take approximately 20 minutes to read. Don't have the time right now? No worries. You can email the ad-free version of the article to yourself and read it later!
Is SafetyWing Legit?
A relative newcomer to the insurance scene, SafetyWing was launched in 2017 in partnership with Tokio Marine insurance and underwritten by Lloyds, both well-established and trusted insurance partners.
As you might hope from a business offering a nomadic insurance policy, the people behind SafetyWing are digital nomads themselves.
Originally from Norway, the founders live in Palo Alto, California, in the U.S.
Their dream while working remotely was to start SafetyWing as a solution for kindred spirts. In other words, travel insurance by nomads, for nomads.
By "nomads," we mean long-term travelers who don't have a fixed place of residency. That could mean digital nomads, remote workers, and all people who spend long periods away from home.
These people need insurance coverage wherever and whenever they are outside of their original home country, and SafetyWing provides it.
By partnering with Tokio Marine, a global provider themselves, SafetyWing is able to provide one policy regardless of location or nationality, and this is exactly what makes them so flexible and useful to nomads.
Also, they have a solid reputation for being an affordable option.
What Makes SafetyWing Different?
We'll go into the finer points of the policy and its benefits later in the article, but the number one stand out between SafetyWing and other insurance providers is its monthly subscription model aimed specifically at remote workers and travelers.
Where most insurance policies are for a fixed, or minimum, period of time, SafetyWing offers a super flexible, rolling monthly price.
Paid monthly in advance, at the end of each 28-day period, the policy automatically extends up to a maximum of 12 months, after which the policy may be renewed.
It can be started at anytime and from anywhere, whether you're still at home or already on the road, and it can be stopped at any time, too.
Just give the notice, and the policy will end.
You'll even be reimbursed for the days in the month for which you'll no longer be covered. Better still, you even have a three-day grace window at the start of each month in which to remember that you wanted to cancel the policy.
Likewise, most insurance providers link policies to a fixed place of residency.
SafetyWing, however, understands the unique needs of digital nomads and remote workers who rarely have a fixed residence but instead need coverage wherever they find themselves in the world.
The Plan
SafetyWing has two main products:
Nomad Insurance
Remote Health
For the purposes of this article, we'll mainly focus on the Nomad Insurance package, a travel medical policy for digital nomads and travelers.
Remote Health is their global health insurance policy aimed at full-time nomads or teams of remote workers in a single company.
It's a more expensive and more comprehensive policy in terms of medical coverage but still true to the SafetyWing policy of providing coverage for those on the move and away from their homes.
Nomad Insurance is a travel medical policy for anyone who's outside of their home coverage.
This plan is offered at a very reasonable US$40 for every four weeks of coverage; provided you're between 18 and 39 years old and don't need coverage in the U.S.
If you want coverage in the U.S., this can be added but pushes the cost up to US$73 every four weeks.
You purchase the initial four-week period and then the policy just keeps on rolling month-on-month as a subscription until you cancel.
The key features of the package are:
Buy abroad, stay abroad: you can buy the policy even after you leave home and have started traveling. You could even buy the package in the last week of your travels if you were so inclined. SafetyWing is not bothered by your trip dates. This is a policy that can start and stop at anytime and from anywhere to suit you.
Automatic monthly payments: once you sign up it works like any other subscription model. The plan keeps on rolling and renewing automatically every 28 days until you decide to end it.
Coverage for home visits: once your plan has been in place for a continuous period of 90 days, the medical coverage is extended to include any visits to your home country provided you aren't there for longer than 30 days at a time (15 days if you live in the U.S.) and provided your trip is incidental. That is, no sneaking home for medical care.
Free child coverage: if you have young children under ten years old, then up to two can be included for free on your insurance. That's one for each adult member of the family package.
On the face of it, SafetyWing offers one of the easiest-to-use packages out there, so let's take a look at the nitty-gritty to find out what it really covers.
Age Eligibility
The basic monthly subscription of US$40 per four weeks is offered to anyone who is between ten and 39 years old.
Those under ten years old are covered for free under the family policy. If you have a third or fourth child, they can be added to the package but will be priced at the regular adult price.
Also, the older you are, the higher the price gets. It starts at US$40 but can get as high as US$64.68 if you're in the 40- to 49-year-old bracket, US$101.64 once you hit over fifty, and US$137.76 in your swinging sixties.
If you're pushing seventy, then this isn't the policy for you.
Location and Nationality
SafetyWing policies are available to anyone living anywhere except Iran, North Korea, or Cuba—or to those holding Cuban citizenship.
Aside from those places, you can purchase the policy from any country, and you don't need proof of residency in either your home country or anywhere else.
Should your home country be the U.S., however, then the cost of your coverage will get pushed up to US$73 every four weeks, and the length of coverage on trips home is reduced to 15 days.
Package Benefits
This is travel medical insurance, and the benefits reflect that. They are split into two areas of coverage.
Medical Coverage
This is not a fully comprehensive health insurance policy, so benefits are limited to those related to medical emergencies or accidents.
If it's full healthcare you're after, then you'd be better off looking at SafetyWing's Remote Health policy.
For the basic plan of US$40 every four weeks, coverage includes:
Hospital expenses, such as room and nursing services
Intensive care costs
Ambulance charges, should your sickness or injury require urgent hospitalisation
Other eligible medical expenses
The key here is that all of these expenses are up to a maximum limit of US$250,000.
Though, be warned if you're over 65 years old. This number drops dramatically to US$100,000.
A quick summary of medical benefits follows:
US$250,000 as an overall maximum coverage limit
US$250,000 as a maximum per injury or illness
US$100,000 lifetime maximum for emergency medical evacuation
US$25,000 for accidental death
Up to US$1,000 in emergency dental care
Up to US$50 per day for physical therapy and chiropractic care
Travel Coverage
Again, coverage for travel costs are based around unexpected and unforeseen expenses.
We're talking about travel delays, lost checked luggage, personal liability, or natural disasters.
Key benefits include:
US$5,000 for trip interruption
US$500 per item of lost luggage up to a maximum of US$3,000 per certificate period and US$6,000 as a lifetime limit
US$100 a day should you need somewhere to stay in light of a natural disaster or US$10,000 as a lifetime maximum for political evacuation
US$100 a day for travel delays longer than 12 hours and with an unplanned overnight stay, though this is to a maximum of two days
Personal liability is covered up to a maximum of US$25,000
Our view on these benefits? There are some really good elements in here. US$100,000 for medical evacuation and emergency dental care of up to US$1,000, for example—but overall, these benefits feel quite light to us.
How many times have you been delayed for between 12 and 48 hours?
We'd say most delays are resolved within 12 hours, but if they get delayed beyond that it would be pretty annoying to be clock-watching and knowing that after 48 hours you won't be covered for any further expense.
We were delayed by three days once returning from a trip to Italy because of thunderstorms and four days stuck in Madrid Airport due to snow storms.
I'd have been pretty grumpy if through no fault of my own I was no longer covered after 48 hours.
Also, US$50 a day for physical therapy in Singapore would barely get a little toe looked at, let alone a sore back resolved.
Likewise, the overall maximum coverage limit at US$250,000 is considerably below other providers, but at US$40 a month, this package is considerably cheaper as well.
Deductibles
This is a real need-to-know element of SafetyWing policy: there is a US$250 deductible to pay on medical claims.
This is a one-off payment for each certificate period and there are some exceptions—emergency dental care and medical evacuations (which incidentally is also not subject to the overall maximum limit).
Other main travel claims not subject to this deductible include:
Trip interruptions
Travel delays
Lost luggage
Lost accommodation in the face of natural disasters
Political evacuations
Personal liability or accidental death and dismemberment
But nonetheless, think about this deductible on medical claims in terms of the monthly US$40 cost of the package.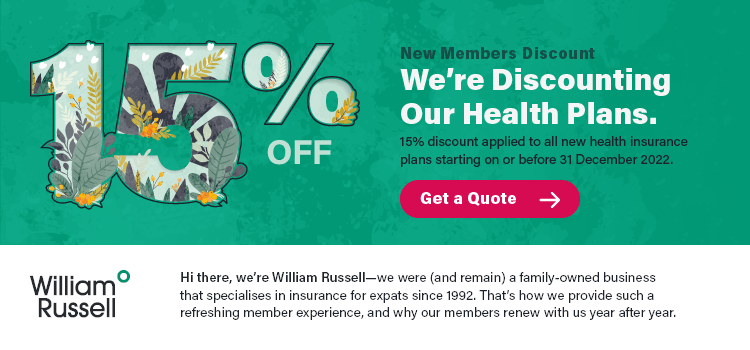 Advertisement
This is actually more than the cost of six months of basic coverage and really needs to be factored in as your overall cost of coverage.
But at the same time, if you think about it as being the equivalent of six months of coverage, it really highlights that rolling your subscription—on a monthly basis—is well worth it.
This is because if you stop and start your coverage, you may find yourself paying another deductible further down the line.
Exclusions
Pay attention carefully as SafetyWing policies have a number of quite major exclusions.
Here are some of them:
High-Risk Sports
Interestingly, jet skiing and scuba diving aren't included in this list, yet professionally arranged sports are.
So, provided you have your PADI certificate or are with a trained diving instructor, you may head underwater, but don't join a local football club and expect to have fractured metatarsal sorted should you injure yourself in weekly training.
Other exclusions include paragliding, martial arts, quad biking, and adventure sports.
Something else to note here is that provided you have the required international licence, and provided there are no other exclusions at play—such as driving while under the influence of alcohol—then injuries sustained as a result of moped or motorbike accidents are covered.
Not that this is a part of the policy we recommend testing, but it's an important one to have in the back of your mind.
Interestingly, rental cars are not covered.
Pre-Existing Chronic Diseases, Injuries, or Cancer Treatment
This doesn't mean the acute onset of any such disease or injury, but ones which you're already suffering from at the time of commencing the policy.
It's also worth noting that routine checkups are also not covered.
Electronics
Slightly strange for an insurance plan aimed at digital nomads, there's an exclusion on coverage for lost or stolen electronics such as laptops, phones, and cameras.
For some people, this would be a bit of a deal breaker. I understand that they must get fed up of claims made when people simply want to upgrade their equipment, but to have no coverage at all should your laptop be stolen from your bag while traveling would be pretty difficult to swallow.
For others, this is not an issue at all since the electronic coverage usually comes with a maximum coverage of US$500, which is not sufficient for a new laptop or mobile phone these days.
Trip Cancellations
Another big exclusion to be mindful of is trip cancellation, whether by your own doing or someone else's.
Renewals and Cancellations
This is lovely and straight forward with SafetyWing. Once you've signed up for the monthly subscription package, there are no renewals to worry about for the first 12 months.
The policy just keeps rolling and renewing month-on-month.
Should you decide it's time to end it, simple. Just put it in writing and the policy is cancelled with immediate effect.
You'll even receive a refund on the remaining days within the month that you've already made payment.
Pros and Cons of SafetyWing
So now that we've gone through the main benefits on offer, let's take a look at the overall pros and cons of SafetyWing's Nomad Insurance.
Pros
First, let's look at what makes SafetyWing a great choice.
The Buying Process
The buying process has to be one of the absolute highlights of the SafetyWing products.
With a super simple website to navigate, clear offerings and benefits laid out, and the ease with which you can sign up and start a policy at any moment in time, from where ever you all, makes it one of the easiest policies to take out.
All you need is internet access and you can get going.
Cancellations and Refunds Process
There are no sneaky tie-ins here. You can cancel this is a policy at any given moment and you'll get a refund for the remaining days in the month that you've paid upfront.
The Cost
At US$40 a month, this feels like a very affordable policy and it's very clear what is and isn't included in the price.
However, as we highlight in the cons below, be mindful of adding in the cost of a potential deductible to your calculations.
Unlimited Renewals
Once you've started the subscription, the monthly renewal process kicks straight in and you don't have to think about it again.
After 12 months, SafetyWing will drop you a handy reminder to request whether you want to continue into a second year.
Home-Country Coverage
This one is really handy, because you never know at what point you might need or want to dash home.
A family celebration, an important occasion, or just some breathing space from an all-consuming lifestyle—whatever your reason it's comforting to know that you'll continue to be covered at home provided you've been with SafetyWing for more than 90 days.
Trustworthy Partners
SafetyWing might be a relatively new name, but its partners—Tokio Marine and Lloyds—have been big names in the insurance industry for decades.
Cons
No travel insurance company or policy is without its cons–and SafetyWing is no different.
Deductibles
You'll have to pay US$250 should you need to invoke one of the major medical claims.
This is only once in any certificate period so provided you keep on rolling your insurance it won't be a problem in the grand scheme of things.
With that, perhaps calculate in one deductible when you're considering the overall cost of this package.
Maximum Payouts
This amount sounds like a lot initially, but this is regardless of where you're located at the time of needing treatment.
US$250,000 will go a lot further in a hospital in Nairobi than in Singapore.
You should consider this maximum carefully in relation to where you're likely to be spending the bulk of your time and potentially needing any medical care if an emergency arises.
Emergency Evacuations
Last but not least, both the medical and political evacuation coverage has a US$100,000 lifetime maximum.
So once you've been forcibly evacuated for whatever reason, you're no longer covered.
Some might say if you've been forcibly evacuated once—whether it's for political or medical reasons—then you might want to reconsider your travel plans anyway.
Customer Service
As you might expect from a well-backed provider, SafetyWing has a great 24-hour support and online claims process, which we outline below.
There is a handy little question bot on the website for any immediate support.
Another nice feature are the tools on the website to support any questions you have about travel restrictions and vaccination information around the world.
For example, the https://borderless.safetywing.com/ link will take you to an interactive map with information.
Want some tips on managing a remote company through a crisis? No problem. Listen in to the Building Remotely podcast series for some expert advice from the founders of SafetyWing.
Lastly, you can also download a PDF version of your insurance policy, which is pertinent right now as many countries require you to have coverage for COVID-19.
Speaking of which.
COVID-19 Coverage
SafetyWing offers COVID-19 coverage in the same way it covers any illness, provided you haven't contracted it prior to your coverage start date.
You might also be able to make a claim for a COVID-19 test as long as it's required by a doctor.
Claims Procedure
As you might expect by now, the SafetyWing website is well set up for claims procedure.
There is an excellent online database that is accessible when you purchase the policy, and through this you can search for your nearest partner hospital or medical provider.
If you visit one of these, they'll simply bill SafetyWing directly on your behalf—easy.
If, however you have to go elsewhere, it's still not a problem, but it means that you'll need to pay at the time of treatment and submit a claim through the online form and email process.
Remember to take photographs of any injuries or circumstances and especially of any receipts for expenditure.
There's even a live status feature in the claims process so you can keep abreast of how your claim is coming alone.
Online Reviews
Super easy. Inexpensive. User friendly. Overwhelmingly positive.
These are some of the terms people used to review SafetyWing.
It seems that this company is good at what it does, and its members are very content with its policies.
The stop-start ease of the policy and not needing to define an end-date in particular were raised time and time again as positives.
SafetyWing Vs. World Nomads
If you're a digital nomad, you're probably wondering which travel insurance company is better—SafetyWing or World Nomads.

Both insurance companies are actually a good option for digital nomads. So, it's more about which one is suitable to your budget and requirements.
As for price, SafetyWing is more affordable than World Nomads. Depending on your plan and option, you can save 50 percent by going with SafetyWing.
It's also easier to keep SafetyWing coverage. You can just add your credit card and let your subscription continue every month. If you don't need it, you can cancel the plan at anytime.
World Nomads, on the other hand, is more expensive but comes with better coverage. In addition to the higher coverage limits, World Nomads also comes with coverage for your broken or stolen gadgets.
World Nomads also comes with better emergency medical coverage. And unlike SafetyWing, you don't have to pay a deductible before you're able to make a claim.
Considering all this, if you want affordable travel insurance, SafetyWing is your option.
On the other hand, if you don't mind paying more for a comprehensive travel insurance plan, you should consider getting World Nomads.
You can read our guide on travel insurance for digital nomads for more details.
Now, on to You
Overall, I would say that SafetyWing is clearly a very trust-worthy and dependable provider, but what you see is what you get.
There are no hidden agendas and its travel insurance comes at a very affordable price.
However, the overall coverage does feel a little light in some areas, especially the travel benefits, exclusions for outdoor and adventure activities, and lack of add-ons.
In the end, is SafetyWing right for you?
If you're traveling for an extended period and looking for something that covers more medical than travel issues, then we'd highly recommend SafetyWing.
With that said, be mindful of all the exclusions and deductibles.